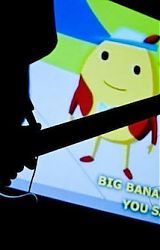 Music makes the world go 'round and film captures the madness of that movement. This year, the Borscht Film Festival united some of Miami's most talented filmmakers and musicians in the creation of entertainment for the masses.
Though the festival has been around for seven years or so, only in the last two did the boys and girls of Borscht begin to focus on music. "It happened organically," according to Lucas Leyva, the Borscht Minister of Interior. It was during Borscht 6, as in year six, that the fusion of the two art forms began to solidify. That year's festival included a short by Andrew Hevia on the life of Panic Bomber. Also, IDM legend Otto von Schirach did the sound design for "Xemoland," which screened at Sundance, and featured Riviera Cinema for all you oldies.
Otto and 2 Live Crew's Luther Campbell both appeared in films for this April's fest, sort of acting as themselves. Otto was a man with a mission to feed in "Otto and the Electric Eel" and Uncle Luke played Luke, entirely transported into a trippy reimagining of his own life in "Life and Freaky Times of Uncle Luke." Jorge Rubiera of Animal Tropical shot and edited a beautiful, ethereal short film "Birdwatchers" and Barry Jenkins was partially inspired by Millionyoung to create "Chlorophyl." And that's only part of the list of musically inspired Borscht creations.