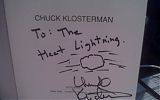 Tired about hearing about Chuck Klosterman? We're not. I think THL proved to the universe that we could never, ever grow fatigued with one of our favorite writers.
I consider the week before last's homage to one of my favorite contemporary thinkers and writers a great success. Not only did those of us who love him have the opportunity to speak their admiration to the web-world, but the man himself actually heard about us, and hopefully read some of the sweet nothings we typed so softly and sincerely for him.
Pictured here is the note Mr. Klosterman gave to Lila, dedicated to THL, at a reading in Manhattan We remain thrilled, flattered, and filled with joy.
The week was an experiment. We wanted to see what it was like to focus all of our energy on one topic. We hope to continue in this vein and to spread the love of good things to THL readers.