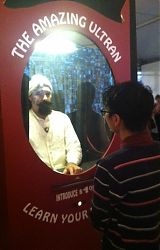 I didn't have much time to dedicate to THL this Art Basel Miami Beach. Time is a limited and valuable commodity, and I had to offer all of mine to making income. To all the haters, I think it's an understandable trade.
I know no one cares about Basel anymore, it was like so two weeks ago. I get it, but I've got something left to say. My old roommate and bestie artist Nathan Lam Vuong, who you may know as DJ Sticky Rice, came into town from Los Angeles and enjoyed the week with me. I planned out a packed week of art, parties, work, and socializing, because I'm an obsessive hyper-planner and I had to budget time for writing. You can check out some highlights from our week on Nate's Tumblr, and/or you can read about them here. Do both.
We had fun. I must say, it was a good time. I started the week before Nate got here farting around town with Bleeding Palm. We went by Pulse and Scope and Design Miami and the MOCA party – Miami's Mark Handforth's work is big and badass – and the French party at the old Perrotin space, ending the night at the Roofless Records party at Churchill's. Some guy from Patrick McMullen took our photo, made me feel special. That was all in one evening. The freaking party at the former Perrotin space was again a blast. Every year, the best, the end. There were definitely less people than in the past this Basel, but it didn't take away from the free-flowing wine and awesomely bad dance music. As usual, they ran out of glasses and I made the guy pour out a Sprite can to fill with up with spirits. There's a Lil Kim joke in there somewhere.