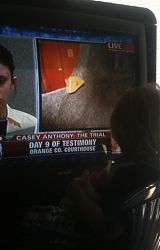 The Casey Anthony trial is just about over. The stakes are high. The case is pretty damn serious and now it's up to the jury to decide her fate. The defense's closing arguments were strong. Did they create reasonable doubt? They just might have.
Here are a few reasons why the jury might just acquit this loon.
PROSECUTORS ARE DICKHEADS
During closing arguments, head prosecutor for the State repeatedly made facial expressions, mocking the defense through body language. That is one-thousand percent unprofessional and could create a bias in the minds of the jurors. At one point the prosecutor actually laughed at the defense's arguments. In addition, the prosecutors repeatedly objected during the closing arguments, which is usually taboo in such cases. In summation, prosecutors are dickheads, not all the time, but sometimes. And if the prosecution oversold its case, acting like a cocky little shit, if you were a juror, you just might have to acquit.