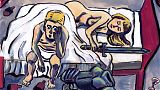 The following is part one of the new story "Joan of Arc," concerning the temporal displacement and inebriated escapades of a womanizing retirement community activities director.
Sat. April 21, 2012 — Petit Dejeuner
This morning I woke up in bed with Joan of Arc. Who knows how she got there. Who knows how I got there. The previous night was a highball/Heineken haze. I thought old Joan had been burned at the stake five or six hundred years ago—I had watched her die in a TV miniseries and two different History Channel reenactments—but there she was, sleeping beside me, hogging all the covers, her milk-white skin unclothed and uncharred, her tunic, sword, and plate mail on the floor with my jeans and lucky boxers. When she woke she was not excited to see me. She rubbed her eyes, muttered quietly in French, then got out of bed and quickly dressed herself. It was really something, how fast she could put on that plate mail. I asked her if she wanted any breakfast—I had some waffles and sausage links in my freezer—but she didn't answer me. I think her English might not have been too good. Also, it turned out I didn't actually have any waffles or sausage links left, just really cold empty boxes. Not that it mattered. By the time I remembered how to say breakfast in French, Saint Joan, the Maid of Orléans, was gone.