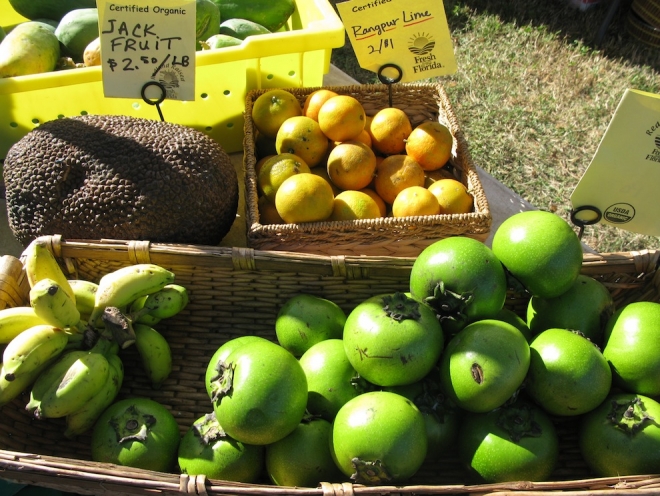 Yesterday, I finally had some notworkingtime, and my car was leaking antifreeze, so the white-lady-I'm-killing-the-earth guilt rose within me, and I jumped on my bike and rode down the Roots in the City farmers market.
I had heard of Roots in the City last year, but missed the boat in purchasing the locally grown produce. The organization was founded by former FIU professor and do-gooder Marvin Dunn, as a beautification project to improve one of the poorest neighborhoods in the country, Overtown, and offer its residents a special skillset. I can't tell you how many people were out on the street at 2 p.m. on a Wednesday. Dozens and dozens. Roots in the City consists of four gardens on the corner of NW 2 Avenue and 10 Street, where people from the Overtown community are hired to tend to vegetables grown there.
Almost everyone I know has contemplated joining a CSA, where you pay a set price and pick up locally grown produce in your neighborhood each week. The problems with these groups are that they sometimes give you too many veggies, and they're expensive. No one that joins a CSA wants to watch kale rotting in their fridge (white people guilt). Though this market is not an alternative to joining a CSA, it is quite convenient for the unemployed. It's open from 1-4 on Wednesdays and Fridays. There's also one in Liberty City at Tacolcy Park 6161 NW 9 Avenue on Thursday afternoon, noon-6. If you're on Food Stamps, they accept EBT cards. The other farms that participate are listed with the pictures below.
I hope the photos entice you to swing by this week or next or the week after. I think everyone should go and write about it so that everyone else visits, spends money on healthy food and the program grows and grows to be so big that everyone in the ghetto is eating well and we can't even call it a ghetto anymore. As I rode off, half a block away, there was an old lady hitting a crack pipe with her buddy lighting the one end. Old ladies will smoke crack, but this sort of teamwork would be better if it involved seeds and soil. Maybe one day this beautiful, idealistic hippy bullshit will overtake the community and nurture it from within, not gentrifying it, but genuinely helping it to heal.