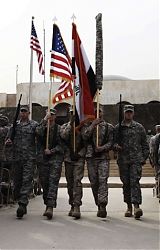 The Iraq war took a notoriously low toll on the vast majority of Americans. All of the sacrifice on this side was borne by enlisted members of the military and their families. This is not to say, however, that Americans with a wisp of consciousness did not have to cope with the news that emanated from the war zone. How should those opposed to a war of choice feel when – day after day, year after year – proof of the folly is reported in the lists of dead soldiers and civilians?
I recall the eve of the invasion, as the countdown to Bush's ultimatum ticked down on the corner of the screen, Bill Press and Tucker Carlson signed off from their crappy program, Spin Room.
"Well, I hope I'm wrong," the anti-war Press volunteered gamely after articulating his fears of a prolonged occupation. At 21, I was nowhere near the level of maturity it took for Bill Press to admit that the best outcome would be a quick and decisive exchange of power and return to peace. In the run up to the war, I was tossing and turning in bed, talking to myself, consumed with righteousness. I wanted nothing more in life than to be proven right, war sucks, yet what could be grimmer and more psychologically unsanitary than feeling satisfaction at the protraction or intensification of a war?