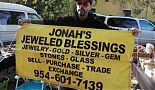 Amid the organic Asian vinaigrettes, root vegetables and hippie drum circles, the gemstone shaman of the Coconut Grove Farmer's Market awaits your arrival.
You can feel the importance of these hours, these rocks, these days, this Saturday afternoon. Sunlight bounces off the crystal-covered table and shoots straight into your eyes, pulling you towards Jonah's Jeweled Blessings.
"It took you this long to find me," Jonah Jordan, owner and operator, asks, cracking a smile.