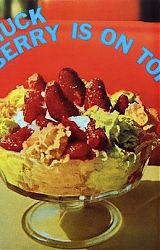 Part the tenth, wherein our humble narrator and questionable scribe makes forays into the low moments of his life, reveals the hurtful purges of his heart, loses charisma through his transgressions against the English Language and Her Grammars and Spellings, fights many urges to incorporate Burt Bacharach into the mix, fondly remembers a swimmer's body, and ends with the exaltation of narcotics in powder form. Another good day in the office, another good day for our hero to become less and less.
226. AVULSION / LACERATION — SPLIT 7". Avulsion takes their time, but Laceration rips through their side like their hair is on fire. My fave is Laceration's "Rambo." So Rambo, take a fucking hike!!!
227. SEEIN' RED — MARINUS. One of hardcore's oldest and truest veterans. Fucking awesome rage contained on 7 inches of wax is really something… really good release and a nice starter for you. On Ebullition Records.
228. SUICIDE COMMANDOS — MAKE A RECORD. The reason why Minneapolis, Minnesota is on the musical map of the underground. This was their only record but it is available compiled into a discography of sorts. If you can find this (since I no longer have mine), we should talk. We should really, really talk. Crucial and necessary.