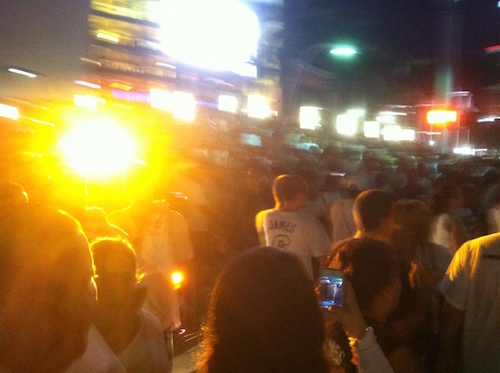 Over the past few years, my friends were having babies. During that time, I learned to watch basketball. Single and broke, it was free and fun and the Miami Heat were winning, and the winning felt really, really good.
But when LeBron announced his betrayal, that he was leaving the Heat to go back home to the Cleveland Cavaliers, I took it a little personally.
I grew up hating sports in a Boston-fan-filled sports household. The Big Three era Heat offered me the chance to understand fully what it means to have emotions about a game that involves bodily movements. I mean, I'll rip your head off over Trivial Pursuit, but this was the first time I felt something, really something, about a competition where sweat is involved.
My former roommate was the one who got me in her room and getting to know them: Bosh, Wade, LeBron, Chalmers, the whole crew. And we'd scream a lot, and my cat would freak out and hide until it was over. But man, it was satisfying to watch and satisfying to win. After the 2013 championship, we marched down to the American Airlines Arena to celebrate with the people banging pots and pans, the ones playing actual drums, singing, and those hanging halfway out of cars parked all the way down Biscayne Blvd.
When LeBron left, it was obviously the end of an era. It was the end of an era for Miami basketball fans as a whole and for us as individuals. My moment with basketball sort of faded. I went to a Heat game this season, and though I got pretty into it, it just wasn't the same.
I watched a few Cavs games early in the season too, damning LeBron's every shot. But then my life got complicated, and I've been in a haze of grief and confusion. So tonight, I happened to keep channel 10 on after Jeopardy. I was distracted, cooking again for the first time in a long time. It took me about an hour of Jimmy Kimmel and then a few slow minutes to realize the NBA Finals were on. And there he was: the traitor.
I mean, how annoying that he made it to the Finals again. But like of course he did.
So I left it on as I typed away at another article, because, I don't know, his face didn't really fill me with disappointment anymore. And then there was a clip where LeBron said something like, "I don't believe in unfinished business." And then, I don't know, I sort of felt bad for him. Like maybe his wife was all, I wanna go home! and his kids missed their grandmother or their pet pit bull or some shit. And then I tried cheering against him and, well, it simply didn't feel right.
Maybe, just maybe, I want to say thank you to LeBron for giving me those years of pure basketball entertainment. Of letting me learn to love watching my team destroy almost all others. Those were good times. They really were.
LeBron, you may have dumped us, but I think I'm over the hurt and anger. And it's possible, very probable, that I don't hate you anymore.