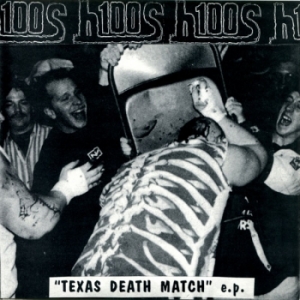 How long before this little pony crashes sideways into that tree? That tree that's always been there and this little pony don't see coming? How long before do ya think? And I says thank ya. But really. Let's find us another hobby. Another venture. Let's throw the towel in. Let's pretend we care. Let's ignore the blade as it slips reddened out of the English Language and Her Grammars and Spellings. Let's see if the little pony avoids the tree, but bucks the rider into a ditch.
451. THE WHITE TRASH DEBUTANTES — CHEAP DATE. Punk rock fun with gender-bending and no-politics that are political antics. Talk about a cheap date, this cheap date will do just fine. Lotsa fun through many lineup changes and wasn't that their shit on that TV show, Nash Bridges? Oh yeah.
452. THE MCRACKINS — PLANET OF THE EGGS. Which the WTD remind me of… this is a great little pop-punk album put out on Florida's sorely missed Stiff Pole Records. These crazy Canucks were always a weird sight, but their prolific and quality driven music was always a cut above the rest during the 1990's punk explosion. I totally just covered this, like a hundred albums ago. Oh well, them's the breaks bubbuleh!
453. SUICIDAL TENDENCIES — STILL CYCO AFTER ALL THESE YEARS. Paul Simon reference aside, Mike Muir, "Cyco Myko" took it upon himself to rerecord the original self-titled album since it was no longer in issue at the time of this recording. Done during the Lights… Camera… Revolution! days, this reworks parts of Join the Army too. Great fun. Notice how Muir is the only one hanging upside down on the cover photo; since he was the only original member at the time. Rocky George's guitar does it justice though.
454. PAUL SIMON — STILL CRAZY AFTER ALL THESE YEARS. And on that note, Paul Simon's Still Crazy After All These Years comes to mind after that ST entry and moreover cuz I witnessed a cover band at a tiki bar in Ft. Myers Beach doing a solid cover of "Fifty Ways To Lose a Lover" about two years ago. Fucking great track and one I am currently looping at work.
455. OTTMAR LEIBERT Y LUNA NEGRA — BORRASCA. My first Luna Negra album and my first taste of the flamenco genius of this German born, Chinese-German-Hungarian musician. Excellent album and a good intro to his Nouveau Flamenco style that has serious elements of jazz and world. Delicious.
456. RIVERDALES — STORM THE STREETS. "Blood on the Ice" is one of those rare pop-punk gems that gets me riled up a la Black Flag. "Cementhead" is pretty good too. Classic Ben Weasel humor and chops even though he has turned into a real piece of work lately, what a fucking scumbag.
457. DAVID BOWIE — DIAMOND DOGS. Good ole Bowie, on this slab I like "Rock and Roll with Me" and "We Are the Dead" as well as everybody's fave, "Rebel Rebel." The full cover art is typical Bowie creepy.
458. TAYLOR DANE — TELL IT TO MY HEART. Back in the seventh grade, our jitney driver would torture my brother Dan and me with Taylor Dane dance hits, all of which apparently came from this fucking album. Do I like Taylor Dane albums? No. I fucking hate Taylor Dane albums. Would I fuck Taylor Dane? Yes, I would. "Don't Push Me," "Prove Your Love" and the title track are forever etched in that dark place of my mind where hate, fear and lust embrace.
459. C + C MUSIC FACTORY — GONNA MAKE YOU SWEAT (EVERYBODY DANCE NOW). This entry refers to the CD single featuring two versions of the track for nine minutes of the aforementioned jitney driver's bliss and our daily torture. That was a bad year by all accounts and this shit made it worse. Fucking hell!
460. MONSTER X — ATTRITION. This raging 7" of hardcore sXe brutality did what few sXe bands were doing at the time; they did it with intelligence and some real musical chutzpah. Fuck yeah. And the cover folds out into a nifty poster. The awesomeness of the 7" format strikes again.
461. MU330 — CHUMPS ON PARADE. Whatever ska with a little punk from somewhere in the US of A that I saw live and kind of dug but then our little high school group caught wind that persons who shall remain unnamed used to make fuckfuck to the first track of this album on repeat, which of course, rendered the whole thing useless in our minds. Oh well.
462. UNCURBED — PUNKS ON PAROLE. Great D-beat with Motörhead nuances from one of Sweden's least known and loved bands. A real punk treasure here baby. I believe you can order this from Vital Music which is my real go to website (former print catalogue) for punk stuff.
463. ECONOCHRIST — SKEWED. One of the greatest 7"ers to come out of the 90s. Black Flag meets Neurosis and some kind of higher level education for a really cool Ebullition release. Awesome and awesome.
464. YUM YUM TREE — RIOT UP YOUR ASS. I always got a kick of these New Yorkers and this 7" is proof positive of the awesomeness of their humor and chops on the punk rock circuit of the 1990's that oft overlooked quality acts.
465. THE JESUS LIZARD — DOWN. I know Goat's probably the obvious starting point, but regardless of which, you can't touch the Lizard. Awesome in the way only good things can be. "Destroy Before Reading" makes me librarian happy but librarians don't make me happy. WTF on that LOL.
466. H100'S — TEXAS DEATH MATCH. Noisy four track 7" on Havoc Records from my buying everything from Felix's label phase. Not bad, but I think my copy, before the Great Purge of 2006 had already begun showing some wear and tear because during that Havoc phase I liked angry music loud and I (at that time) didn't gauge my colored vinyl very well and tended to D4 my discs with less gusto than I do now.
467. FLATUS — AURAL FIXATIONS. One of New Jersey's little dirty secrets, Flatus does the Motörhead thing with a little finesse and a lot of energy. Fun.
468. NINE SHOCKS TERROR — MOBILE TERROR UNIT. This 7" of Cleveland-based hardcore was one of those cool little "hey what's this?" kind of buys. I mean, hardcore with solos that actually work? Fuck yeah!!!
469. PANSY DIVISION — TOUCH MY JOE CAMEL. The cover always made me fairly uneasy but hey, in retrospect the boys from the division were right. That Joe Camel did look like a cock and balls! A cover of Pete Shelley's "Homosapien" and Roxy Music's "Trash" make this a weird, though enjoyable entry for these queer-pop trailblazers. Funny.
470. BRIGITTE BARDOT — ET DIEU… CREA LA FEMME. Yup, …And God Created Women soundtrack. Gotta love her somewhat tinny voice on some tracks and the regular movie score type of shit ain't that bad. Recommended for fucking or looking out windows of third story apartments while it rains. Or dubbed in cassette if you lived in Caracas circa 1988.
471. THE ORIOLES — "BABY PLEASE DON'T GO." Don't remember the B-side to this 45er, but this was another hit for these panty-dropping cats who'd already caused plenty of waves with their crossover hit "It's Too Soon to Know" like ten years prior. Sexy.
472. CAMILLE HOWARD — "X-TEMPORANEOUS BOOGIE." Don't know much past this one track but had she resigned God and accepted rock and roll, this 1947 piano number would've taken her to the heights of fame. Shit, it worked for Sister Rosetta Tharpe, and she kept God in rock. Weird. And sad.
473. THE CARBURETOR DUNGS — SONGS FOR FRIENDS. Lost this tape many years ago, one of the finer bands to emerge from the late 80s, early 90s Kuala Lumpur hardcore punk scene. I'd say a crucial album to have as far as defining what was then a raging Malaysian scene… I remember MRR hawking these guys every other issue and I got the tape via the classifieds. Tight. Plus, a Lester Bangs reference is always okay in my book.
474. EMILY'S SASSY LIME — DESPERATE, SCARED BUT SOCIAL. And on the Malaysia tip, I remembered these Asian-American girls who put out this album and a 7" and then kinda disappeared from the main roads of punk rock, though I understand all three remain involved in bands and whatnot. I liked their cameo in that Peechees video and I kinda like their quirky take on indie punk.
475. NEGU GORRIAK — IDEIA ZABALDU. The Basque Country's regular bad boys, their blend of hip-hop, reggae and rock is firmly rooted in the DIY punk rock world of anarcho stuff via very vocal political views that often landed them in jail, cost them astronomical legal fees and on a handful of times, their songs actually led to investigations that resulted in the arrests of elected officials. No shit. 18 tracks here in a language I'm sure none of you will understand (I don't), but the point comes across. Super cool.