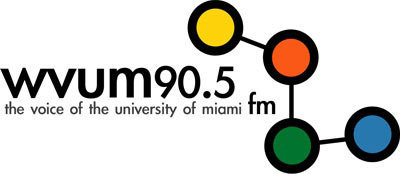 "So remember when you used to work at WVUM?" said Liz.
"Yeah?" I replied
"You should write about that" she continued.
"Hm." I thought about this for a second and then put it off for like a year.
This brings us to today and this post that I hope will be the first in many articles chronicling my experiences working at WVUM between 1999 and 2003. Among the things I want to discuss are the shifting scene of college radio at the turn of the millenium, the general ridiculousness that occurs when college radio weird meets Miami weird, the changing nature of the Miami music and mainland club scene at the time, how odd it was trying to run an indie college station in Miami generally, and (if I still have patience) the albums that came out at the time that I find significant.
Given how quickly things can change in 10 or more years, let us first provide some context for entering WVUM circa 1999:
The iPod had only just come out. It held 5 gigs of music, which was roughly equivalent the total storage of the lime green iMac in my dorm room at Eaton.
I graduated from a beeper to a cell phone my freshman year. The alarm on it was contained in the Settings menu and to this day I reflexively head to the same place on my iPhone after curling up in bed.
Friday nights I'd spend at Revolver (across all 4 of it's venue changes) and Saturday nights I'd spend at Poplife (then at Picadilly Garden, which eventually became The District which then eventually became Pacific Time and then now it's something else but frankly I've already spent too much time looking this crap up).
UM football had an amazing and unprecedented winning streak yet somehow I never went to a single game.
Professor: "have you heard of this great new search engine? It's called Google." previously I'd made a game of punching as many different search terms into Webcrawler as possible.
Napster debuted almost simultaneously when I started college, peaked when I was a Sophomore, and got shut down by the time I was a Junior. In the meantime: commercial radio was still somewhat relevant.
The original incarnation of

WVUM

.org debuted followed by the live streams shortly thereafter. Sometimes they even worked.
My favorite band my freshman year was Everclear. We all make mistakes, some of them more horrible than others, and sometimes requiring lifelong shame and penitence.
So with that in mind and getting to brass tacks, I can somewhat clearly remember the first time I filled out an application to be a DJ at WVUM and only vaguely remember the second time I did same. The WVUM offices had just been relocated to the corner of the Student Union a year or two before. Previously the campus convenience store had been there, and I can more clearly remember buying Snickers bars as a kid there than I can the first few times I stumbled in awkwardly in to ask how one became a DJ.
So I'd dragged a friend in and we'd filled out applications, made chit-chat and left. I didn't think much of the whole process at the time and really just felt relieved when it was over, but immediately after the friend I'd gone with stated she outright refused to ever go back there again. Neither of us had yet seen High Fidelity but the experience must have been like walking into Championship Vinyl, which is to say running stock into a wall of condescension.
At the time I viewed her as being unnecessarily self-righteous but in retrospect she was more in the right. We'd walked into a room where every record shop cliche came true, complete with the type of treehouse misogyny that's special to comic book shops and forums in which intellectual discussion of online video gaming is acceptable. Within 5 or so years the Internet would so democratize the consumption music that such posturing was completely absurd, but that's another story and an argument entirely its own.
For the time being I was 19, male and had never belonged to anything even remotely fraternal. Thus to me the atmosphere was a nuisance yet still endearing. My application was of course ignored. I came back and hung out on the couch repeatedly while doing odd jobs until eventually they asked me when my show was and, realizing I didn't actually have one, took a second application from me and assigned a 4 AM to 7 AM overnight slot that I pretended was somehow coveted.
So you know that college radio DJ who can't finish a sentence? Who drones endlessly in senseless monologue when they should probably be playing music? I was that guy. The one you wanted to reach through your car radio and strangle. In my defense, it's hard to be peppy when it's 4 AM and you're having to deal with an unfamiliar set of tools, one of which being your exceedingly poor on-air demeanor.
Things improved, though, and that winter I started turned into a revelation. I listened to music that I'd been told was awesome but had never had access to before. Sometimes I disagreed with whatever assessment I'd heard but usually I glommed onto it and reveled in forcing it onto the populace of Miami at large (should they tune in, of course, and there was little to no guarantee that they would).
Eventually I would work on the Executive Board of the station, call in to yell at DJs who were breaking the rules, run the All Request Show, walk out angrily in the middle of an All Request Show, get keys to the office, fall asleep on the couch while mildly inebriated, and generally just run around having the weirdest time of my life while making the best friends I will ever have.
These and many more are the stories I'd like to share. Thanks for coming along for the trip.