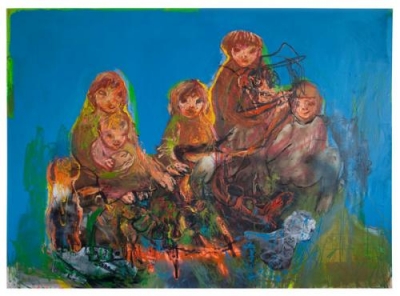 On March 15th, MOCA will host an opening reception for Rita Ackermann's new exhibition of paintings that will feature a performance by members of Gang Gang Dance.
The exhibition itself is an examination of Ackermann's work throughout her career, which began with her relocation from Hungary to New York City in the early 1990s. Drawing from experiences transitioning to Western culture, Ackermann went on to express her unique vision via paintings, drawings and collages that range stylistically between intense expressionism and subdued abstraction.
Members of Gang Gang Dance Lizzi Bougatsos and Brian DeGraw will debuting new material as part of a new performance created specially for the exhibition and centering around their love for long time collaborator Rita Ackermann. DeGraw will be accompanying Bougatsos' vocals utilizing drums and piano supplemented by samples ranging from Dead Prez to Gil Scott-Heron to Aime Cesaire.
Opening reception is free for MOCA members and $10 for non-members. RSVP in advance here!