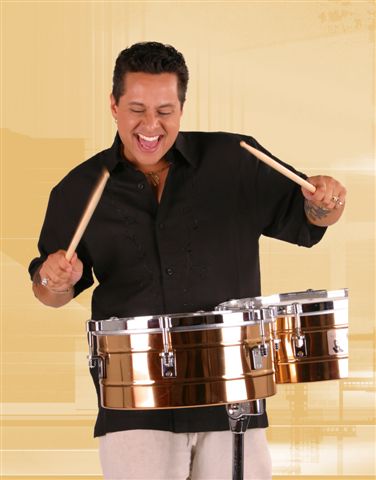 This Sunday, March 11, will see the gathering of several of Miami's best jazz musicians, who will lead workshops and end the day with a group performance in the afternoon. The day is part of Tito Puente Jr., will lead the music workshops, produced by KCC Productions, on timbales. Tito is on a passionate mission, nurturing the musical legacy left by his father. Crowds lured to a venue by the father are returning to see the son — and to once again participate in the high voltage celebration that takes place on stage.
On piano will be Marlow Rosado. From salsa to rock, from merengue to hip-hop, from bachata to reggaeton, producer/composer/pianist Marlow Rosado has had his musical hand in all of it. A native of Puerto Rico, he is a salsero at heart, but has successfully written, played and produced hits in a variety of musical styles for some of the most renowned artists in Latin music.
Rafael Solano will organize Latin percussion. Born in the Dominican Republic, Rafael Solano moved to Washington, D.C. in the late 60's where he began his musical career as a percussionist. In Washington, he began developing his diverse playing style by incorporating his Hispanic roots into American styles. In the mid 80's, Mr. Solano moved to Miami and became part of the evolving Latin music scene. He has performed throughout the United States, Africa, Europe and Latin America.
Trumpeter Ray Chicalo leads the workshop in that instrument. Ray has been a music teacher in the Dade County Public School system for twenty-one years. Ray has performed with various artists, including Roberto Torres, Chayanne, Jose Luis Rodriguez and Celia Cruz throughout Europe, Latin America, and has also works as a freelance musician and private music teacher in the South Florida area for over 20 years.
On drums will be Rodolfo Zuniga. Rodolfo was the drummer for the concert jazz band at FIU. With this group he has performed with such guest artists as Paquito D' Rivera, Arturo Sandoval, Sam Rivers, Diego Urcola, and Kevin Mahogany. Currently teaching at Miami-Dade's Wolfson Campus, he is an active sideman with people like Gary Campbell, Michael Gerber, Alex Norris, Othello Molineaux and Ira Sullivan.
Saxophonist Tom McCormick has been an active musician, educator, composer and arranger for over thirty years. He has performed throughout North America, Europe, Japan, South America and the Caribbean. Some of the artists Tom has performed or recorded with include Donna Summer, KC and the Sunshine Band, Jimmy Buffet, the Temptations, Ira Sullivan, Mongo Santamaria, Arturo Sandoval, the Tommy Dorsey Orchestra, the South Florida Jazz Orchestra, the Baltimore Symphony, and the MIami Symphony.
Mike Gold is leading the clarinet and flute workshop. Mike is one of those "jewels" in today's music entertainment world.  Musical director, clarinet and sax player, he has been working with music since an early age in the New York area. Since   moving to Florida in 1975 he has been a regular in many of the high-end venues, and has been featured at the White House under Lyndon Johnson with the Peter Duchin Orchestra. He is currently playing a tribute to Benny Goodman that is receiving overwhelming standing ovations all over Florida.
Bassist Agustin Conti is in high demand as an electric bassist and music educator, maintaining a successful private teaching studio and leading his trio and other projects. He is proficient in many different genres, specializing in jazz and South American styles.
The brass workshop will be led by trombonist Dante Luciani, who is coordinator of the Jazz Brass program at UM's Frost School of Music, and conducts the award-winning Frost Concert Jazz Band (CJB). Formerly the lead trombonist and soloist with the Woody Herman and Maynard Ferguson Orchestras, Luciani has performed with various artists, including Frank Sinatra, Sammy Davis, Jr., Ben Vereen, Burt Bacharach, Natalie Cole, Anthony Newley, Bob Mintzer, Randy Brecker, and Paquito D'Rivera.
Registration for the workshop is at 9 AM; the workshops start at 10. The morning sessions will be devoted to working with faculty in their specific instrument group breakaway sessions in the various instruments and will be devoted to reading music, improvisation and original composition. In the afternoon Tito Puente Jr. will work with larger groups leading them all to a final performance in the Banyan Bowl. Applications are available here as well as additional info about the event.