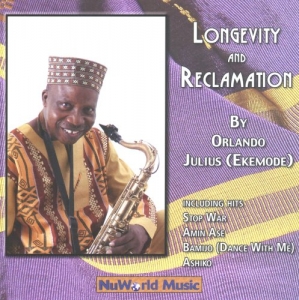 Part the fifteenth is a chockfull of international wonders, British punk rock and as close to a confession on masturbation as we'll get for a while. Read on, make notes of the transgressions against the English Language and Her Grammars and Spellings. I also posit against jazz fusion, but then again, wouldn't you?
351. ORLANDO JULIUS EKEMODE AND THE NIGERIAN ALLSTARS — LONGEVITY AND RECLAMATION. This African virtuoso of the saxophone belts 'em out on this disc like it's nobody's business. This one is available on CD Baby and it's relatively new but it is a great intro to his catalogue.
352. BLO — PHASES 1972 – 1982. I was trying to jog a solo album by the great organist Joni Haastrup and I remember listening to this compilation by the band Blo (which was comprised by a few golden boys of the African jazz scene) and his organ work on this sizzles. Hot as fuck. Available too, cuz this came out in the early 90s.
353. REMMY ONGALA AND HIS SUPER MATIMILA ORCHESTRA — SEMA. Recorded live in parts of Dar es Salaam and somewhere in Sweden I think, this is a great intro to the "Leopard Man's" music. This motherfucker is ugly as sin, but this soukous multi-instrumentalist is a like a modern Fela of sorts… all over the motherfucking map and oh sooo good. Tanzania's best and with good reason.
354. THE DWARVES — BLOOD GUTS AND PUSSY. One of the better album titles and a great album cover concept. How can you go wrong with a band that routinely utilizes the skull and cross-penis motif? You can't! Clocking in at a delicious thirteen minutes and change, even your ADHD ridden little sister can enjoy it. Fucking awesome and crucial.
355. JOE SATRIANI — SURFING WITH THE ALIEN. Props for having the Silver Surfer on the cover… but Satriani's one of those guys only my techie guitar playing friends got into. I'll say this much, this second effort by him is his best in my opinion. The rest of his catalogue I find insufferable and unapproachable. And I can say the same for some of his contemporaries who will be featured on a hate list. Oh yeah. But this is okay.
356. THE VIBRATORS — PURE MANIA. One of England's longest running punk rock bands and this debut album has my favorite song by them, "Petrol." And that's about all I want to say about that.
357. VICE SQUAD — STAND STRONG, STAND PROUD. Another long running British punk rock band only this one has Beki Bondage on the front and she has inadvertently supplied me with many a hard-on and sub-sequential beat off… specially on the UK/DK video where she sings the title track from here. Yup, punk rock chubbie. Handled in a very punk rock manner.
358. SODA STEREO — DOBLE VIDA. I still remember buying this at the record store in the Centro Comercial Ciudad Tamanaco (CCCT) and being weirded out that the cassette cover had an orange backing to it. I still have that tape somewhere and love pulling it out for the blissful intro of "Picnic en el 4ºB" Yeah… I'm definitely transported back in time and across the Caribbean Sea and into the fray of 1980's Caracas and the dirt and the grime and the exhaust pipes and el dia de parada and chocolates calientes en el Junquito or a nice, overflowing reina pepiada from Doña Arepa in Chacao… yum! Youth. These guys are from Argentina, do the math. Health hasn't been good to them in recent years.
359. BUDDY GUY — HOT AND COOL. I know there's a reissue out there somewhere, but this entry refers to the Vanguard edition. Hot and cool indeed, you can't go wrong with Buddy Guy. This is a good, solid listen from beginning to end, but you'll be hard-pressed to find me saying otherwise about a blues album. Delicious and Hellbound. Word.
360. HOOTIE AND THE BLOWFISH — CRACKED REAR VIEW. Let's face it, the sheer geeky uncoolness of this outfit renders it just that, geeky uncool. It's not even cool to be down with this uncoolness. And this uncoolness couldn't be escaped from in the early 90s. Horrid.
361. DAVE MATTHEWS BAND — UNDER THE TABLE AND DREAMING. I guess I don't get this outfit cuz I never learned to play guitar or go to a "cool" progressive college on the East Coast or smiled at the goodness of life on a regular basis or whatever. I have plenty of friends who are into this and sometimes his backing group is pretty good, but in the end, I just don't get it.
362. SPYRO GYRA — FAST FORWARD. Of all the things that could've happened to jazz, this was not a good one. Sorry guys, this album is crap. No me gusta.
363. THE RIPPINGTONS — CURVES AHEAD. A cool drawing of a cat skiing and the innuendo of the title does nothing to solve the problem at heart here which is these guys could be playing better music but they chose not to. This album and genre as a whole is shit. Complete shit. I can't stand it. The only person allowed invoking "jazz" and "fusion" in the same sentence is Jaco Pastorius. No one else.
364. MY CHEMICAL ROMANCE — I BROUGHT YOU MY BULLETS, YOU BROUGHT ME YOUR LOVE. Clever hokey title aside, this is one of them emo things I don't get. Is the pain because your album title and songs are way too fucking long and there's nobody here to save me from them? What the Hell? Preteens like you, get a hint. You do not make music for adults. Go back to the Disney Channel. Fuck.
365. STAIND — DYSFUNCTION. Nü-metal needs to die. Throw this in the pyre first. It is horrible. It almost makes Tool passable. This album will give you dysentery and fetal alcohol syndrome. And rabies. And will make you an asshole.
366. NEW KIDS ON THE BLOCK — HANGIN' TOUGH. The only good thing that came out of NKOTB was from Tanya's subscription to Tiger Beat or some such shit and the box full of NKOTB bumper stickers she had leftover from the 80s that we used to vandalize cars on South Beach with. Hanging tough? I don't freaking think so. Though Donnie Wahlberg has made a fine man out of himself.
367. MARKY MARK AND THE FUNKY BUNCH — MUSIC FOR THE PEOPLE. Not for me it wasn't. Neither were the CK ads. However, he has completely justified himself as a human being with some of the roles he has portrayed on screen. However, this album and all the vibrations it portents to make you feel, is absolute garbage. Garbage!
368. SISQÓ — UNLEASH THE DRAGON. This album is crap but I will admit the following: Many years ago, somewhat after its popularity had waned, I found myself alone at Stir Crazy and a big-tittied, large-assed Puerto Rican stripper with long black cornrows and soft eyes took the stage to this song. My intentions were to stick around and propose marriage [since Desireé wasn't there that night] but immediately afterwards she was mobbed by some urban types and I was like the bad paparazzi that can't take the shot from the outskirts… anyways… I headed home eventually with a belly full of suds and a cock full of juice and fired up the old Napster, downloaded "The Thong Song" and fired away my seed a couple of times before I passed out, dick in hand. Every time I hear that song I think of her and of what could've been between us. I fucking hate this album. My life sucks. Recently, friends who shall remain unnamed, tried (rather successfully) to get me to sing the chorus of this song at a party after a drunken promise made years ago. Needless to say, I felt like a Soviet storm-trooper making the rounds at night in early 80's Afghanistan.
369. GARAJ MAHAL — MONDO GARAJ. I heard this album thinking that it would be good and it is trite shit. If you're gonna have the balls to walk around making fun of the great Taj Mahal and his style of music, you better have some bulletproof balls. These guys don't, so fire away.
370. FRANK ZAPPA — WE'RE ONLY IN IT FOR THE MONEY. Aside from a great album cover, this slab of wax also has "Flower Punk" which is one of my Zappa faves. The version done by the Eat is fucking fantastic with the Charlie Pickett shout-outs. Fucking deeelish!
371. THE BEACH BOYS — 15 BIG ONES. All fifteen of the tracks on this album are thoroughly enjoyable like 95% of their catalogue. However, the weird disco-like album cover always throws me for a loop. Hints of Kokomo I guess.
372. THE DAMNED — MACHINE GUN ETIQUETTE. "Smash It Up" parts one or two I don't really care for. But this opens with "Love Song" which I always dig and it has "I Just Can't be Happy Today" which is unfortunately the way that I feel almost all the time. Especially when my meds fail to take me to that happy place you read about or see on TV. My meds, of course, come in lovely bottles of all shapes and sizes and are usually filled and sealed in either Ireland or Scotland. Yummy and delicious and tonight I'd like to fuck someone new.
373. THE ZAKARY THAKS — FORM THE HABIT. One of my all time favorite regional bands from the US of A. Hailing out of Corpus Christi, TX and slamming some garage-punk rock and roll in the 1960s, these guys sizzle hotter than their crotches in them tight 60's jeans baked in the Texan sun. Whatever. But by golly does this fucking zip and zap and demands to be played loud. "Face to Face" and its instrumental reprise rule. So does "Bad Girl" but then again, most bad girls do.
374. 2 LIVE CREW — BANNED IN THE USA. I remember getting this tape when it came out at the record store that used to be on Kendall and 122nd avenue. I had just gone to the movies with a friend and had a little extra cash at hand. Not as good as previous efforts but worth it alone for the "Fuck Navarro" song about former Broward police czar, Nick Navarro. Alfredo who worked with me at the day job when I was in the Grove was in the video for the title track. He's in the court scene, white guy in a white T. I believe he's rocking some some gold chains too. Awesome.
375. UK SUBS — KILLING TIME. Soft and depressing. Not what I expected when I got it. My least favorite UK Subversives album. Scratch that, I don't like it at all.