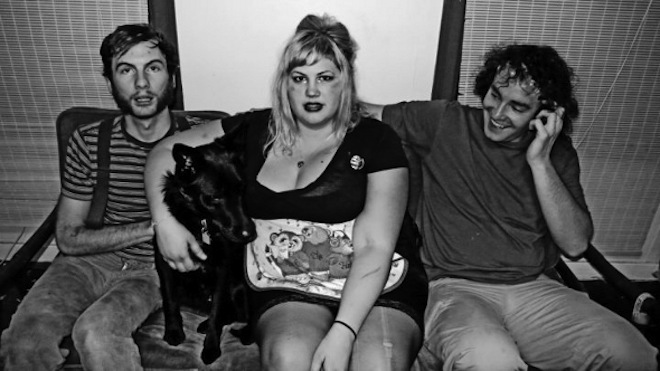 We caught up with bassist and singer Shannon Shaw of the three-piece Oakland band Shannon and the Clams and asked her some hard hitting questions. These included inquiring about how she decides what to wear onstage and why "the Clams?" She told us all about her unique day job and what it's like to be one of Seth Bogart's girls, AKA Hunx and his Punx.
Shaw heads up Shannon and the Clams making emotional, dance-inducing, '60s inspired garagey surf rock. She'll be performing solo with a new group on this year's Bruise Cruise with Ty Segall, Philip Sambol of The Strange Boys, and Lance Wille of Reigning Sound as super-group The Togas. They apparently came together over the telephone line and will be performing cover songs that were selected by those burning away on the Bruise Cruise. Read on to enjoy Shannon's funny answers to my super thoughtful questions.
With a name like Shannon and the Clams, you think there'd be ladies backing you up! What's it like leading up two men?
To be honest, I came up with the name Shannon and the Clams when I was a solo performer! It was just me and a bass. It was meant to be a joke. Then I got some people to back me up to play some parties and then it was too late… The shitty name stuck. If I could turn back tahime (please read in a Cher voice) I would have picked a name for the whole band that didn't point me out, like the Trolls or something. I don't even feel like I'm leading now, me and lil Cody Blanchard are for sure a team.
You guys are kind of an art school band. What kind of art did you make?
Hrmmm… I went to school for illustration and focused a lot on portraiture and was mostly influenced by the symbolist painters as well as mythology and fairy tales. Since I'm pretty busy with music, painting has taken a backseat although I paint the occasional record cover for buds (Nobunny, First Blood and the Sandwitches, Mrs. Jones Cookies). Cody did fiction writing in school which really shows up in his songs. have you really paid attention to his lyrics? They are amazing! Creepy clever little tales…
When did you first get involved in making music and what did your first song sound like? What was it about?
I first started playing bass and singing at the very birth of the band, about four and a half years ago. My first song is called "Heartbreak" (clever, right?), and sounds like a slower, more painful "Angel Baby." I was real messed up at the time so it's about a bunch dark sad personal garbage. Wah!
How do you decide what you're going to wear onstage?
How do I pick outfits for stage? Well, belive it or not, I'm fairly practical and just have a few outfits that I switch around so they look like a whole new look all the time. And you'll never catch me teetering around in some foolish pointed clumsy (for me!) high heels. I usually pick somethin' with some pizazz and shimmer, make my hair big and wear Vans so I can bootscoot around with ease. I usually try to match my cohorts because I like to pretend to be in a cult for 30 minutes.
Do you have a day job?
I have a very odd day job as a personal assistant and assistant jeweler to a funny and sweet woman who is disabled but was once a famous tap dancer. Everyday is different. Sometimes I make a $10,000 sapphire necklace, somedays she teaches me tap, somedays we watch Harry Potter, somedays I get sent home for hurting her feelings. Its fun.
Can you tell us about what's going on in Oakland? Anything we need know about?
Oakland is great. Its a mixed bag of dangerous, creative, industrial, and wild mountain forested land. I love it. Occupy Oakland* is pure history in the making and I'm a bit ashamed that I have't participated yet!
Did you go on the Bruise Bruise last year?
I have never been! I am so excited!!
The Bruise Cruise kind of takes rock 'n' roll from the smokey dark club and puts it in the sun. Do you think it illuminates or will illuminate anything about the music or the people that set sail on it?
Fun music should be able to be played ANYWHERE and I know that tropical paradise makes perfect sense. Sometimes, I feel like a mole torn from his hole and put on display when I have to play an early show, but if the event is a "shake your buns in the sunshine" type of event, I'm ready for it! There's nowhere more natural for me to be than in a body of water in the sun, even of I'm squiddly-dooooo-ing into a microphone.
How is it being a Punkette? Any crazy stories about Seth Bogart you could share?
Well, Hunx played a crazy show in Palm Springs the other day where we ate mushrooms right before we started playing and then you could really see the moment they started to take over Seth. He was giggling and pushing people over and making the audience chant and om for most of the rest of the set. Then we jumped right in the pool and swam with tons of the show peeps till we got kicked out by security. 'Twas fun.
Are you excited to be part of The Togas?
I am insanely excited for the Togas!!! Cannot wait. Im ready for them to hurry,up and tell me what songs I need to sing!
*Editors note: this interview took place a few months back…
The Bruise Cruise sets sail from Miami from Feb 10 to 13 and features Fucked Up, King Khan and the Shrines, The Soft Pack, The Dirtbombs, Thee Oh Sees, Quintron and Miss Pussycat, Neil Hamburger, Mikal Cronin, The Togas, Vockah Redu, Anna Seregina and DJ sets. You can also catch most of the entertainment the day before the cruise sets sail at The Stage.