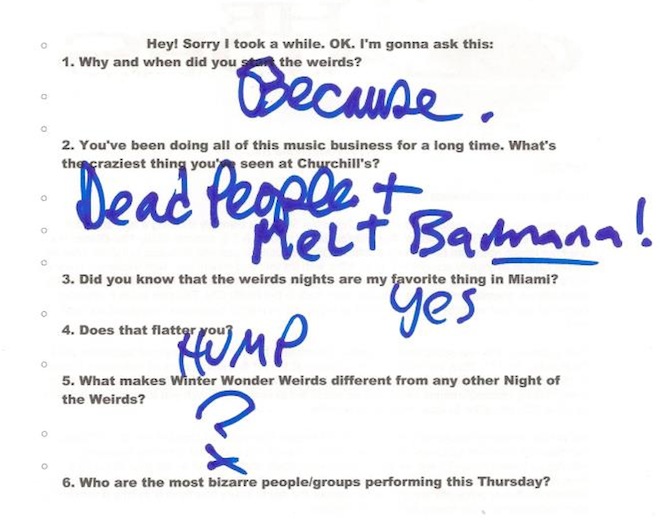 Jeff Rollason gives like the best interviews ever. Anyway. He's been doing Night of the Weirds for a few years now. I love them. They offer a haunting mix of bizarre performances and strange sounds, stupid looks and questionable concepts. Not all bad, some deliciously terrible, but, thankfully, not boring. The last Weirds night, Summer of Weirds, fell on my birthday. I knew it was because I'm such a super fan. At that one, Ballscarf showed a video of Aiden Dillard shitting.
But there's more to Night of the Weirds than deification. There's some yelling too. And drama. It's experimental, bro. Any show whose lineup includes both Raffa Jo and Rat Bastard is one worth attending in my book.
Check out winter*wonder*weirds Thursday night at Churchill's Pub (5501 NE Second Ave., Miami). It's free, starts at like 7:30, and it's freeeeee. RSVP on Facebook here.
There's also a winter*wonder*weirds annex next door at Sweat Records with Os Ovni, Bill Moray & Bill, CLAWS & Fourier.
Raul J Mendez will provide projections and sounds and catch The Creature Tweaker Council on Back Patio.
Here's the full schedule: