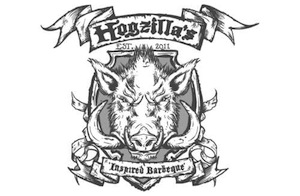 I've been very forgetful lately. It's like I eat delicious meat, I rave about it, and then I totally forget that I've even eaten! Then I eat again. Point is, last week, I attended the "grand opening" or maybe "press opening" of Hogzilla's. The name of this new South Beach restaurant is boner-killer, no lie, but the meat was superb.
Besides the hog, the best thing about Hogzilla's is that it isn't a chain. It's a barbecue restaurant, and probably the only one on the beach. I lured my friend Venessa with the promise of free dinner and drinks. Luckily, I, well Hogzilla, delivered.
The second we arrived we bolted to the feeding station where a man dumped delicious pulled pork onto a bun and suggested some sauces. Sometimes pulled pork can taste like flavorless meat strings in a puddle of water, but these people really know how to pull pork. The sauces were also surprisingly delicious. There was a mango concoction and one that was Jack Daniels-y or something. Either way, all good. The food distracted us from the somewhat over the top "swampy" decor. It stops short of kitsch, but this is the new South Beach, one with like no gays and thus, little style.
We wolfed down bite-sized treats that a more obnoxious person might refer to as tapas, attacking every person with a tray with ravenous enthusiasm. The sides were good enough, probably better in larger portions. However, the gator sausage was so spicy, so good, I would have eaten the whole reptile myself.
I'm so glad I remembered to write this. I am a very hungry fan of swine and especially pulled pork. It's really a thrill that someone this far south got it right, and really right.
Eat Hogzilla's at 1555 Washington Ave., Miami Beach. Bon appetit!