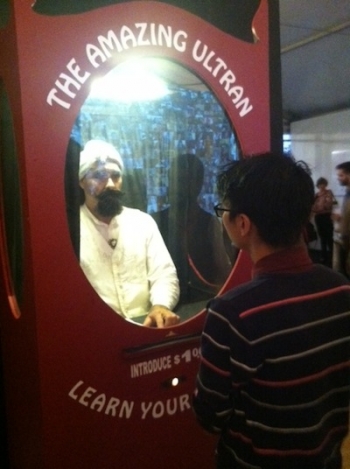 I didn't have much time to dedicate to THL this Art Basel Miami Beach. Time is a limited and valuable commodity, and I had to offer all of mine to making income. To all the haters, I think it's an understandable trade.
I know no one cares about Basel anymore, it was like so two weeks ago. I get it, but I've got something left to say. My old roommate and bestie artist Nathan Lam Vuong, who you may know as DJ Sticky Rice, came into town from Los Angeles and enjoyed the week with me. I planned out a packed week of art, parties, work, and socializing, because I'm an obsessive hyper-planner and I had to budget time for writing. You can check out some highlights from our week on Nate's Tumblr, and/or you can read about them here. Do both.
We had fun. I must say, it was a good time. I started the week before Nate got here farting around town with Bleeding Palm. We went by Pulse and Scope and Design Miami and the MOCA party – Miami's Mark Handforth's work is big and badass – and the French party at the old Perrotin space, ending the night at the Roofless Records party at Churchill's. Some guy from Patrick McMullen took our photo, made me feel special. That was all in one evening. The freaking party at the former Perrotin space was again a blast. Every year, the best, the end. There were definitely less people than in the past this Basel, but it didn't take away from the free-flowing wine and awesomely bad dance music. As usual, they ran out of glasses and I made the guy pour out a Sprite can to fill with up with spirits. There's a Lil Kim joke in there somewhere.

Nathan with a George Kuchar comic strip at NADA
By Wednesday morning, I wanted to die. Did you see all the shit I did on Tuesday? I dragged my ass to the Bass Museum, had a touch of wine, went home and slept.
On Thursday, Nathan flew in and we hit the Design District hard, yo. We hugged everyone at the Shulman and Associates party and checked out the naked woman peeing with pigs at Primary Flight. It stunk, literally.
We went to Grand Central for the Toyota Antics/Filter party. We saw the line. We skipped the line. We ended up in the VIP section with TV on the Radio. We drank free drinks. We watched the Black Lips. I mean it wasn't the best Black Lips show I've ever seen, but they were still tons of fun. The audience was young and white and uninteresting. I miss the old days of danger and dirty things, but I was happy to be there. Once James Murphy showed up DJing disco, we headed uptown to General Practice for a wonderful showcase featuring most of Miami's actual best bands.

I love Judy Chicago. So much crotch.
Friday was dedicated to more writing. I interviewed Mr. Brainwash and Penguin Prision, neither whose work I really admire, but both were seemingly nice people. We dressed up fancy and went down to the Veuve Clicquot Design Miami dinner at the Moore Space. I got an invite, which made me feel validated as a person in some way. The champagne was a flowing and food was plentiful and pretty tasty. The space had been decorated a different theme each floor – beach, forrest, and something else I can't remember. We got our photo as Lynn Tracy and Nathan Buong on the World Red Eye site. This pleased both of us and Lynn and Buong.
We missed the special guest, Scissor Sisters, because I had to get over to Ricochet to review the Perrier/Vice sponsored TV on the Radio show. That bar is a nightmare spot for a show like that. It's like 50% bar, 20% standing room, and the drinks are like $10 for well. Then we gathered forces and went over to Duets at Dimensions Variable. Nathan caught a moment of that in time.
Saturday. What did we do on Saturday? We went back to Scope, which was great. Seemed smaller this year and I have to say, my favorite works exhibited were made by locals. Farley Aguilar's wall of spooky paintings was breathtaking. It's so incredible to see his work up like that. It just punches all of the other work in the face. I mean, it's like not even fair that other people would be allowed to show their work next to his. Jen Stark's work was beautiful and how'd-she-do-that amazing, as usual.
My favorite work of possibly the whole week was David Rohn as The Amazing Ultran at Scope. He appears to be a mechanical fortune teller, but is actually an unbelievably disciplined performance artist in a box. You give him a buck, he writes a full page fortune for you. Mine was… Well, it's none of your business what it said, but it was pretty relevant to my life right now and I now think David Rohn has magical powers.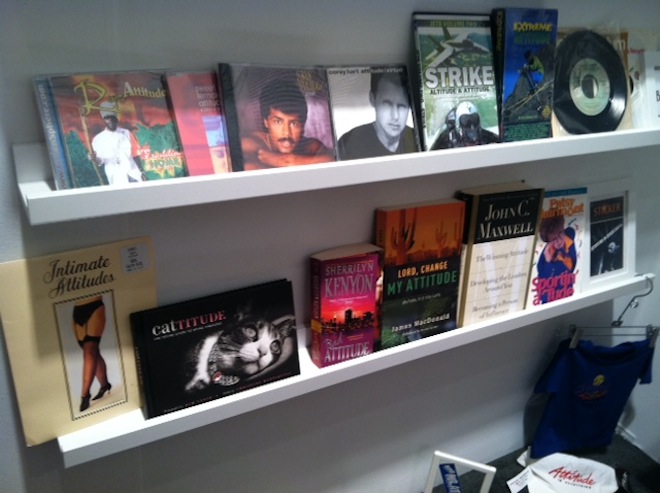 The I Heart My Attitude Collection by Barb Choit took over the Dumbo Arts Center booth at NADA. It was incredible. Definitely one of the funniest and most fun take on attitudes and our strange culture.
We finished off the night at the Tom Tom Magazine showcase at Churchill's which managed to be both relaxed and exciting. Mindy of Tom Tom and Adam of Needless Records offered a really great lineup, and made my night.
Sunday, well, we did Pulse again and hit up NADA, finally. NADA was my favorite of the fairs this year. While others seemed to want to sell, sell, sell, NADA offered some really unique works by emerging and established artists that were more inspiring than boring. We also stopped by Bernice Steinbaum's Gallery to check out giant photos of Nathan by the talented and hilarious Ricardo Estanislao Zulueta. They're HUGE and he's in his undies. It's on the second floor, check it out. The exhibition up downstairs is loads of fun, too.
Nathan ditched me on Sunday night and I ended up throwing all of my money at strippers at the Overthrow Hard 2 Leave party at Gold Rush. Hanging out with drunken perverts and being a drunken pervert was a truly great way to end a long, stressful week of free shit, art, and endless writing.
Till next year.

Jen Stark is always a winner in my book.