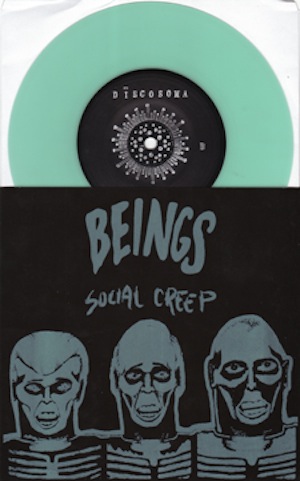 Remember how Beings made everyone all weepy and cranky this summer by breaking up? Yeah, thanks guys. Poor Jose Flores was a bit heartbroken, and even took the time to write about the breakup up on our THL Miami Music Week. I'm exaggerating, he wasn't actually heartbroken, but he did note, "Of course, now that they've broken up, I just want more Beings." Well, he and we all are in luck, because Jared McKay, one half of Coral Morphologic and a whole lotta Discosoma Records, managed to put together one last sonic hurrah with the release of the new Beings' EP Social Creep. Discosoma pressed only one hundred of these little glow-in-the-dark vinyl babies. The cover art glows too. Spooky.
Tonight, he and a whole buttload of fans will be listening to the new 7" featuring four songs by Miami's favorite band to break up at the height of their local fame. The Scumbag Party takes place at Lester's (2519 NW 2 Avenue) and starts at 9. It will feature "DJs" like me (hi), Kevin Arrow (who is a very good friend of music), Domingo Castillo (handing out mixtapes), and many others. Tomorrow at Lazer Wolf (901 Progresso Dr, Ft. Lauderdale), the party continues.
Check out their song Modern Crush here.
Read the New Times article here.