Thanksgiving, the mark of the beginning of the Holiday season. Families get together, food is cooked, fights are fought, and football is watched.
Thanksgiving is a pure American Holiday. It celebrates a commerce driven exchange between a weakened horde of white invaders that were given clemency by kind and peace loving Indians, only for the whites to gain strength so that they could make efforts to pillage, rape, murder, and steal.
Ironically, there is no word for irony in Wampanoag?
Nonetheless, the American tradition was born over a table of cornucopias filled with squash and fruits, deer steaks, and, most of all, the majestic American wild turkey. No other animal or food is so closely related a single American holiday such as the turkey is to Thanksgiving.
According to the National Turkey Federation 736 million pounds of turkey are eaten every Thanksgiving, which translates to a full twenty percent of all turkeys eaten in a given year (if you throw in Christmas and Easter, that number jumps to thirty-eight percent of all turkey eaten in only three days!). This means a fifth of all turkeys are eaten in one day.
How does this happen? Is it like Valentine's day? Did Butterball hide in the basements of the Capitol building, secretly working out deals with senators so their vast turkey empire could grow to unimaginable proportions? Nope. Actually, by all reports there were turkeys at the first Thanksgiving.
So what is it with turkeys? Sure, if it was 1621, the year of the first Thanksgiving, it's an easy solution: "hey, there's a turkey, let's kill it." But there's been a lot more dead Indians, dead turkeys, and holiday traditions built since that first sit down. It makes me wonder what does it mean to be a turkey farmer?
Here's the two possible lives of a turkey farmer:
1. He lives on a farm where there are turkeys everywhere. He lifts the toilet seat and a turkey pops out. He looks in the dishwasher and a turkey is sitting on the spray hose. He opens up the refrigerator and a turkey is oddly sitting on the ham, causing some weird interbred food nexus. All year long he tolerates the thousands of turkeys, cutting their heads off for fun, barely being able to sell enough to cover his basic expenses until The Great Turkey Holocaust that happens a few weeks before Thanksgiving.
Or…
2. Turkey farmers hold singles mixers, speed dating, and matchmaker meetings right about the time that it would take for their chicks to come to fruition for Thanksgiving.
As much as I'd love to believe that turkey farms were about managing giant amounts of turkeys, like the Star Trek episode Trouble with Tribbles, it makes a lot more sense that the second option is reality. Is this purposeful? When did this start happening? It would be hard to imagine an 1823 farmer knowing how to align mating rituals of a turkey, much less knowing how to do something like artificial insemination, which didn't become a regular practice until the 1960s.
But that's not even the point, turkeys have always been part of the American tradition. It's not even about farming, because they've always been there.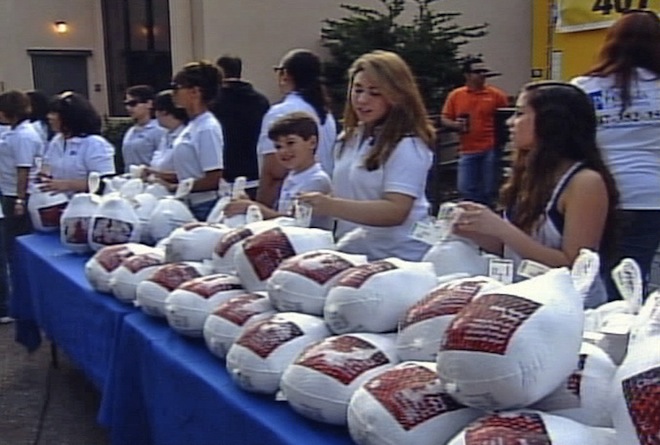 Here's some quick and convenient Turkey factoids:
Turkeys mate only once per year. It usually happens in the spring when the snow starts to melt, which releases a chemical in a turkey's brain that makes them start to gobble, just like consuming alcohol leads fist pumping.
When a turkey lays an egg it takes about 28 days for it to hatch. The peak hatching period for turkeys is May 20 to June 10. Neat!
The tom, or male turkey (the one with the neck scrotum), which is the one that we eat on Thanksgiving, takes a full 22 weeks to grow to maturity.
Twenty-two weeks after May 20 to June 10? For those English majors out there, that falls right in mid-November. Which means that November is the time of the year in which there are the most edible turkeys, because the young ones are finally hitting maturity and the old ones have yet to die off.
Hunting for turkeys for the first Thanksgiving must have just been a matter of throwing a rock in a bush. Wham! There's one for the family.
Then for the next three hundred and ninety years, and until the end of the existence of the United States of America, people will be eating turkey on Thanksgiving because it aligns with turkey mating patterns.
Fucking turkeys.