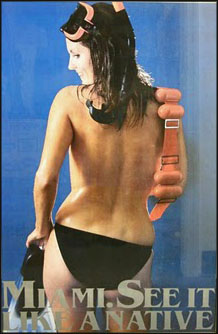 As you might or might not know, I left my hometown of Miami last year after an on-again-off-again stint of 28 years. Repeatedly people come to me and tell me they've visited Miami and had bizarre, possibly bad experiences.
Inevitably the conversation goes something like this:
Them: "Oh Miami's so vapid and weird. I didn't like it at all."
Me: "Well where did you go?"
Them: "I spent the whole time on South Beach, why?"
Really? This is like visiting Ibiza and saying all of Spain is garbage or going to New York and never leaving the Meatpacking District. So with that, let's go through a list of requests for any visitors to the Magic City.
Please Stop Thinking South Beach Is The Only Thing In Miami
Not that there's anything wrong with South Beach … well, actually there is, at least for a visitor. If you live in here, South Beach is probably the best semi-urban walkable community the city has to offer. There are great things all over the place, albeit hidden between the exceedingly fake and/or plastic things, which of course can be amusing to observe in and of themselves for a day or two.
The problem? While I love each of these places I wouldn't spend an entire vacation going to them. Every town has its local bars that reflect the uniqueness of their city. What really makes these bars special as a part of this landscape is that they're comparatively normal despite being wedged between trashy tourist bars, ridiculous clubs, and trashy tourist bars trying to pretend they're ridiculous clubs. So while the view at Zeke's is fantastic and often humorous, it's really not all Miami has to offer at night.
Look, I love the Abbey. I love The Room. I love The Douche. If you're in South Beach and need something to do at night, I heartily recommend any of these. But maybe you want to leave South Beach for a minute and see what else the city has to offer? On a related note:
Please do not go to a South Beach club without thoroughly preparing yourself for what you're getting yourself into
I have been to one South Beach club in my adult life. I showed up early because I am an idiot and actually go to things when the invitations say they start. Anyway, virtually no one there yet when suddenly Brooke Hogan shows up with a camera crew. As the place was empty, the footage they took wound up getting interposed with stock footage from another club so as to make it look like there were actually people in the room and the place was basically 3x as big as it actually is. By the time people started showing up, Brooke was gone and I had finished my $15 Heineken and discharged all social obligations. As I was leaving, a 1/2 block long line had formed for no good reason other than to make people think the place was somehow interesting or exclusive when it was in fact just a lounge selling overpriced alcohol.
But hey! That's clubs, right? Ridiculous door policies, vapid people and all that. So if you're looking to party with blonde women with scary jawlines in an incredibly fake, expensive way – knock yourself out! Just realize it won't be the soul sucking experience you're expecting – it will be far, far worse. If you'd rather go to a club where people don't drive up in rented Maseratis, there are other options available – many of which are unfortunately not on the Beach and I've probably been away from too long to really have any idea if they're cool anymore. This brings me to my next request:
Please stop thinking it's possible to actually see anything of note in Miami without a car or at least a bike
"See it like a local" as they say. Well, every local has a car because public transit is crap. You need to get the hell off of South Beach for a minute, so rent a damn car. Alternately though you should seriously consider finding a bike.
"But John, isn't Miami hot and disgusting basically 11 months out of the year? Don't you basically run from air conditioned box to air conditioned box?"
Well, yes, but here's a fun fact: while Miami's public transit is notoriously bad, with a bicycle it can actually be pretty great. Buses all have bike racks and while the Metrorail doesn't exactly GO anywhere all that great it makes for a terrific connection between north and south IF you have a reasonable means to get to and from a station. That means, my friends, is a bicycle. You didn't really want to spend your vacation paying for a rental car just to get stuck in traffic anyway. Speaking of getting stuck in traffic …
Please don't take the generalized unfocused rage we all have personally
Miami is an angry city filled with angry drivers and angry people who don't make eye contact with or acknowledge one another unless absolutely necessary. We are not friendly. Cashiers will rarely respond well to jokes, much less smile. Bartenders will usually take a while to warm up. This isn't because you're a tourist; It's because we hate everything. Don't sweat it and don't think tipping well will help. Tipping poorly WILL make it worse, however, so for everyone's sake please tip decently.
Please do something outside that doesn't involve a beach and please go to a beach that is not South Beach.
Vizcaya, Fairchild Tropical Gardens, Deering Estate, Virginia Key, Bill Baggs and Matheson Hammock are all valid options for things to do outside. There are a ton of places to rent kayaks. There are tons of amazing beaches. Please utilize some of these.
While going to The Everglades is also a valid option, it is also an extremely touristy and out-of-the way one. Also remember how you didn't want to rent a car? All of the above are much easier to get to and potentially less uncomfortable when you get there, not to mention less expensive. Speaking of uncomfortable:
Please don't visit during the summer
It's the tropics – it's going to rain between 1 PM and 8 PM without fail and be hot as hell the rest of the time. Go any other time of the year.
Please do not pretend you experienced anything of local culture without at least passing through some of these places:
Wynwood/Design District
Little Havana
Coconut Grove
Downtown Coral Gables
Morningside/Upper East Side/whatever just drive up Biscayne Boulevard for a bit and marvel at how the scenery changes as you go.
Doing at least some of the above will guarantee you will not bump into me on the street and tell me that my hometown sucks. Thank you.