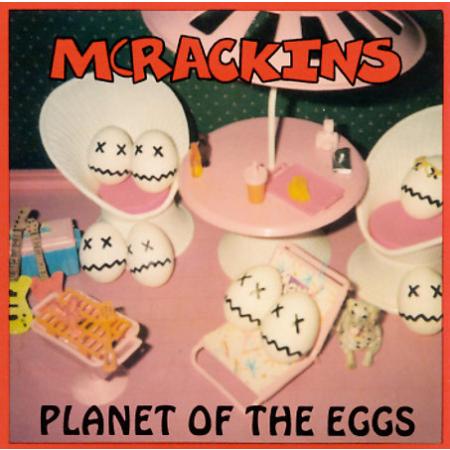 This is Part Twelve. This part is not one of the lost tribes of Israel. This part has many parts of disco and disco-ness. If that offends you, move right along. The assaults on grammar and spelling continue. It will make you reticent to the proclivities of your heart. But we also hit 300 entries in this part, which is cool for the ladies because it will remind them of the super-buff dudes from that horrible movie about the 300 Spartans and the Battle of Thermopylae. I promise no history anecdotes here. Just my humble narration and whimsical eye.
276. HIS HERO IS GONE — THE DEAD OF NIGHT IN EIGHT MOVEMENTS. This is a great 7" that I actually wore down considerably. Traded it away lest I finished the job. Great fucking dirty smelling crusty hardcore from these backwoods lumberjacks. Soulful, desperate, hinging on next month's welfare check. Even a little niggerish at times for good measure… but always dirty. I recently got a slightly less used copy.
277. RED HOT CHILI PEPPERS — THE UPLIFT MOFO PARTY PLAN. Aside from having Flea, this album also boasts the background vocals by Mr. Angelo "Motherfucking Fishbone" Moore. It is arguably RHCP's best album tied with Mother's Milk (which loses a bit of charm with overproduction). It is a party record. It is fun. And believe me, with a "themed" entry I have planned for this, it is not all accolades for these guys.
278. RITES OF SPRING — RITES OF SPRING. Violent hardcore with emo sensibilities and the training ground for Fugazi's Guy Picciotto and Brendan Canty. This is the real deal. Short lived but sweet. Where the fuck is my goddamned tape of their stuff?
279. GREEN JELLŸ — CEREAL KILLER. When the "Three Little Pigs" track came out in video format, at first I was taken slightly a back and wondered, "what the fuck is this shit?" But then the humor of it kinda came through and I started to get it. Yeah, this was some funny stuff. Even though the album in full is a little hit and miss, their combo of thrashy punk metal did kinda work. Ha hah ha!
280. ABBA — WATERLOO. This album was one of the earliest memories I have of the connection between music and cleaning. How it helps metronome-you along in what is an otherwise boring activity. My mom used to blast this when we lived in El Rosal.
281. THE BEE GEES — LIVING EYES. This was another album that mom would blast while cleaning the house in El Rosal. I remember the family room was behind the kitchen and my dad's stereo looked out from one wall with his magna-plain speakers pointed to the glass facade that let out into the open-air garage. Lots of noise, lots of noise. "He's a Liar" for some reason stands out.
282. VARIOUS ARTISTS — SATURDAY NIGHT FEVER: THE ORIGINAL MOTION PICTURE SOUNDTRACK. More Bee Gees fun for mom, and we're talking disco-variety Bee Gees. Guilty yumminess and sparkly floors. Also remembering this from El Rosal. Now that I think of it, when we lived in Prados del Este, I think ma stuck to the radio and not the wax. Word up!
283. ANDREA BOCELLI — ROMANZA. This is more from my mother's modern era of cleaning. This blind lawyer tenor opera dude just couldn't be avoided during the '90s. Jesus H. Christ with a handbag full of fake grenades! Not too bad though. It could've been worse.
284. JUAN LUIS GUERRA Y 440 — OJALÁ QUE LLUEVA CAFÉ. Even though I was the actual owner of this fantastic merengue disc, this was the first time I ever realized the levels of insanity and torture that my poor mother would succumb to in order to keep a clean house. This was the beginning of the "bleach" era in which my mom would use massive amounts of bleach in closed quarters (because bleach kills everything) and bleed profusely from her nose. Awesome. Great album though, danceable and legit. The title track is a beautiful pastoral merengue.
285. BILLO'S CARACAS BOYS — GRANDES ÉXITOS. I remember this album because when famed Venezuelan composer and director (well, he was Dominican, but he lived and worked in Venezuela all his life and Trujillo "The Goat," forbade him from returning to the DR) passed away in 1988, I was sitting in the El Rosal family room watching the TV while my mom cleaned the kitchen. I went and stared at the album cover for a while after that. Clean kitchen and Billo's got a brain hemorrhage.
286. GLORIA GAYNOR — LOVE TRACKS. For all intended purposes, before becoming a Christian, Ms. Gaynor did belt out some privately delicious disco hits. Mom dug this shit while she vacuumed.
287. DONNA SUMMER — BAD GIRLS. Another vacuuming hit for my mother. Loud as fuck to compete with the machine. With the one-two-three punch of "Hot Stuff," "Bad Girls" and "Love Will Always Find You." Wow.
288. ABBA — VOULEZ-VOUS. I actually like Abba. No shit. This album begat "Chiquitita" and a couple of complaint calls to our first residence in Kendall. The vacuum cleaner was one of them central numbers so that when you ran the hose from the wall-traps, the entire house acted as a loudspeaker for the engine. All fine and dandy, except ma liked to vacuum in the wee hours of the morning. Awesome.
289. EROS RAMAZZOTTI — TUTTE STORIE. Another one of them Italian guys who couldn't be avoided during the '90s. Was he good? I dunno. I just remember this goddamned tape on the re-loop function while some serious cleaning got done. Ruthless. What I wouldn't do to get some Niccola Bari in his stead. Oh well.
290. ANGELIC UPSTARTS — TWO MILLION VOICES. I bought this disc during a trip to England back in 1996 I believe. Prior to purchase I had only heard the Upstarts on compilation discs and I was totally blown away. Their mix of punk, Oi! and traditional Irish, Welsh and Scottish music was refreshing to hear. Fantastic.
291. THE DOGMATICS — 1981 – 86. One of Boston's best kept secrets and one of the areas greatest and most influential punk rock bands. This compiles their output which was cut short due to the premature death of Paul O'Hallaran back in 1986. Available on Shredder and Vagrant Records I believe.
292. THE BUTTHOLE SURFERS — ELECTRICLARRYLAND. If for anything, the fact that this album begat us "Pepper" which could be their most overplayed song, is good enough. The fact is the album is pretty good on its own. Buttholers might take offense to that and say that Independent Worm Saloon was better, but as far as me is concerned, this was my first taste. Tasty.
293. CAT POWER — YOU ARE FREE. This is a nice little disc if you like Chan's shit. I like it better than The Greatest. It's quirky and it gives me a hard-on through and through.
294. ERIN TOBEY — ERIN TOBEY. I imagine Erin Tobey is one of them nerdy, post-punky, DIY, "I sew my own clothes and teddy bears" type of chick that makes quirky music a la Cat Power. Yeah. But as opposed to Cat Power, Erin Tobey's u-g-l-y and she ain't got no alibi! So there, I'm an asshole that only cares about looks. Even if she were to sew me a teddy bear… well, whatever. She does have a track here titled "Wolf Alice" that gives me the heebie-jeebies. It is eerie and her voice works very well in it. I was just kidding about her looks. I don't know what she looks like and I'd treasure any handmade object for ever [or at least until one of my compulsions comes up].
295. LOS HOMBRES G — LA CAGASTE… BURT LANCASTER. With tracks like "Marta Tiene un Marcapasos," "El Ataque de las Chicas Cocodrilo" and "Indiana," this, their second album forever etched this band's raison d'être into the minds of all Spanish speakers across the world. Lordy Lord Lord, did I fuck up that tape by listening to it over and over and over again. Deliciously naughty. What can I say, that shit was like forbidden candy to my nine year old needs. More entries for them in the future, but this was the first taste. Yummy.
296. IRON MAIDEN — SEVENTH SON OF A SEVENTH SON. I believe the one-two punch of "The Evil That Men Do" and the title track are as close as we come to a revelatory moment in metal. Coupled with the underlying narrative of ESP-related phenomena, what else can I say? This is a flawless album by any standard.
297. THE PEECHEES — LIFE. This album represents those college afternoons hanging out at my cousin's short-lived dorm hitting the Schlitz 24 pack pretty hard with this weird alt-punk band providing quirky background noise for our intoxication. Fun. Those days were fun.
298. MOMMY AND DADDY — DUEL AT DAWN. This is one of those discs that represents more the moment than the actual music. While it is not bad, I really enjoyed the band live and I caught them at (out of all places), the Señor Frogs on South Beach on like a Tuesday night six or seven years ago. The disc represents the moment in time a personal betrayal began and also meeting a bunch of cool musicians and hanging out over beers, getting a good talk going. I enjoyed their set and they gave me this. Neat-o.
299. THE MELVINS — STONER WITCH. All I have to say is: "Magic Pig Detective." Oh, and: "Shevil." The Melvins are just magical, aren't they? What fun! Yumm-o!!! This was another senior year of high school album that I enjoyed. Who am I kidding, I spend more time listening to "June Bug." I dig it.
300. MCRACKINS — PLANET OF THE EGGS. I bought this disc cause it came out on Stiff Pole Records and everybody knows I've always been a Stiff fan, so I figured, why not? Well, it turns out these costumed Canucks are the Agathocles of the pop-punk world with their eight thousand releases and whatnot. Cool little disc and funny too. A Canadian Ramones if you will. Horrible album art seems to be a must for these guys as is cameoing in really bad Canadian low-budget comedies about skiing. I am very lucky and fortunate to have witnessed Stiff's memorial concert last year. Those guys out in the Tampa/St. Pete truly have a sense of family.