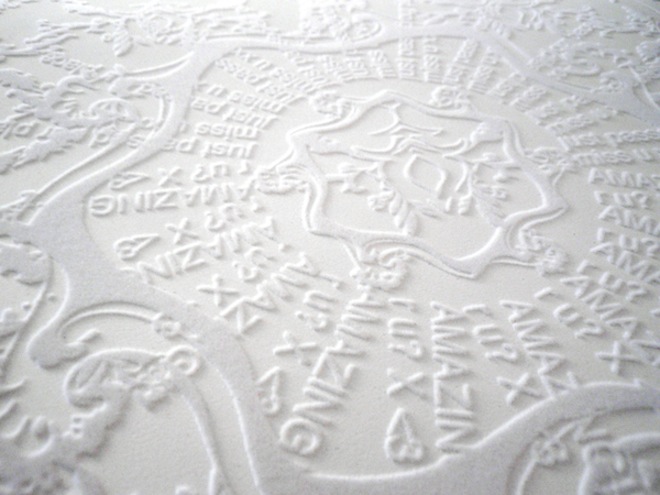 Lisa Slominski at Dimensions Variable
Kick off your artsy weekend on Thursday for Fashion's Night Out. Hit up the Design District for free booze, expensive clothing, some art, and dirty looks. Last year, I rode my bike out there, and no one thought I fit in, probably because I looked homeless. Either way, it's a good way to get in that mindset of going out and enjoying the city, because the season has begun, and everything will suddenly become art. Here's a little list to get you focused for the upcoming insanity. Oh, and don't forget to visit these shows.
Thursday
Hard Poems in Space is opening as is a vintage popup market at Nektar De Stagni Shop (155 ne 38 St). Make sure to read about it here and stop by at 7 p.m.
Metropolis, a solo show by Yuri Tuma opens at at Butter Gallery. This will be his third at the space – 2301 NW 2 Ave.
Lester's is going to have LoNomada mobile art boutique, Triian Jewelry, Richard Hoglund with Bic Pen Tattoos, and Real Sorbet at 2519 NW 2 Ave.
David Castillo Gallery is celebrating their six year anniversary by presenting Crushed Candy, with works by Jonathan Ehrenberg, Shara Hughes, Meredith James, and the TM Sisters at 2234 NW 2 Ave from 6 to 10 p.m.
Friday
Snitzer has an opening Sunny Suits' Regular Lovers
 with a flyer that features boobs.
From 7:30 to 10 p.m. at 
2247 NW 1 Place
.
Christopher Miro Gallery at the beautiful Villa 221 (139 NE 1 St) will open Been Around the Block from 6 to 10 p.m., a group exhibition including Lorie Setton , Shie Moreno , and Jovan Villalba.
Saturday
The de la Cruz Collection is honoring MOCA's 15 year anniversary by screening MOCA's Optic Nerve finalists. The environment where the screening will take place is designed by artist, curator, and THL friend Carlos Rigau.
Milking the Void is taking place at More Funner Projects in the Buena Vista Building (180 NE 39 St, first floor lobby). The art is by artists from anywhere but here. Learn about the rest of the world through the tiny space.
the end is hosting Strategies Against Architecture, a project by RadioActive Record's Richard Vergez as party of Ear Conditioning at 818 SW 4 Ave from 8 to 11 p.m. There'll be a live performance by möthersky.
Hardcore Art Contemporary Space has an exhibition Marvelous Punishment by Natasha Duwin. Make sure to swing by and see her hand crafted works that could only be made by female hands at 72 NW 25 St from 7 to 9 p.m.
Primary PROJECTS has a group show curated by Curated by Books IIII Bischof, Typoe. and Chris Oh, called His WIFE & Her LOVER with works by Valerie Hegarty, Mark Jenkins, George Sanchez Calderon, Scott Shannon, Manny Prieres, Emmett Moore, Franky Cruz, Andrew Nigon, Cleon Peterson, Nick Klein, Johnny Robles, Jessy Nite, & Edouard Nardon at 4141 NE 2 Ave, Suite 104 from 7 to 11 p.m. with free drinks by 42 Below and Perrier.
Dimensions Variable will have work by London based artist Lisa Slominski, Dreamy Nomads, Baby. Head over to 171 NE 38 St in the Miami Design District.
Chichalamaka! is Nicole Salcedo's first solo show at Tomm El-Saieh Presents, 50 NE 29 St, from 7 to 10. Her drawings are entryways into another mythological world.
Locust Projects had an opening with work by Austin-based Andy Coolquitt +, "Plus Sign" at 155 NE 38 St, Suite #100, from 7 to 10 p.m.
Nina Surel's solo show is called Understory taking place at Praxis International Art, 2219 NW 2 Ave, from 7 to 9 p.m.