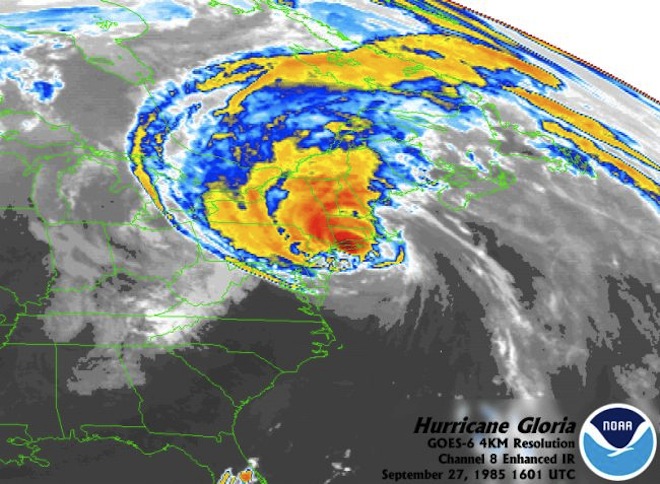 Inspired by the video John Spain posted on our Facebook wall of Hurricane Gloria .
Growing up in Miami mostly, I've ridden out dozens of massive storms, but like with sex, the most memorable hurricane was my first. It was Gloria and we were in Stoughton, Massachusetts. It was 1985, before moving to South Florida was a permanent consideration for my family. My father was away at medical school and my mother, brother, and I were hunkered down at my grandparents' government subsidized two-bedroom. Like with all hurricanes, we were bubbling with anticipation.
Probably the most exciting thing about wind is its unpredictability. Halfway through the storm, my grampy invited me to walk out into storm with him. He kept an eye on me as I slowly edged my way into the winds where the rain whipped at my skin like pellets. Of course it didn't take long for it to almost knock me on my back. When you're six, feeling helpless is something you do, it happens regularly. Your cousins throw you around. You're small, you get pushed about, but rarely does a force of nature other than a stomach virus make you lose all control. Feeling the wind pick me up, trying to get my footing again; it is one of the most powerful feelings to feel so powerless.
I got scared and ran inside.
A back window broke loudly, everybody screamed and my mother and memere ran to cover it. A line of trees in the backyard stood in a row with tall, girthy, mature barks. The wind blew over a huge branch and the older women ran out to move it. Some storms bring rain, but Gloria brought the wind and in one giant gust, she blew down all those trees. Like a line of dominoes, they went down, almost catching mom and memere in the process.
This was all before we moved to Miami. About seven years after Gloria came Andrew. He knocked the hugest banyan on the block down to create a raccoon filled fortress on our front lawn. I've spent hurricanes drunkly mopping up water with towels while it slammed into my apartment, once I was wracked with anxiety and slept while my mom and her friend watched the rest of the banyans topple down the street. I even took a deeply sad and stressful flight through a hurricane to my uncle's funeral in New Jersey. The thing is, hurricanes are grand. They're like these great big statements being made. Your relationship with them is different from an earthquake, because they announce their arrival. No one needed Brian Norcross to tell us that Andrew was making his way into town, the silent birds and quiet air offered enough forecasting.
Within a hurricane so many things happen. There are mini-tornadoes, silent patches, stormy bits, and a quiet eye. Each is its own complex force, structurally unique, and with characteristics that are complex. When I was six, I noticed the way Gloria came in, how she changed the landscape and tried to kill my family, but she left me alone, and so I feel with her a sort of stormy camaraderie, one that will never be forgotten, no matter how many Katrinas, Wilmas, or even Irenes come galavanting through town.