Photos taken from the So It Seems lookbook.
T-shirt nerds, you're in for a treat. A new brand of tops are coming out of South Florida, ready to grace your sweaty Miami chests.
So It Seems is here. It's a good name for a T-shirt line. Shit, it's a good name for just about anything except a baby. Three Miami artists Michael Vazquez, Jose Felix Perez, and Christopher Miro produced five very wearable, super cool designs. When I first saw the site, I said out loud to my laptop: I must own you.
Vazquez, Perez, and Miro met at New World School of the Arts and were once a part of an art collective Guerilla Tactics with two other guys. Their artistic backgrounds offer them, according to Miro, depth, "They way we're developing these shirts, the concept itself has depth." They're not totally in it for the money, but because money matters, buy a shirt at the Shoe Gallery downtown, on their online store, and soon on Karma Loop's the Kazbah. We met with them at Lester's to talk tees. Here's part of what happened.
Who does the designs?
MV: We all contribute the designs. The process usually starts through a conversation. We brainstorm, come up with ideas, or often something will just hit us while we're out living life or whatever. Through conversation, develop the idea, the imagery we want to use and what the shirt actually looks like. We'll get source materials, images… a lot of the times individually, and then we bring it to the table.
How many designs do you have so far? How big do you plan on getting?
CM: Five produced. We have another drop in the fall, so we'll probably have another five shirts then. We're not necessarily going to drop seasonally.
JFP: We have a shirt planned for the arena, when that opens up, in conjunction with that. We'll have maybe two seasonal drops a year, and maybe supplement it with other designs based on things happening during the year.

Boobies! I love this one. THL is all about the ephemera .
Why now?
MV: It's actually been a long time in the works, we released a shirt a couple of years ago. The only thing we released up until these five T-shirts. We've all reached a point in our lives where we're seriously ready to start on a new addition. I'm an artist, and I have my art career which is separate from this entirely. I don't want to say I'm established in that, but I have a footing in it, and just the desire to pursue something else as well.
The designs seem Miami influenced. Is that true?
JFP: Absolutely, I mean, we're definitely inspired by our surroundings. It's kind of unavoidable. Even without trying, it definitely has a Miami vibe to it.
MV: Even if its not like a specific reference, like our postcard T-shirt, it's obvious, it's a specific reference. But even if it comes down to the colors we use. They allude to it.
CM: You picked the right word, "influenced." Of course where you live, where you're at, it's going to influence the work that you do. It's not specific, it's not centric, we're not only appealing to Miami's market. It takes influence, like a tourist tee.
Then I forced them to tell me stuff they like: Trick Daddy, Tupac, Lester's. As far as local musical acts go: Jacuzzi Boys, Snakehole, Holly Hunt, This Heart Electric, Raja Kahn.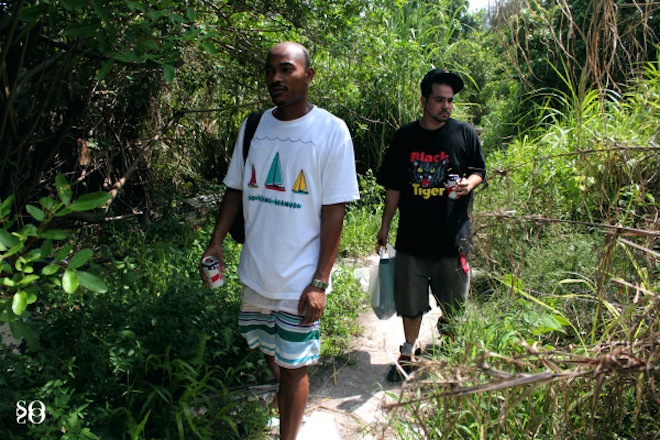 Bermuda triangles!