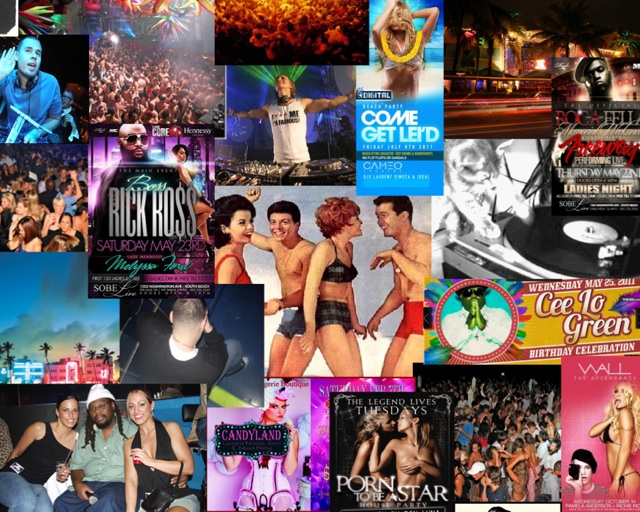 These quotes from various travel guides make we wonder, does Miami suffer from an image problem, or are these descriptions right on target?
"Ouch.  What did I drink last night?  An ashtray based on the taste in my mouth.  Best get some caffeine to stave off the hangover, and fresh Florida orange juice to wash off the tongue at Puerto Sagua in South Beach.  Then I believe I'll sleep on the beach….
"Miami is a city made for tourists, staffed by folks who abase themselves before tourists as if they were Greek Gods.  As long as you can pay, expect some serious tropical coddling and cuddling.  Unfortunately, this town still manages to aggravate.  There can be snooty and/or self-absorbed attitude at some hotels and restaurants.  Driving through heavy traffic and around frequent construction sucks almost as much as the state of the city's public transportation."

- Lonely Planet Miami & the Keys: City Guides
I'm not sure how any of that is supposed to make me want to visit Miami. 

"SoBe (South Beach). . . is where the trendy, tanned, sexy, rich, and young play to excess. By day, supermodels preen in the surf and sand, the fashionistas and glitterati cruise the boulevard on shiny Harleys and in top-down convertibles, while the common folk stroll and gawk. By night, the SoBe crowd, believing that too much of a good thing is wonderful, has raised hedonistic celeb-studded clubbing to an art form. Put your sexy on and get naughty at top clubs like Mansion, Cameo, the Delano, or B.E.D., where you may catch a glimpse of Beyonce Knowles and You-Know-Who snuggling in the corner."

- Fodor's Miami and Miami Beach
Fodor's thinks Beyonce dates Voldemort? That's just weird.
Even if she does, you're not going to see it. You might see Cat Power or that dude who produced Cocaine Cowboys, but you're not seeing Beyonce. Sorry.

"The following is a good, but by no means comprehensive, list of typical (or atypical, rather) South Florida cuisine:

Cuban Sandwiches (also known as medianoche, translation: "at midnight"): some say they were originated in Miami, others say Tampa, but wherever it was, it's a delicious combo of ham, roasted pork, Swiss, pickles, mustard, and, depending on where you are, sometimes salami on crispy, crusty, toasted "Cuban bread," whose origin is still questionable.
Grouper Sandwiches: Or pretty much any fish (snapper, mahimahi, pompano, and so on) sandwich, though grouper is the Ryan Seacrest of Florida fish, appearing on many menus in many incarnations, from grilled and fried to blackened or jerked."

- Frommer's South Florida, with the best of Miami and the Keys
I find it hard to believe the Cuban might have originated in Ybor City, but I'm a halfbreed Mohawk from central New York, so what do I know.
Note, this list concludes with Mango Salsa, Conch Fritters, Key Lime Pie, and Hearts of Palm Salad. This is a decent group, but why did Frommer's limit themselves to six offerings? Skirt steak – soaked in mojo, Argentinean grilled, vaca frita, ropa vieja – seems like a glaring admission. And Jesus, the pastries. Not everyone loves guava, but who can't get behind croquetas? And not mentioning cafecito (translation: "Life Blood of All That is Good") is a hanging offense.
"Cuban bread" of questionable origins sounds fucking delicious. Ryan Seacrest does not.

"The days of cocaine-inspired gang warfare and shoot-outs are long gone. In the words of actor and rapper Will Smith, 'Welcome to Miami' – the place he calls his second home. Why does Will have such affection for Miami? Hookers. [Just kidding! -

AJC

] The answer is that the city is the party capital of the United States, and is filled with the most eclectic mix of people outside of New York. . . "If it's nightclubs, beautiful people, fast cars, big boats and huge egos you are after, you have come to right place."

- Hedonist's Guide to Miami
Another description which manages to make Miami sound simultaneously awesome and like douchebag central.
Every guide I read compares Miami to New York City. The DK Eyewitness guide even claimed SoBe is named "after New York's hip SoHo district" because "the mood veers between the chic and the bohemian." I have no idea if this is a travel guide thing – if every city gets compared to the Big Apple because to the publishers who live there it's the only city – or if most folks think of Miami as New York City's baby brother.

"If South Beach is your glamorous high school crush all decked out in next year's hot fashions and partying until breakfast, Miami Beach is your grandparents." – Moon Florida
"Miami needs no excuse to party: from the traditional to the tacky, the city is fast on its feet when it comes to celebrations." – Time Out Miami
"Here in Miami, the Everglades and the Keys, things are a little Alice in Sweaty Wonderland." – Lonely Planet (this time off their website)
Actually, "Alice in Sweaty Wonderland" I like. In Miami you'll see things you just can't classify, and we're all mad. But whether these travel guides are accurate, they're only presenting one side of our story. To borrow from Whitman, Miami is large, and we contain multitudes.
We do so much more than party; we're just exceptionally skilled at it.