When I heard about Autumn Casey's idea for her show Mission Impossible at the Little River Yacht Club, I thought, "so smart, that lady." She's the singer and guitarist of Snakehole, a talented artist, and a pleasant Churchill's bartender.
She came up with the idea to do the show while actually watching Mission Impossible; part of the concept is "trust no one." Casey brought together a group of artists to pick a name out of the hat, "spy" on the the chosen person, and then make art about them. Here's all of what came from this Tom Cruisian inspired exhibition.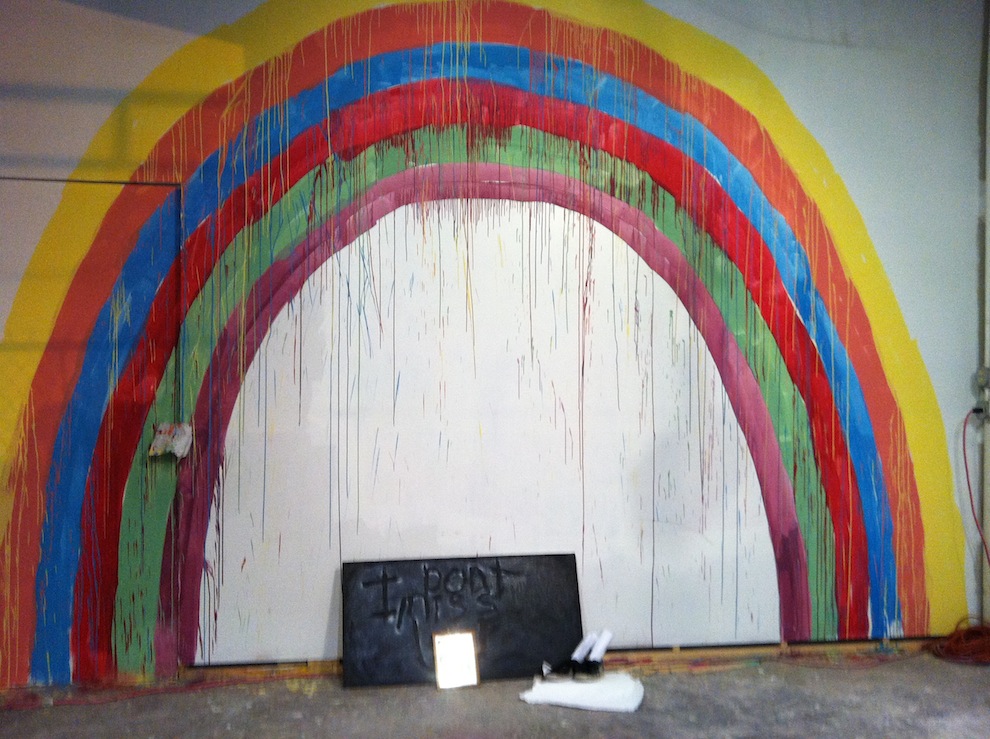 The rainbow represents Sleeper and was created by Jay Hines. I didn't see Jay there, so I don't know why he chose to paint this exactly, but I think it might be because Sleeper is a magical, natural phenomenon like a rainbow.
This is Carlos Rigau's work on Laura Duran. Let me break it down for you. Laura dated Domingo Castillo of the end/SPRING BREAK and then, when they broke up, he moved in with Rigau. This stuff is like the remnants of their relationship. How depressing! Those are Domingo's shoes. I think Laura gave Domingo that mirror/image. Super sads, kind of funny.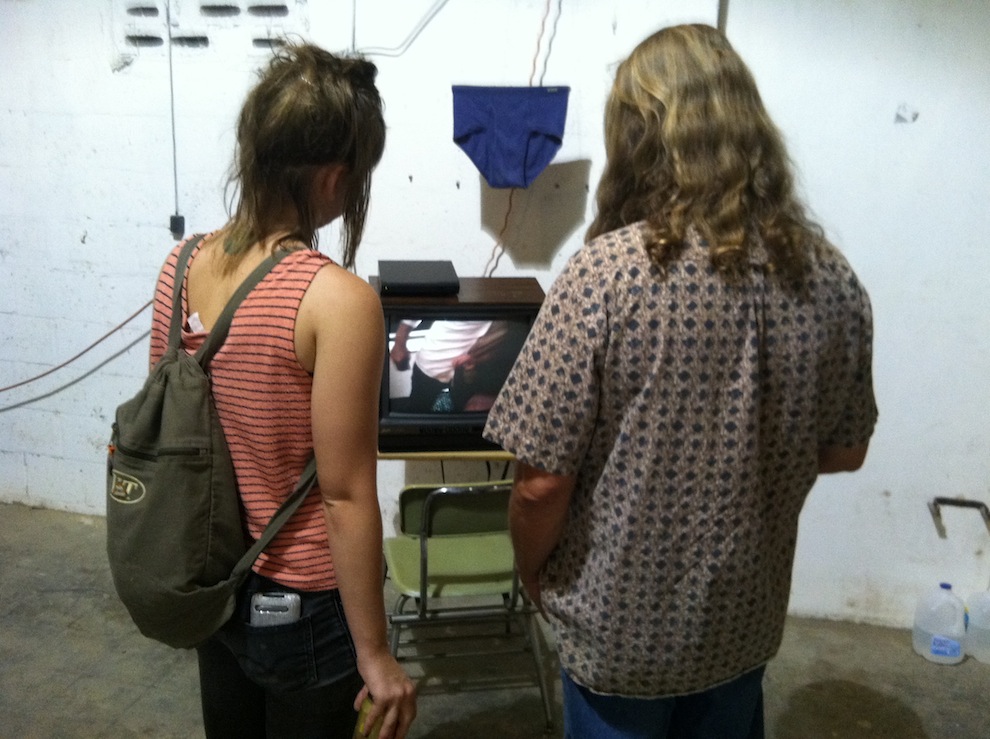 Autumn stole Rigau's underwear from his house, because, why not? Then she went around town with those blue briefs and videotaped people discussing who they thought would wear them or had them talk about the undies. She said she got a little attached to his drawers after being in her purse for so long. So sweet.
Tatiana Vahan picked Autumn and rigged some speakers there behind Janice's head to Autumn's phone. So, whoever was sitting in that chair could hear whatever Autumn was talking about at that very moment. Spookkkyy.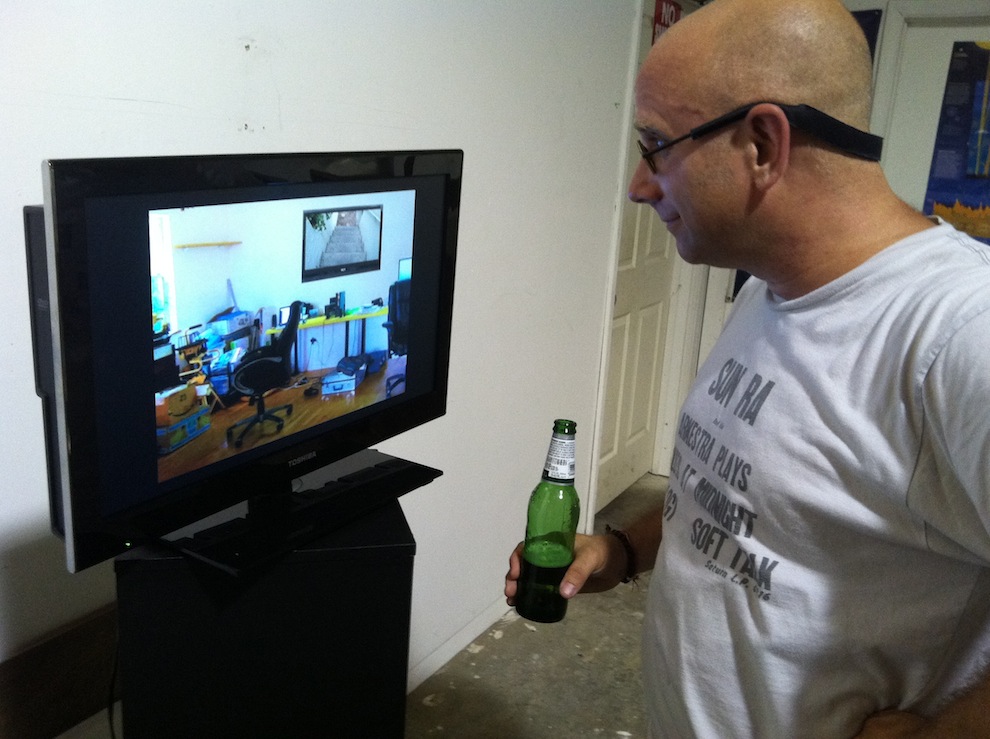 Cynthia Cruz got Tatiana. She recorded her sleeping on an airplane, and then created a dream sequence and put both recordings in a video. There's Kevin Arrow watching the inside of Tatiana's head.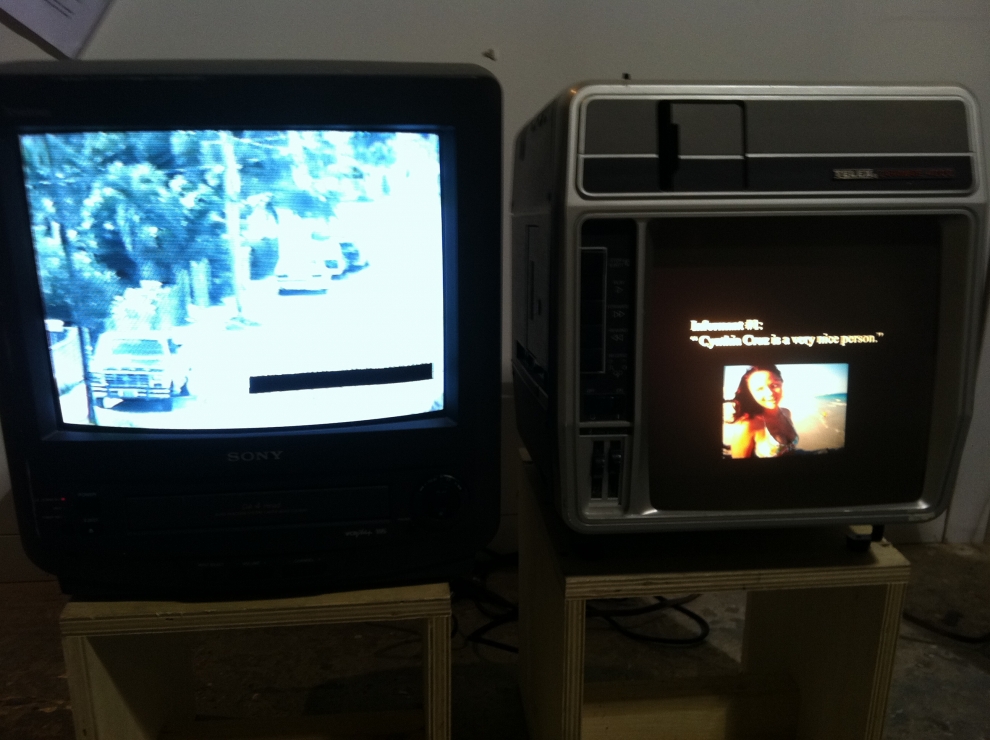 Kevin stalked Cynthia. Just kidding. No really, just kidding. His installation displays a cute photo of Cynthia on a screen, noting that she's a very nice person. She is super nice, this is true. He played surveillance films and phone tap recordings that she thinks are of her house and from her phone, but, see, they aren't. Thus, no actual stalking. Ah, the trickery!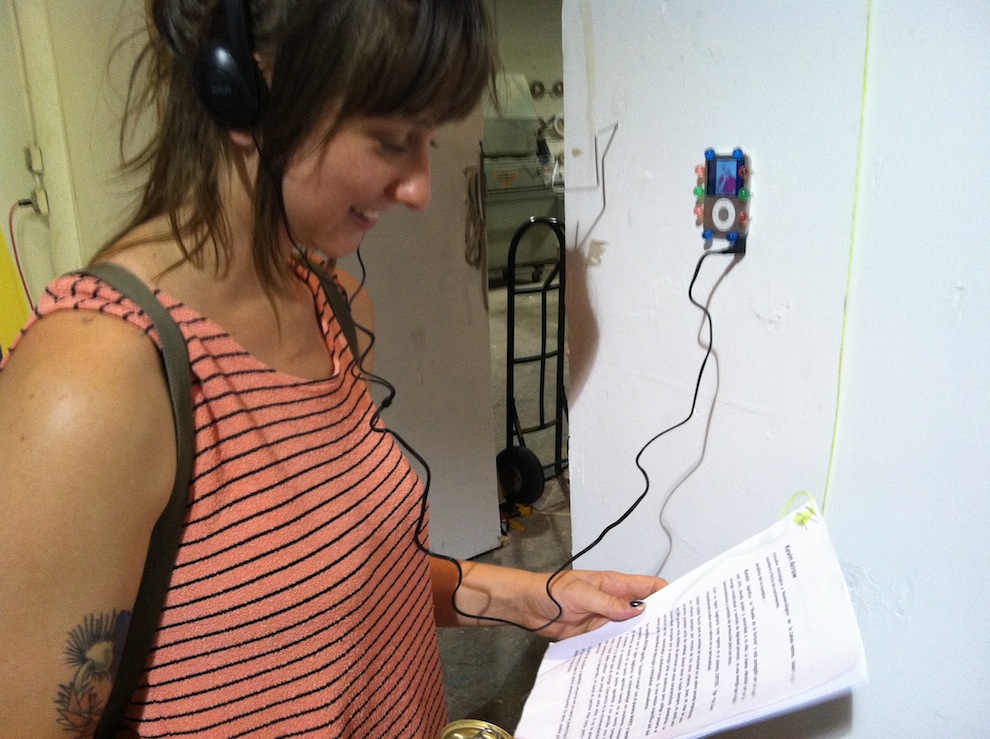 Patti Hernandez went to a psychic and asked her about Kevin Arrow. There's Autumn listening to the recording and reading the Spanglish transcription made by our very own Abel Folgar.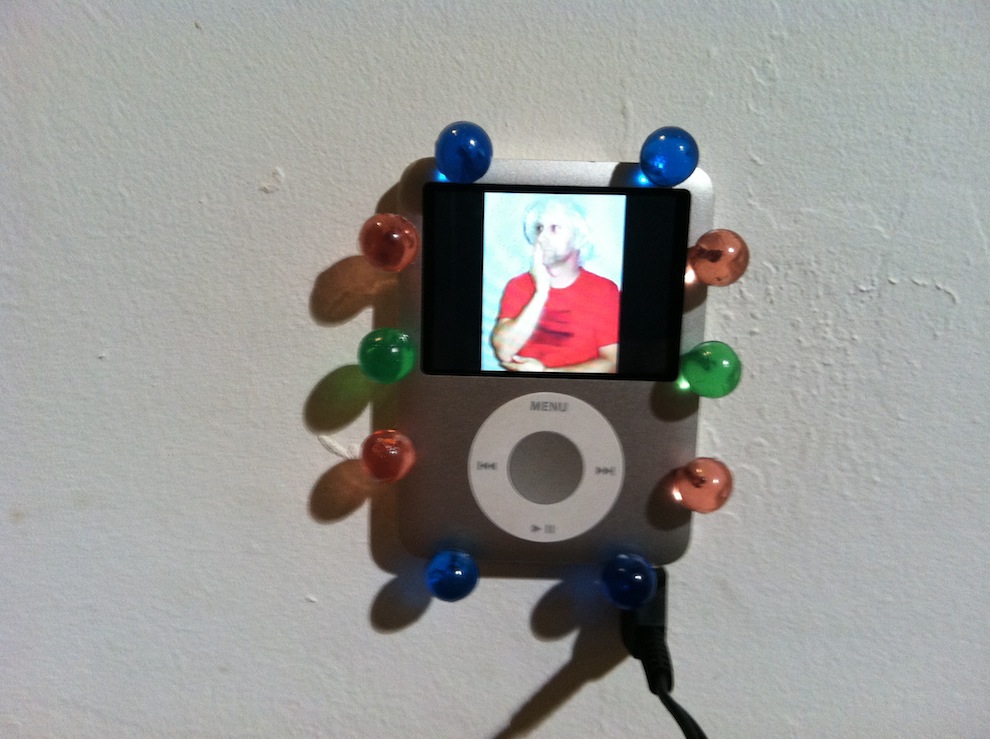 It's hard to see, but that's Kevin's picture on the ipod. There is no better way to know someone than to ask a santera. I'm telling you, it's true! It's hard to really know someone you already know personally. Getting guidance from supernatural sources is sometimes as good as sharing a meal with them.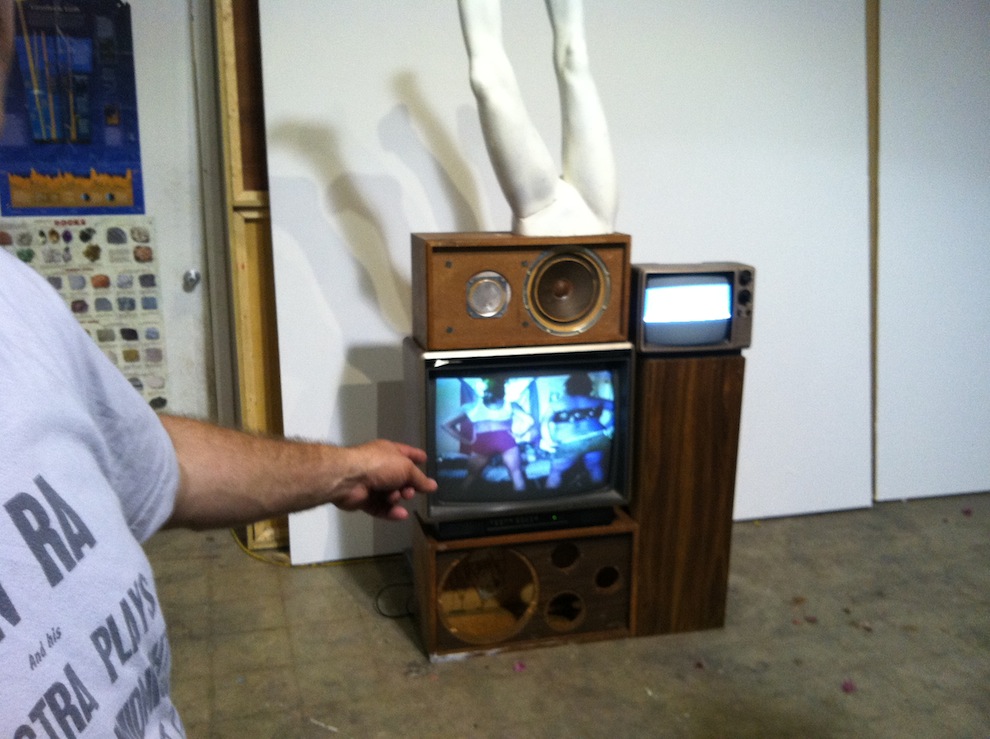 Patti has an installation at David Castillo Gallery, and it looks almost exactly like this one here that Sleeper made about Patti. In Patti's there are YouTube video clips of girls booty dancing, and Sleeper got some cross-dressing friends of his to recreate the iconic internet video, and add their own flare to it.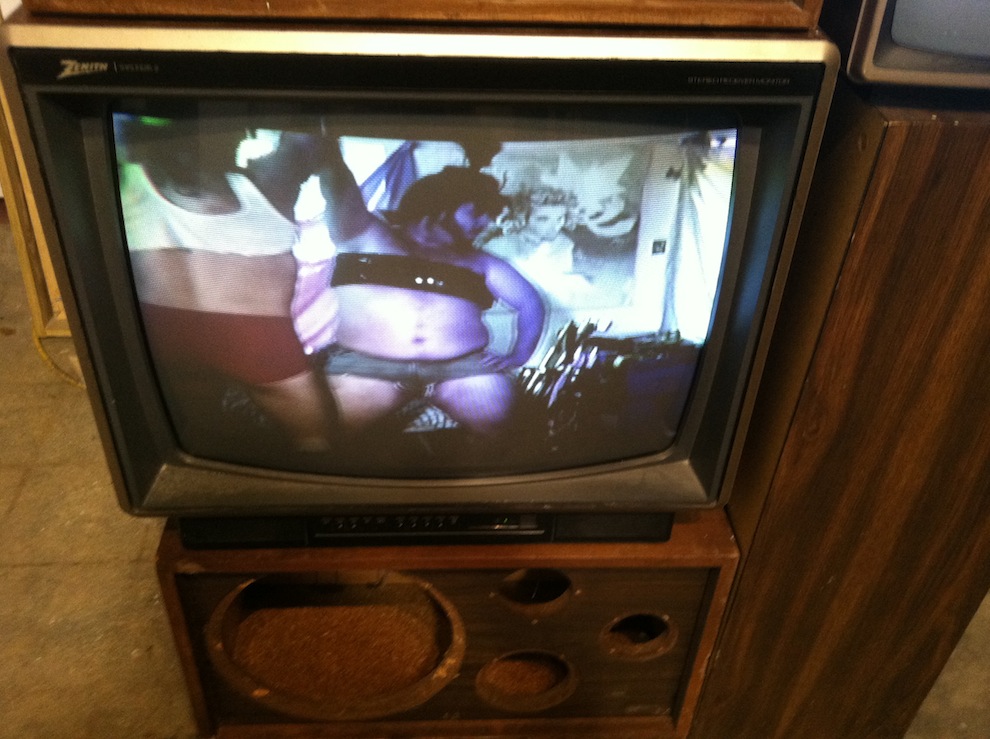 It is brilliant and hilarious. That is my opinion.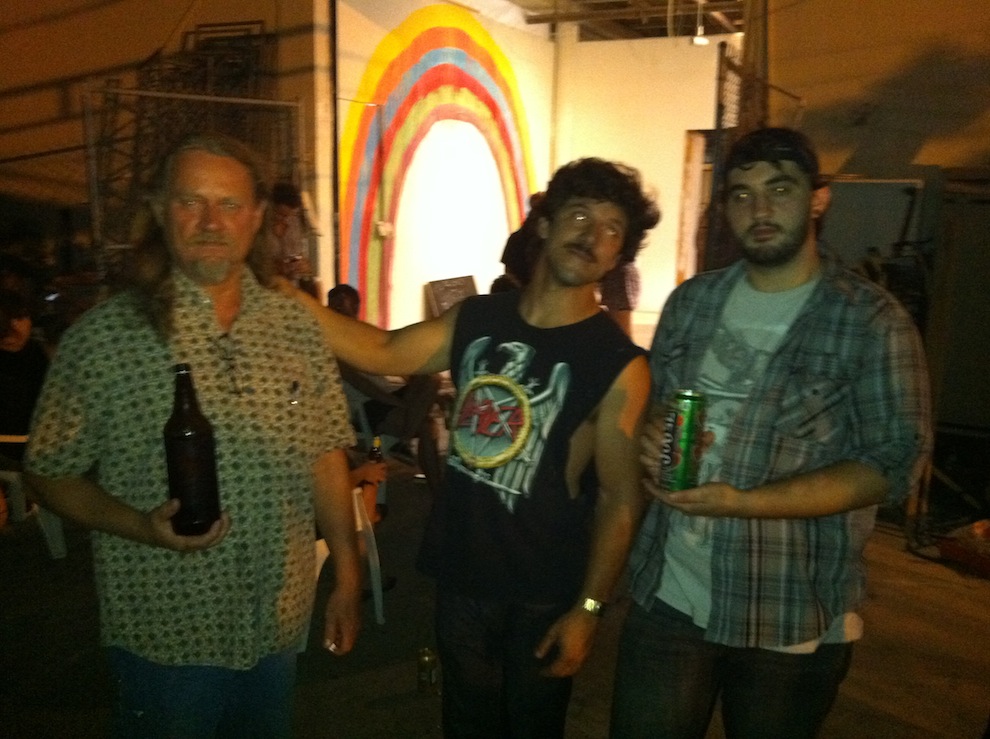 Here are Larry Newberry, artist and Little River Yacht Club overlord, with crazy dancer and art guy Rob "Meatball" Lorie, who has a space in the shop, and George Owen, whose insane drunk name list is up on THL. They look like leprechaun zombies because iPhone pictures kind of suck.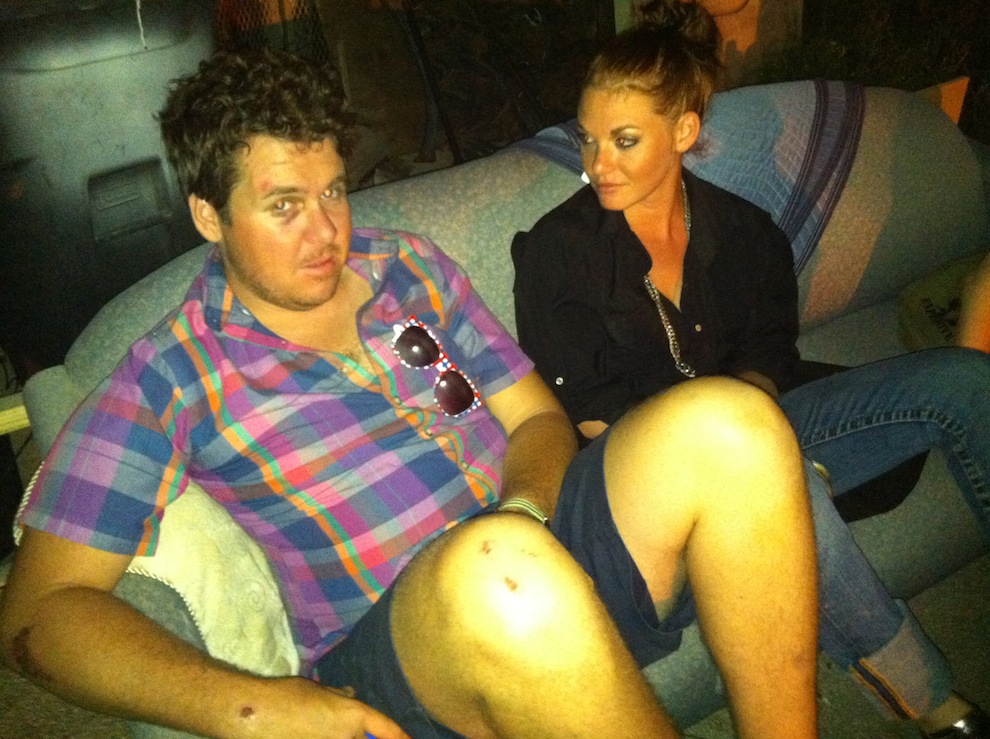 Here are artists Justin Long, who also works out of the Little River Yacht Club, and Nicole Duran. Justin's healing from an accident. We wish him well.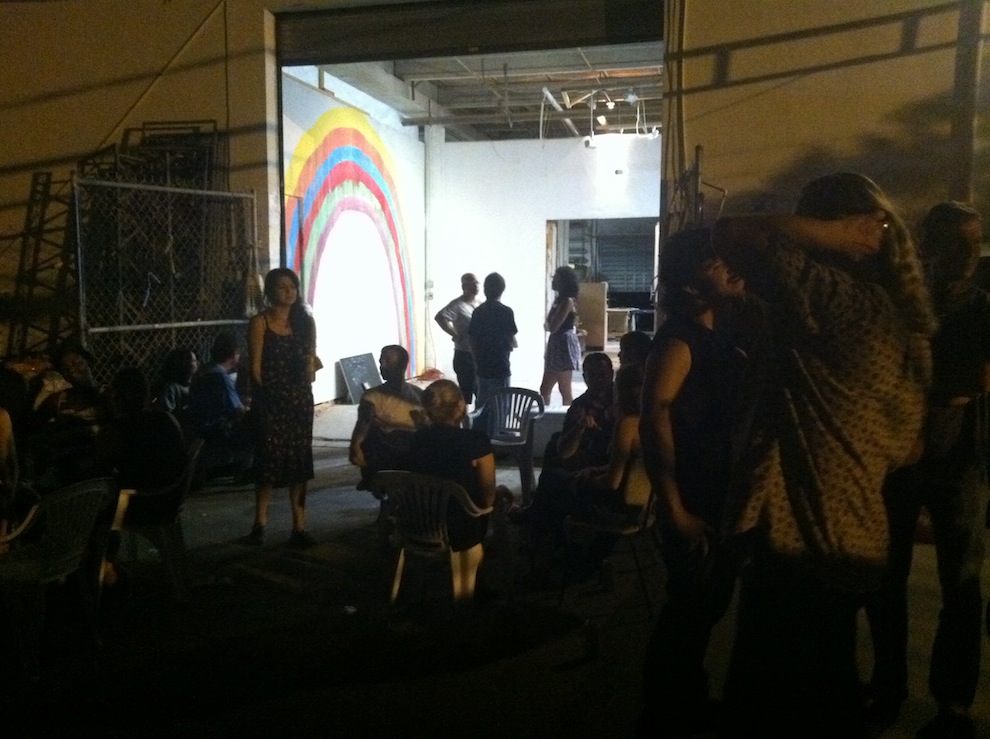 There was a nice turn out for the show. I seriously suggest you go by and check it out. The concept is interesting, funny, and smart as are all of the artists involved.