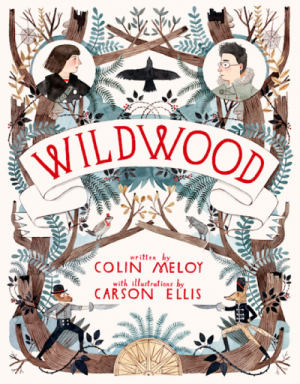 Carson Ellis and Colin Meloy's Wildwood comes out next month. Here are five reasons you should read it.
1 – You like the Decemberists not because it's required by the Hipster Code of Conduct, but because of the story-telling inherent in Meloy's songwriting, as evidenced here and here. And here, if you like murder ballads.
2 – You hung the dustjacket from The Mysterious Benedict Society on your wall.
3 – Imagining the original, unsuitable-for-children version between the lines appeals to you.
4 – It's an instant classic that pays homage to some of the best epics in children's book history – think Narnia, Middle Earth, and The Brothers Grimm – without robbing any of them. It's quietly awesome, engendering nostalgia without being cozy and adventure without putting the entire universe in peril.
5 – You want to guess what Colin Meloy wrote about just to give Carson Ellis an excuse to draw it.
(Yes, that's a badger pulling a rickshaw)
Check out Aaron's blog Sweet With Fall and Fish.