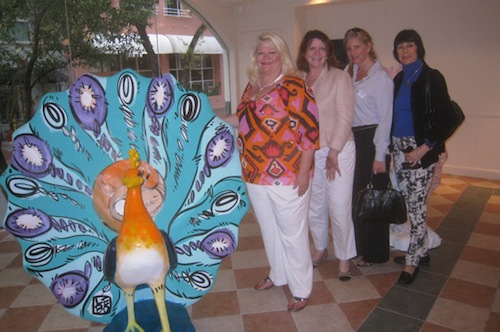 Until very recently, I lived in Coconut Grove. I spent two blissful years enjoying peaceful surroundings, with food and entertainment within arm's reach. For some reason however, whenever I would try to extoll the virtues of living in the Grove, friends my age would brush it off, putting my tick either under the category of "old" or (the dreaded social life death sentence) "married."
"Heading to Sandbar for cheap drinks and tacos! Come join!", sent on a Monday evening, or "Getting a buzz on at the 'Cuda! Come play Erotic Photo Hunt with me!" sent early on a Wednesday afternoon would usually illicit some sort of response along the lines of, "Really?!?!? I haven't been there since I was 19 and using my older sister's fake I.D.!!" Pretty much, a passive-aggressive version of "NO WAY!" Be still, ruffians. Coconut Grove is actually still a pretty cool place to hang out.
Here's ten reasons why.
Sailing and Watersports
If you are a sailor, boater, kayaker, jet-skier, paddle-boarder, or marine-ecosystem enthusiast, Coconut Grove is the place to be. Shake-A-Leg offers cheap slips and moorings, as well as sailing lessons and kayak rentals. Plus, they have boats that are specially modified to accommodate sailors with physical disabilities. Coconut Grove Sailing Club is the chillest yacht club of the bunch, offering a laid-back atmosphere and very reasonable membership and mooring rates. Coral Reef Yacht Club is a bit fancier, but if you crew for someone who's a member there, you can enjoy the pool, bar, and other amenities for free! Biscayne Bay Yacht Club is also present on Bayshore Drive, but I rule it out as stodgy and sexist based on their exclusive male-only membership policy. BOO!
Kennedy Park
This is one of my all-time favorite parks in Miami. Beautifully kept, expansive grassy fields, with lots of shady trees and benches. It's right on Biscayne Bay. There's a dog park, frisbee golf, and a little human-powered Nautilus-machine-style outdoor gym. The running/walking trails are covered in that recycled-tire rubber stuff, which makes it really soft on the ole' knees and joints. Also, there's free yoga there on Wednesday evenings and Saturday mornings. Awesome.
Jungle Living
Living in the Grove is clutch. It's what I call "jungle living" at its best. In many spots, especially in the North Grove, you can be completely surrounded by tropical trees and plants, and not have any clue you are less than one mile from US1. Oh, and did I mention the wild peacocks?!? So cool! PEACOCKS! It's peaceful, serene, and relaxing. Ahhhh…….
Shopping
Coconut Grove offers lots of opportunities to support local business, and look cute doing it. While CocoWalk takes care of your typical chain stores (Gap, Victoria's Secret, Bath and Body Works, Anne Taylor Loft, Black House White Market, American Apparel), there are a number of rad boutiques. I especially recommend
Sale Rack, a very hip second-hand store that will give you store credit for your gently-used stylish garments.
Grovites!
The Grove is full of hippies and characters of all sort. Many people here have roots that go back generations and maintain a fierce sense of pride regarding their local roots. People watching is a free and entertaining activity. You may have noticed the guy with the chicken on his bike, or the ultra-tan dude who rides his bike back and forth from South Beach to the Grove perhaps daily, sexily clad only in a black thong bathing suit. There's also lots of neat artists, activists, and generally smart, interesting people.
FOOOOOD.
Most of us know about the Glaser Farms' farmer's market on Saturdays. If you haven't been, go, but don't try to buy your whole week's groceries. I tried to do that once, ouch! It's pricey, so I recommend shopping for one or two specific meals, or going for lunch to sample their delicious prepared foods. For you vegans and lactards out there – try the nut ice cream!!! Deeelicious!
Paragon Grove 13
The newly renovated movie theater is the bomb. They have the cushy seats that rock back and forth, and the arm-rests go up to encourage snuggling with your date. You can reserve your seats in advance at no extra charge, which allows us last-minute types to arrive after the previews and still get a good spot. Also, they serve beer and wine. Watching movies while drinking is also the bomb.
Happy Hours
Coconut Grove offers lots of chances for cheap afternoon eating and drinking. There's these) and this. Also, if you happen to live or work in the Grove within the 33133 zip code, you should get yourself a Code 33 card, which gets you discounts at various Grove locations.
Festivals!
There's the Coconut Grove Arts Festival, Goombay, Bed Races, Mad Hatter Art Festival, Taste of the Grove, Reggae Festival, and many more. Most of these have live music and many of them are free to attend. The Coconut Grove Arts Festival is around $10 to get in, but St. Stephen's offers a pretty good festival the same weekend, and it's only $1, plus St. Stephen's is the place to get the best kettle corn. Reggae fest doesn't charge admission if you bring a donation of canned food, just like past Marley fests. Although it doesn't draw the big-name artists of Marley fest, the bands are good, the environment is pot-friendly, and it doesn't cost $60.
This last one was supposed to say, "Us!". Meaning Ricky and I. Alas, we have recently moved out of the state and are no longer populating the Grove with our coolness. Oh well, hopefully this has inspired some of y'all to get out there and see the good things happening in the Grove. Enjoy!