There's really nothing more pleasant and satisfying than sipping on Grey Goose cocktails that you yourself have made, or that you've forced one of your best friends to make. I brought Venessa with me to a tasting and she put in the work while we both drank the rewards. It was awesome. Thanks, Venessa!
Here are some recipes for tasty cocktails and a Grey Goose popsicle you can make at home.
These delicious bad boys are made with carrot juice.
Recipe:
Grey Goose L'Orange
ginger beer
fresh carrot juice
fresh orange juice
It was pretty much the healthiest drink I've consumed in a long while, with the exception of the drink below. It was a mixture of healthy things that separately aren't tasty but together are magical.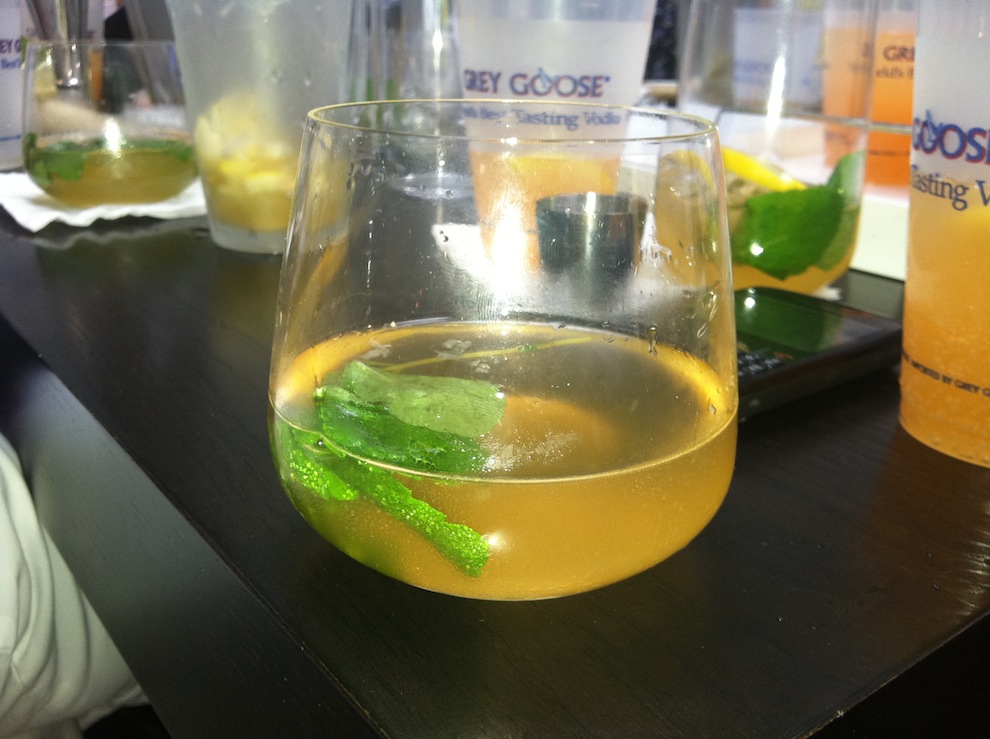 It's called the Grey Goose La Poire Camellia.
It includes:
Grey Goose La Poire
Kombucha
agave nectar
fresh squeezed meyer lemon
garnish with fresh mint
As you can see here, I put Venessa to work…
While I played with a questionable looking muddler or whatever this thing is.
The coolest shizz was this perfectly summer popsicle that you can make at home. It's the equivalent of drinking a half a booze drink. Because it has to be able to freeze, you can't use a ton of vodka. It's infinitely more enjoyable that a beverage in a glass. I wolfed down two of the pear flavored treats. I would have had four more and I'm not a huge popsicle or ice cream fan.
Because they melt quickly, you have to suck them down fast, and thus get drunker more quickly. If you're into caring about calories, these have 200. I guess that means that eating four of them is like one consuming one Shake Shack burger. I would like both at the same time. You can DIY or grab one at the Fontainebleau.
Here's the recipe:
1 oz. Grey Goose La Poire
3.75 oz. fresh pineapple juice or puree
.25 oz. pure cane syrup
Cheers, and you're welcome.