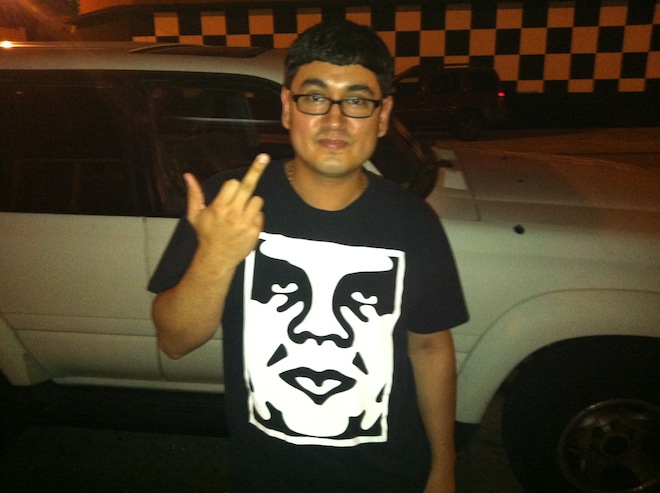 I miss you, Javi!
When I lived down south, I still used to drive out like four times a week to go to PS14, which is what Bar was once called (Bar is possibly the stupidest name for a bar ever). It was where you could find me – like Dorothy Over the Rainbow. I just loved it there.
It was filthy, always. Even after it was jazzed up and then jazzed down, it was still a shithole. The bathroom floors were always covered in fluids, ten people often emerged from behind the lock-less doors. The smell of pot wafted around like it was legal. The cheapest of drinks were drunk. There were fights, and bad music and great music. I danced on that filthy floor. I watched endless games of pool. Now that Bar is closed. It's been a struggle. There's nowhere I want to go. No place with basically free drinks where I can dance with people I mostly know. No lawless location where punches are thrown and the only consequences are rolled eyes. No more walking home alone at 4 a.m.
Now, who knows what'll happen to the space, but as far as I've heard, I don't think it'll be opening as an independent spot. Enough reminiscing. I made an effort to go out this weekend and have fun in a world without Bar, and needless to say, it was a challenge. Here's the rundown.
Friday: The Bass, The Abbey, failed attempt to go to the Shelbourne
The Bass Museum has a monthly event, Beats After Sunset, with free drinks, if you're me. It was nice, but it ends early, so I went by the Abbey, which was, the Abbey, awesome, chill, very chill. I spent $20 on two beers and I almost barfed through my nose. Before I made it to the Shelbourne, I realized that if I spent another dollar, I wouldn't be able to pay my rent. So, I went home.
Saturday: Grand Central, Electric Pickle
You're probably like: you have no money, why'd you go out, you fucking psycho? Yeah, well, but I interviewed Treasure Fingers who was DJing at Grand Central, and they had free drinks before midnight. At one point, I was in the bathroom surrounded by a legion of pretty, pretty cheesy 22 year old girls. I got a compliment on my shoes from one of them, but I felt a little too awesome, way too ancient, and definitely hungry. At the Electric Pickle, I ate a sausage. An actual sausage. It was not too packed, not everyone was young, and Benton was DJing, so that was a plus. By the time I got there, the idea of spending another $20 on two drinks became so distasteful that I left, and went home to watch TV.
I may be cheap, I may be into the same old shit, but honestly, if someone doesn't start selling drinks cheaper, I may also never go out again. I think I have accepted that Bar is closed, but I can't give up the search to find the next place where I can go and do whatever I want and still get hugs.
Maybe I'm not over it yet. Maybe a hug is all I really need.
Watch this video for a suggestion. It's got Shawn and Benton. You'll enjoy the use of the word "Duh."