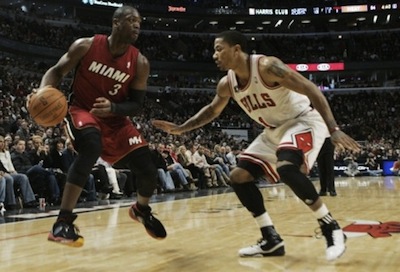 Dave Landsberger recently contributed poetry to complement photos for the hard to explain, subscription postcard magazine Abe's Penny. Landsberger lived in Miami for three years before moving home to Chicago last year. According to him, "I miss my Miami friends, the ocean, and el Rey de las fritas." He currently teaches English and literature at Harper College. Read more of his poems here after you read the ones below. He enjoys writing poems about sports. We like to read his poems about sports. We sent him several photos and he added one and so we have his poetic reaction to some tense Chicago-Miami sports games and a clip art of a flamingo.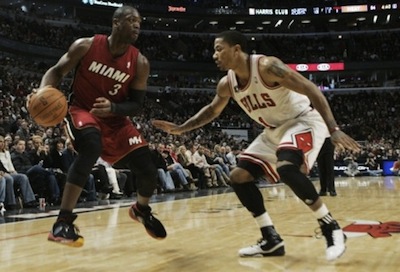 ROBBINS & ENGLEWOOD
A Michael Jordan jersey is a white boy's passport to the ghetto in Chicago.
Last week I got called a "face nigger". Was it my beard? Who cares.
Chicken & fries & white bread & Flamin' Hot Cheeto bags in the streets.
These blizzards combust you, cover you like white wicker baskets,
letting just enough sunlight slip in, so,
who cares, game's on,
Bulls vs. Heat, who cares; always something to be proud about.
All famous black people come from Chicago,
The Harlem Renaissance 2: The Big Score.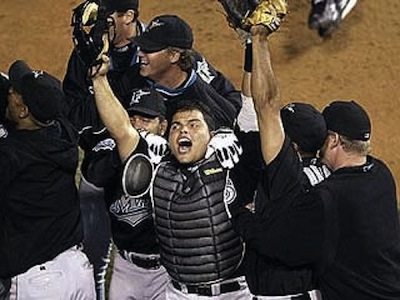 ACROSTIC
Be it a billy goat or an expansion team in teal,
Another reason will manifest from the prairie grass to contra.
Real Marlins fans exist; I've seen them Casino-style and cartwheel
To the scent of nacatamales, down and up three Kia Sephias,
Marrying the scent of Miami fall (live here two years, you'll smell it too) outside the bastille
And bonkers of Whatever's Paying Us Stadium. Cubbies, change your jerseys to aqua.
Name another blame: a farm animal, or yourselves?
PERFECT IN '85
Dan Marino's hair looks like pubes.
He sure could throw a spiral and sell isotoners.
The '72 Dolphins pop champagne bottles to failure.
Football is everything that is wrong with America.
Walter Payton is dead,
without his family, why would he ever come back?
FOUR QUARTERS
If you give a woman the mold-a-rama Flamingo
from the Miami Metro Zoo
as a gift
she will break your heart
and keep it.
Oh no: the lobotomized blue Koala mold.