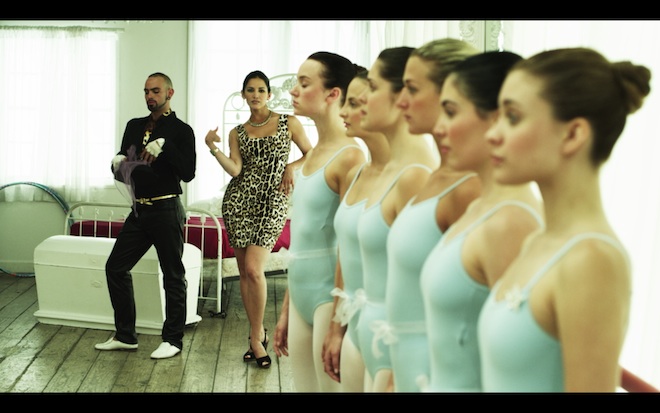 Okay. So basically this is an article about trying to write an article. It's weird, a little convoluted, and not for anyone who doesn't like long blog posts, but it's sort of explainable and interesting. It involves the Borscht Film Festival, the film La Pageant Diva, and represents a surreal journey through publicity, glamour, image, Miami, alcohol, film, and journalism.
It started the night of the festival.
Needing a break from the long first set, around the Hitchcock Rick Ross short, an underpaid New Times writer named J.J. went to smoke a cigarette and grab a beer. In the hallway, he met this stunning brunette who introduced herself as "being in one of the films." She had an entourage, a manager, some tall baller-ish looking date, and that fourth wheel that rounds out an entourage, the Turtle character-type. Anyway, J.J. told them he wrote for New Times and they converged on him with handshakes and a card that read "Team Caroline Schwitzky." The manager said Caroline was on the cover of the Miami New Times a few weeks back. Caroline seemed bored about the whole thing because "her film" La Pageant Diva was on second to last. Her restlessness sort of appealed to J.J., who fancied the girl a lil diva, thus appealing to his inquisitive sensibilities.
Anyway, the night successfully marched on. There were zombies and electric eels and INTERMISSIONS and bird watchers and sadistic barbers, and the sort. Eventually La Paegant Diva played, and to the underpaid writer's ears, it received the loudest applause from the crowd. The stunning brunette in the movie actually did a very good job as an actress. Walking out of the theater, J.J. even overheard people talking about the stunning brunette from the movie, and that attracted his journalistic nature, and then like a minute later he saw the stunning brunette get into a limousine with her entourage. He felt sort of enamored by the image, publicity, whatever the fuck the milk is that fills Miami's titties, he sucked it up.
Looking at her card, he flicked it ceremoniously with his index finger and proceeded to the Borscht after party at Villa where he got annihilated with the rest of you fuckers. The next morning, J.J. found the card, amongst a bunch of other cards, and remembered through his hangover that he wanted to write an article about the stunning brunette. He pitched it to New Times on Monday, and the Cultist editor, overworked, and also underpaid, said sure, go for it, kiddo. J.J. did research on Caroline, cranked out some questions, and sent them to her manager. During his research, he learned that she used to dance in hip-hop videos for a bunch of Miami artists. He learned she posed for some controversial images, the most interesting being right here, and that due to said image she recently resigned from a beauty paegent throne as Ms. Weston. And apparently she could act. So a day later this came back:
1. First off. Congratulations on La Paegant Diva…
Thank you very much J. I was honored to work with an amazing crew and staff. It was a blessing that fell from the sky.
2. How did you come to into association with the project?
I received an email from producer Jon Cane. Jon said he saw the Miami New Times cover and was instantly motivated to reach out to me, allowing me to be a part of the film which stars me as myself. Pretty cool.
3. Director Franco Parente and co-star Giovanni Profera must've been great.
Giovanni is FANTASTIC to work with. He makes anyone feel super comfortable. Director Franco was the best. He always asked for my opinion before anything and was interested in what I had to say. That's pretty nice for a professional Director whose been in the industry for years.
4. How long did it take to shoot?? Any memorable moments or anecdotes on set??
I wasn't there the entire time of shooting but my scene took about 3 hours due to them building the set and many retakes of me twirling around winking the eye. One of the models almost fell. I tried not to laugh but I wanted to scream "May-Day going down…"
5. You're a very capable actress. Tell us about your training??
I've watched a lot of actors and I have incorporated different acting methods into my share of film experience. Not to mention the fact that MY LIFE itself is a MOVIEEEEEE.
6. How did you connect to lead character Valeria Consuelo Montenegro Martinez De La Paz??
Great name, by the way.
Erika Crespo did a phenomenal job! Valeria Consuela Montenegro Martinez De La Paz showed the world through her eyes what Miami pageantry is all about and no one knows this more then I, your Former Miss Weston 2012 USA.
At this point in reading the e-mail, the confused, underpaid writer heard Scooby Doo's voice. But he read on . . .
7. You were recently named Ms. Weston, no?? But then it became a tad scandalous, right?? What was that about??
I've learned everything about the pageant world in 30 days, entered 2 pageantry's and was successful at winning the Miss Weston 2012 USA. Due to all of my haters, who revealed my un-nude photos and tried to bully me into thinking that I was a bad person because of my past. They were all unsuccessful because I embrace everything I have done, I wouldn't change anything. It has transformed me into a faithful woman of God. That being said I wrote a resignation letter thanking them for giving me the opportunity to become a title holder and I will not hold any resentments or judgments against Grant Gravitt Jr of Tel-Air Productions.
8. You're pretty hot right now. We just saw you on the cover of New Times, no? Tell us about that…
I have a great team who has decided to support me and help me in all avenues including press. What happened with the Director of Miss Florida was uncalled for and unjustifiable. Miami New Times was super interested in exposing the truth and also helping someone like me continue forward.
9. Talk to us about Miami hip-hop and your association with it. Any favorite videos you were in??
I have done many music videos from the age of 18 on. I've worked with artists such as Fat Joe, Pitbull, J. Holiday, Honorebel, Shaggy and Uncle Luke, who by the way is running for mayor. GO TEAM LUTHER CAMPBELL!
10. Talk to us about Miami. Are you one of those people who will leave for NY or LA the first chance they get??
Why would I leave the magic city? Miami needs me and I need Miami! Now don't get me wrong if I have to film a movie or shoot an editorial, work is work. Wherever I go I always bring the Magic City with me.
11. Why not change your name?? It's so hard to pronounce.
My name is who I am. There is only one Caroline Elizabeth Schwitzky. I would not change what God created.
12. So, what does the next six months hold in store??
JJ, I have so much going on from my TEAM CS Foundation which specializes in educating purity and self-respect. To launching my very own shampoo/conditioner line, book series, bikini line, production line and a whole new look for the brand TEAM CAROLINE SCHWITZKY. It's a lot for a 21 year to handle but I know I can make anything happen. With that being said, we can only look forward to what the future holds.
After reading the entire interview J.J. pretty much thought rut row. Hmm. What the fuck? She wasn't the star of the movie. What's going on? He couldn't find anything on Google. After watching the trailer closer, he confirmed the info he needed. The star of the film was Elika Crespo, and Caroline Schwitzsky just had a cameo as a beauty pageant contestant. Hmm? A movie about fame, B-level beauty pagentry. It started to feel surreal and J.J. felt bamboozled, sort of. Yet, Elika and Caroline= looked a little alike, especially after watching 23 movies, and being a little drunk. To her defense, Caroline never said she was the star of the film, but with the entourage, and her restless energy, it sure looked that way.
Still, the underpaid writer felt stupid, obviously — he began to feel exactly why he was underpaid — but he also felt bad because he wasted Caroline's time and she seemed perfectly cool. He promptly e-mailed the editor at New Times and explained the snafu, to see if she still wanted to go with the clip, he could spin it, but she didn't want to, not surprisingly, especially since they just had her on the cover a few weeks earlier. But she did say J.J. could pursue Elika, so he said why not. Real quickly an interview with Elika came together. And boom, alas, the correct article was eventually published. This should have been no big deal, really, but for some reason the process of creating this stupid little clip stayed in J.J.'s head. It kept him up at night. Wouldn't go away. The movie about pageantry, gloss and glitter, publicity and image, mixed with the real girl who was all of that, the fallen beauty queen, ex-Ms. Exxxotica, this real Miami desire for fame and attention from everyone involved. J.J. felt caught in its surreal undertow, and the weight and subtext of Miami's allure and fake persona hit him, smack on. He chose to write about this movie because he thought it would be the easiest, fluffiest piece to cover, and instead, it reered its head and bit him in the eye, becoming a surreal Gonzo journey through Miami's hollow underbelly, this time sponsored by alcohol, film and journalism. I need to fucking chill, bro.
J.J. Colagrande is a Professor at Miami-dade, Wolfson, and the author of the novel, Headz.