Dear Pants:
I trudged down the street this morning (as the sidewalks were under a foot of snow and NOT navigable yet) with not enough coffee in me and sweating like a pig only to realize at subway station that it's hard to tell whether my wallet's on me or not when I'm wearing thermals. Spoiler: it was not. I WAS on time to work but also seemingly the only person going to work the entire length of the 3/4 a mile walk all 3 times I took it. Everyone else was digging themselves out or else buying supplies. I think I saw an old man buying himself booze and going home although it was probably just milk or something. I'd like to think it was Jack and he's just going to drink himself back to bed like I wish I were doing.
I'm finally on the train now and the wheels were just slipping on the tracks and I HAD NO IDEA THAT WAS A THING THAT COULD HAPPEN – ok wait no apparently the emergency brake just went off and we're stopped dead underneath the East Rive. An L-Train I was on last week lost power as it entered the tunnel under the East River. Thankfully it had only barely started and the last 2 cars were still in the station so we all filtered between cars and exited onto the platform like normal, which i have to admit I was a little disappointed about as it would have been fun to walk down the tracks.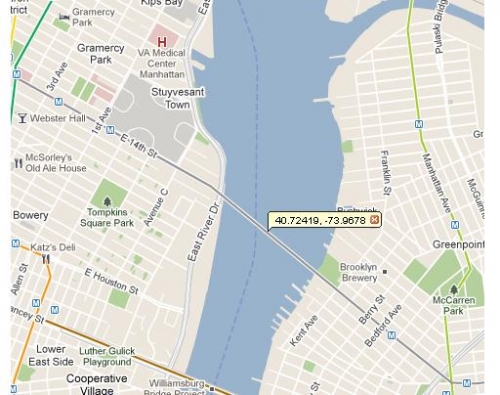 FYI I'm in the middle of that same tunnel now. Also there is a woman here who is your tall dark-haired polish doppelgänger. When I got on the train after talking to you on Sunday there was also a girl that reminded me of you only more New York, complete with huge boots, tiny jeans, and an oversized jacket trimmed with something fluffy and fake and not really even resembling fur. Fashion here never really changes: Its always 1977 and you're always on the Bowery.
A lady next to me has her sweater-wearing dachshund in a Whole Foods tote bag lined with sweaters. It's cute. She's also cute but I think everyone's cute.
Ok it's a long haired dachshund, also old and a little sick – from cute to adorable.
I just removed my hand from the pole – this train ain't moving for a bit. 15 minutes holding still now. I wish I'd eaten something.
25 minutes now. Most of the sitting folk are dozing off. The dog has fallen asleep. Now I KNOW I'm crazy for going in. I should have taken forgetting my wallet as a sign.
Water is streaming off the outside of the train as snow melts. Apparently there's an operator and a conductor – the former has supposedly fixed the problem and "we should be moving shortly". He just squeezed by the outside of the train on top of the platform covering the third rail. I know that if I were walking on top of a flimsy platform that separated me from certain electrocution-death, I'd want water to be dripping on my head. Taking bets on whether or not we go 15 feet and the emergency brake trips again.
It doesn't and we escape – no one waiting on the platform at the first stop (wonder why?) The train I was just on was relatively empty, as was the one before it. I have a three-train commute which usually triples the chance of shit happening. I'm currently waiting for my next train (4) and only 10 minutes late.
This train has crapped out or been a nightmare twice this week leading me to get off 2 stops early and walk the half mile from City Hall. Yesterday I thought I'd wear sneakers instead of boots – big mistake. I fell twice, once outside my house and once right outside work. The house one was magnificent and I wound up sprawled out on my back staring at the sky. There wasn't much snow then and I'd just slipped on a patch of sidewalk ice. By the time I got to work all hell had broken loose and it was snowing harder than I'd been in so far, boots or not. I was actually kind of sad no one was there for the first one as it was so ridiculous but the second one was a little painful and humiliating and more than made up for the first's lack of audience.
The 4 arrives and it's also 1/5 the normal crowd. An Asian girl gets on before me and stops dead in the doorway – I love how often people get on trains completely oblivious to whether anyone is getting on behind them.
Above ground, walking to work, guess I'm done. I might send an addendum like WHAT THE FUCK NO ONE TOLD ME THE OFFICE WAS CLOSED. Spoiler: the office is open.
Miss you! Come visit!
-j