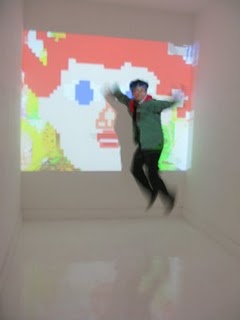 In an additional effort to quell pre-Basel anxiety, THL thought it'd be nice to give you guys a little treat. We met with artist Venessa Monokian and created a simple map to guide strangers around town for the Art Basel activities. We'll be posting them later today. Keep a lookout for them, and give them to your friends.
To also assist you on your Basel-time adventures, I complied this massive list of activities that you may or may not want to attend. It's messy, and I mostly left commentary out of it, but here it is! Yelp also has a huge Basel list. Here's a NY Times Basel thing. Miami Herald on Basel Parties.
Please add other events in the comments, too. I will update when I hear of new things.
TUESDAY, NOV 30
Arts for a Better World VIP/media preview from 6-8:30, NW 22 St at NW 1 Ave in Wynwood. Our very own Venessa Monokian will be showing there. Cocktails and cupcakes from some dude on "Cupcake Wars." Special tribute to those poor Haitians and a Sacred Four Directions Ceremony, which is great, because it was just Thanksgiving, and you know, white man, Indian, etc. Do-gooder stuff.
Veuve Clicquot's got some Once Upon A Dream thing with champagne and bedtime stories from 6-10 on Tues, and 4-6 Wed-Fri. Sounds pervy.
Opening at the de la Cruz Collection Contemporary Art Space opening from 9am – noon, 23 NE 41 St.
MOCA + Vanity Fair/Vanity Fair International Party kickoff party celebrating Bruce Weber Haiti/Little Haiti and the opening of Jonathan Meese: Sculpture. 770 NE 125 St, RSVP Required rsvp@mocanomi.org. General Admission $25. 21+
Ping Pong Miami, 4141 Building, DACRA, 4141 N.E.2.Ave with artists from Basel and Miami: (these are from Miami) Mette Tommerup, Gavin Perry, Beatriz Monteavaro, Kuhl & Leyton, Robert Chambers Team: Bhakti Baxter, DJ Large Kool, Kevin Arrow, Jens Müller, Pip Brant.
ANTI-ART BECOMES ART #2: Art Babble 2010 at Churchill's, 5501 Northeast 2nd Avenue, presented by Laundry Room Squelchers and Roofless Records, with HARRY MERRY, DINO FELIPE, XELA ZAID, AMANDA GREEN, RAT BASTARD.
Bardot, 3456 North Miami Ave, MOCA Shakers After party with performance with Agape featuring Nadia Harris & DJ Ess & Emm
Scope opening from 3-9 for $100 if you're not VIP Check out Carol Jazzar's booth. Also, Butter Gallery will present Rick Falcon, Ahol Sniffs Glue, Tawnie Silva and Yuri Tuma in their booth.
Pulse preview from 7-9, press or by invitation only.
Galerie Emmanuel Perrotin what a crazy fun fest – every year it's so good.
Friends and Lovers opening from 6-9, at Shulman and Associates, 100 NE 38 St Murals!
SKINT will perform on Nov 30 at 10 at Churchill's and Dec 4 at 7 at Bas Fisher Invitational, 180 NE 39th Street, Suite 210
Barbara Hulanicki's solo exhibition "Flash" will run through February 4, 2011. The reception will take place at Calix Gustav Gallery (98 NW 29th Street, Miami) from 6:30-9, after and next door, O Cinema will present the Louis Prince documentary Beyond Biba: A Portrait of Barbara Hulanicki. Read one of my New Times articles on it. I also interviewed her. Watch out for that.
Frances Trombly's opening at Girls' Club with Facsimile, located in downtown Fort Lauderdale.
WEDNESDAY, DEC 1
  *Art Basel's Vernissage at the Miami Beach Convention Center (thanks, Kylee! The most essential fair is, of course, the one I forgot.)
*The XX at Coco de Ville?!!! WTF???!!! Well, I guess they'll be doing a DJ set. Read more here
*Each year, Deitch Projects has had an amazing, invite only event at the Raleigh, which I have crashed, every single year. Jeffery Deitch moved out to LA, so now it's the LA MOCA party with LCD Soundsystem. You are probably not as slick as me and my shitty friends, so don't ruin it for all of us!
Wynwood Walls Expansion Opening Party, NW 2nd Avenue (between N 25 & NW 26) Wynwood (duh), and 2nd Ave on MB, murals by Ben Jones, Dearraindrop, assume vivid astro focus and Ryan McGinness.
Yii: Modern Crafts from Taiwan and Aihua Hua: In Between the Dormant and the Sublime, VIP/Press Preview Breakfast from 10-noon, opening reception on Dec. 2, 7-10 at the Buena Vista Building, 180 NE 39th Street, Space 120.
DUMPSTER ART PROJECT at Artseen, Area-23 art gallery, Bakehouse Complex and other locations around Wynwood and Design District
*Good N' Plenty & Sweet Jesus at ArtCenter/South Florida the opening reception takes place from 8 to 10 at 924 Lincoln Road, Miami Beach
*Bass Museum, opening reception for Isaac Julien, Creative Caribbean, 8-11, 2121 Park Ave, Miami Beach
The Vogue Lounge at the Raleigh opens at 7 wit DJ sets by Ess & Emm, 1775 Collins Ave., Miami Beach, RSVP at vogue@taraink.com
*Containers or something like that on 21/22 Street along with Art Basel music event featuring Metric.
Design Miami is having their opening near the Miami Beach Convention Center.
*Taschen Book Launch and Opening Party: Collecting Design by Adam Lindemann from 7:30- 9:30, 1117 Lincoln Road.
*The Kissing Booth Show, ends at 11pm at Swampspace Gallery, 3821 NE 1 Court featuring artworks by Kenny Scharf and Oliver Sanchez. It's a fundraiser benefiting the students of Design and Architecture Senior High school. Free Grolsch. I'm kind of looking forward to this! I hope they've got cuties that are 18+.
The Josephines #1, Special Art Basel performance by Hans Rasch at Nina Torres Fine art, 2033 NW 1st Place, from 6-8, they were looking for models, not sure anymore — (305) 395-3599.
Bardot: Navegante with DJ Nancy Whang (LCD Soundsystem/Juan MacClean)
Dirty Hairy at LIV, featuring Mark Ronson, along with Ross One, Contra, Jessica Who and Blu Jemz, at 11, RSVP to rsvp@epoplife.com for complimentary admission.
THURSDAY, DEC 2
Patricia M. Hernandez and our buddy Abel Folgar will be performing and taping at the Yard at Casa Lin at 9am. There'll be a guided tour of the estate and of installations, 55 NW 30th Street (Wynwood).
NDS Market opening 7-10 – will be rad. 155 NE 38 St. SEE FLYER BELOW.
Jacuzzi Boys will be performing at Bar
We-Are-Familia x Art Basel Miami Weekend, Fountain Art Fair Booth 13
2505 North Miami Ave. at 25 St. The project launched at Collete in Paris and since gone on to show in Beacon, NY, Fountain Fairs, Museum of Art and Design, as well as in various pop-up spots around Brooklyn and in LIC this summer.
Sanrio's 50th Anniversary Celebration, till the 5th, 173 NW 23 St – WITH FREE TATTOO PARLOR. Get a Hello Kitty on your titty or bum.
Rubell Family Collection: Opening with interactive food installation Just Right: 9am-noon
Verge Art Fair: the group show Any given Ear will show artist motivated by sound: artists exhibiting are Daniel Clapp, Aiden Dillard, Cristina Molina, Tony Kapel, Isabel Moros-Rigau, Dylan Romer, Oly Vargas.
Casalin: Rock and a Soft Place will be curated by Fred Snitzer, at an outdoor exhibition space, 55 NW 30 St
Bike Valet with the Green Mobility Network in Wynwood – Thurs. 3-10 and Sat 11-10 at Panther Coffee, 2390 NW 2 Ave
FriendsWithYou Building Blocks, opening reception at 6, till Jan 8 from 10-6, 3930 NE 2nd Avenue 2nd Floor, oh-wow.com PAPER + AOL will host FriendsWithYou's Rainbow City with Shepard Fairey, featuring a live performance by N.E.R.D with PAPER cover boy Pharrell Williams and DJ Mia Moretti.
NADA will be open to the Public from 2-8, with their daytime preview from 10-2, special invite only at the Deauville (Collins and 67 St, Miami Beach)
Fountain Art Fair Press Preview with Brooklyn Brewery free beer, free Rums of Puerto Rico, Famosa Beer, Blu Energy Drink, Smartwater, and Tropical Tacos for sustenance.
OHWOW presents IT AIN'T FAIR 2010 from 8-midnight, 3100 NW 7 Ave, with an exhibition design by Rafael de Cárdenas
"PUNK_LOVE_HEARTS" at AWAREHOUSE, 550 NW 29 ave, 6pm-2am, also open 3 and 4, 11-all day.
Merlin Carpenter at Formalist Sidewalk Poetry Club, opens from 7-9:30 at 235 12 St, Miami Beach, until Jan 13, 11-6
Miami's Independent Thinkers Art & Music Fair Dec 2-5 from 2-2, Casa Wynwood, 2135 NW 1 Ct
 
Toyota Antics and Filter Magazine presents Phantogram, Flosstradamus, Twin Shadow, and more. Takes place at Grand Central, 697 N. Miami Ave, starts at 10. Live painting and poster printing, Free if you RSVP.
fm: POLYPHONY, starts at 6 at 924 Lincoln Road. Subtropics.org presents a new extended-duration sound installation featuring fm's Gustavo Matamoros and Rene Barge, all week.
Mobile Portrait Studio with Lara Stein Pardo, Two Locations 9:30 AM – 11:00 AM – Wynwood (near the Rubell Collection) 2:30 PM – 3:30 PM – Miami Beach (near the Convention Center).
Panic Bomber, perfomring live with a band, at Transit Lounge.
Primary Flight presents Retna Solo Exhibit at New Primary Projects Space at 4141 NE Second Avenue, Suite 104, starting at 7.
MULTIVERSAL from 4-4 at 130 NW 24 St includes aerialists, burlesque and belly dancers, exhibitionists, extemporaneous theater, and music.
Bardot: Precision Guided Musicians & Lola Ink Present Art Basel Series Launch Party with Perry and Etty Farrell Electro Show with Chris Cox & Ana Calderon
MIA Mi Cielo 2010, Cielo on the Bay Expo, Eloquence Sculpture Garden, 7935 East Drive, Harbor Island, North Bay Village, from 2-5th.
FRIDAY, DEC 3
Not sure if anyone remembers the strange show by Chairlift last Basel at Fountain Art Fair, but it involved a lot of the chick making throaty noises and saying, "check" and then the sound system ended up failing anyway. Well this year, they're bringing No Age and DJ Lauren Flax. Opening for No Age is The Band in Heaven from West Palm Beach and Weird Wives(3/5 of Surfer Blood). Also on the 4th, performances will be by: Laura (of Miami), Celine and the Hellbillies, Ninjasonik Live, G. LOVE of G. Love and the Special Sauce and a special musical performance by Shepard Fairey.
Multiversal Group, 11, at a new location: GREY AREA130 NW 24TH STREET
Little Haiti Art By Cycle at the Little Haiti Cultural Arts Alliance 1pm at 2390 NW 2 Ave
FriendsWithYou Rainbow City, from 10-10, 140 NE 39th St, a forty piece environmental installation addressing the potency of interaction, ritual, and play, presented by AOL. in association with Native Shoes, PAPER Magazine, Dacra, OHWOW Gallery, & WeSC.
Bardot – Matt & Kim (DJ Set) and Special Guest – the Matt & Kim show was awesome two years back. Worth checking out.
The Wolfsonian's reception from 8-11 presenting Seduce Me, a collaboration with model, actress, and filmmaker, Isabella Rossellini, Andy Byers, and Rick Gilbert, in celebration of Art Basel Miami Beach.
Coral Morphologic presents: "Artificial Reef" projection series around Miami Beach. Opening reception takes place from 8-midnight at Art Deco Welcome Center Gallery, 1001 Ocean Drive, Miami Beach. These include awesome projections of artificial reefs on the sides of buildings. It's like performance art for underwater creatures: 407 Building (west wall/clock tower), 1001 Ocean Drive, 1001 Washington Avenue. ANR and Sumsun will be performing live "aquatic soundscapes," accompanied by a video collaboration between Coral Morphologic and Jamie Harley which will be projected onto the bands as they perform. Most importantly, free Prestige Beer!
Art Basel's official Art Film, Waste Land with Vik Muniz, showing at 8:30pm at the Lincoln Theater. Tickets are free but get some before they're gone.
PooL Art Fair, 1433 Collins Ave, Miami Beach, 6. Pocket of Lollipops will be performing!
PANIC BOMBER + BFGF at The Vagabond, 30 NE 14th St, nighttime.
EVE Nightclub presents VENI VIDI VICI, the afterparty for the Spectre Event Horizon
featuring a live performance by the Blondes with a live performance by JESP with complimentary Finlandia Cocktails 10-11:30 at 1306 North Miami Avenue
SATURDAY, 
DEC 4
Out of the Anonymous and Pocket of Lollipops performing at Miami's Independent Thinkers, Casa Wynwood, 2135 NW 1st Court, at 9.
2020 Projects: Recent Requsitions, 2020 North Miami Ave, (back to the original building!)
Out of the Anonymous, Moksha Art Fair, 10, 7th Circuit Studio 228 NE 59 St.
The Maginot Line, David Castillo Gallery, 2234 NW 2nd Avenue, free drinks with 42Below Vodka in the back. Curated by Dennis Scholl, with works on paper by Daniel Arsham, Ben Berlow, Michael Berryhill, Willem de Kooning, Jean Dubuffet, Mark Grotjahn, Marie Lorenz, Pepe Mar, Jillian Mayer, Kirsten Nash, Kori Newkirk, William J. O'Brien, and Claes Oldenburg.
Young Circles' art punk experimental pop live electro pastiche will be on full display at White Room, 1306 North Miami Avenue
Bardot – How to Dress Well at 10pm, TORO Y MOI & DJ Contra
Shore Club on Miami Beach with Tommie Sunshine
Basel Castle. Make sure to RSVP.
White Vinyl Lawn Party, 6-11, 3320 NW 2nd Ave., No Logo will be performing Friday and Saturday.
William Kentridge film screening at CIFO, 8 pm
UG x PRIMARY FLIGHT x MHG present: A Special Closing Party 10-3 The Shore Club, 1901 Collins Avenue, Miami Beach with Tommie Sunshine, Team Rojas: Nightdrive Miami and Percussion Lab NY. FREE with RSVP:rsvp@ugstrategies.com
"ChinaMan" New Media Installation & Exhibition by Claudia Calle with an opening party at 7, at Claudia Calle Studio, 2722 NW 2nd Ave
Fountain Art Fair Miami will be hosting the Miami New Times Party featuring Ninjasonik and G. Love, plus a special music performance by Shepard Fairey from 7-midnight
Mr. X & BlackBook present The Brothers Macklovitch: A-Trak & Dave1 from 10-5 at Grand Central,697 North Miami Ave
NWSA alumni and participants of Young Blood exhibitions will present work in "Natural Selection" CGAF Gallery, 3390 Mary Street, Suite 128 (entrance on Grand Ave.), Coconut Grove
SUNDAY, DEC 5
Breakfast in the Park with Enrique Martínez Celaya at The Frost
The Do-Over Special Art Basel '10 Miami Edition from 2 in the afternoon to 5 in the a.m. at Bar 28 NE 14 St. Free, complete with booze and bbq all day long by hosts Haycock, Strong and Blacc and there will be an unveiling of Eric Elms' art installation.
Bardot – ?uestlove with M1 (Dead Prez)
Miami Beach Cinematheque and the Zero Film Festival are hosting the New York Artist Double Feature: CELLAR by Steve Staso and DIRTY MARTINI AND THE NEW BURLESQUE by Gary Beeber outside at The Raleigh Hotel 1775 Collins Avenue, Miami Beach.
Ongoing
Opening Reception for Orchestrated Gestures by Clifton Childree, from Nov. 27, at Dorsch Gallery, 151 NW 24 St. Check out the brochure featuring an interview with Childree..
MEGAPLEX, 15 selected artists at 1167 SW 6 St, 1155 (rear) SW 6 St and 533 SW 12 Ave, featuring tri-county artists, including tina la porta, anthony kapel, george sanchez calderon, catalina jaramillo and more. I think our friends Pockets of Lollipops will be performing.
This is the third year of the Littlest Sister Invitational satellite fair at Spinello Gallery, 155 NE 38 St, No. 101.