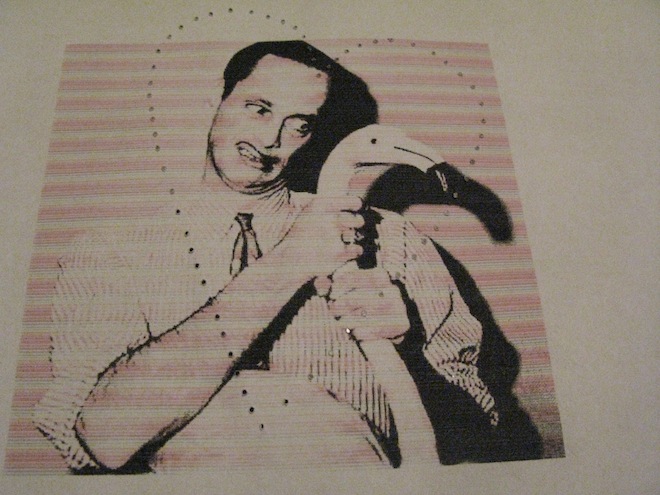 I'm not a particularly huge fan of Waters' movies, but like so many directors, he's fascinating to listen to in interviews. On the occasion of the publication of his book Role Models (same reason he's coming to the book fair), Terry Gross interviewed him on Fresh Air, and the conversation is predictably fun and "outré" or whatever.
They talk about death and psychoanalysis and role models, but my favorite bit was when Terry starts asking him about his mustache:
GROSS: Since you write about your mustache in the book, I feel like I should ask you about it. You know, we've talked many times over the years but I don't think we've really talked about your mustache technique.

Mr. WATERS: Well, I reveal every possible moment of my mustache life in this book, even panic when I don't have it on right. But it's very simple. It's just, it's there. It's there for real. I shave it with a Bic razor or whatever kind of razor from the top every day. Use cuticle, nail cuticles to cut it on the bottom. And then if it's a little gray or you miss a place you just sketch it in with Maybelline Velvet Black, which is my favorite. And I tried the expensive kind, the smear-proof kind, the waterproof kind, but they just don't do it like Maybelline. And it has to be sharpened every time. And those little sharpeners break all the time, but I keep buying them and I have them in every place I live, in my car. […] This is spinach for Popeye. It gives me power to have my mustache on right and I'm clicked in mentally.
It's the same thing as the security blanket for a child, or a dirty plaid shirt for a 90s alt rocker. I read something where Madeleine Albright was saying the same thing about lipstick. Of course this was in the 90s, and the internet doesn't know anything about what was said or happened back then. But it was to the effect of "you can feel like complete crap, and you put on fresh lipstick and you're ready to face the world." SOMEthing like that. It's like we have a vulnerable mode, and putting on that mask, even if it's just with a makeup pencil, is like putting on warpaint.