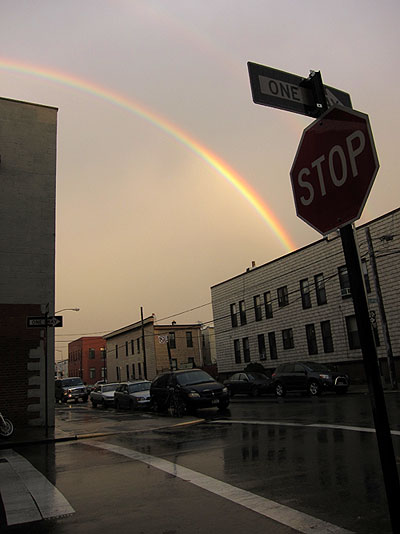 last week, in more humid times
There's bits of candy corn smooshed flat all around me. I notice the first between the raised buttons designed to keep the blind from falling onto the tracks but now I can't stop seeing them everywhere.
Is it wool weather yet? Time to give in to the seasons, to itch and admit it's freezing? Many seem to think not and I see a lot of breathing into hands on the street. I have no way to judge myself; it's not a subtle thing (like a fruit ripening in reverse) and at best it's jilted and sudden. Today the padded jacket liner that made sweat is my savior, the scarves I scoffed at my security. The mercury breaks below 40 and I'm walking down the street smiling and whistling through newly chapped lips. I whistle a lot these days.
It wasn't until this morning that I realized that the sound I fell asleep to was the heat stretching bits of ductmetal. Fall is here. In Miami I used to call the months of October through January Flinter as it's an abbreviation that sounds like a the smallest, sharpest speck of dust you can have land in your eye. Here it's hard to avoid.
In other news: whomever made the ad below needs to learn how bullet points work lest more people confuse these multiple things as being a single flavor (as I did at 7:30 AM today)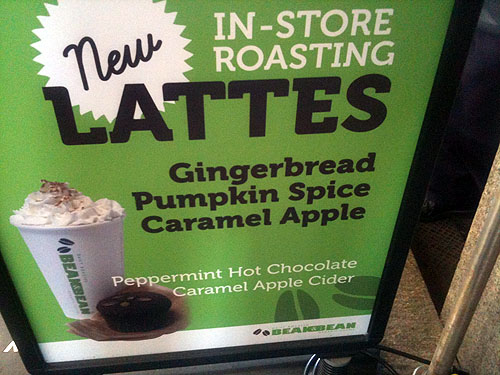 I will have a Gingerbread-Pumpkin-Spice-Caramel-Apple-Latte please. Oh, and make it skinny. To go. Please.