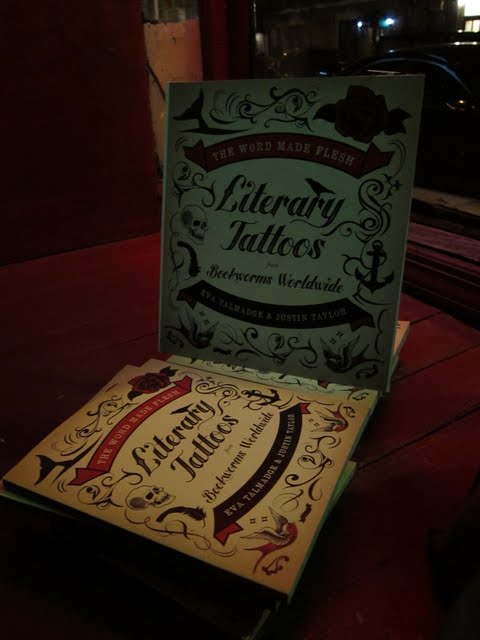 So my friend Eva Talmadge is both a) awesome and b) more punk rock than you. She and her friend/co-author Justin Taylor just came out with a book titled "The Word Made Flesh – Literary Tattoos from Bookworms Worldwide"
Last night we sat around drinking Guinness (to toast their success) and vodka (to nurse Eva's cold) at Sophie's, a bar notable for being on a street with the most inescapable smell of urine I've ever encountered.
The book itself is a mix of beautiful photography and personal anecdotes ranging in from sentences to pages in length. These are intermixed with bits of factual prose, including a description of the Skin project by Shelley Jackson. It's an amazing photographic collection of words deemed important enough to become permanent.
This book has inspired me. Not to get a tattoo but to get around to reading Slaughterhouse Five. Congratulations Eva and Justin! For the rest of you, go buy the book! Or check out their Tumblr of literary tats here.