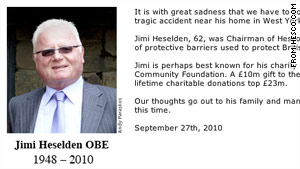 Significantly less funny then Atkins possibly dying because of congestive heart failure, but not without a double-scoop of irony: Segway company owner dies in apparent Segway accident. You can play this game all day. Here are the ways that some of our temporary heroes most certainly will not die:
Tony Hayward, in yet another explosion while touring a BP oil rig
Al Gore, crushed beneath a collapsing glacier
Pastor Terry Jones, tragic cross-burning accident
John McCain, shot accidentally by one of the Minutemen
The guy from Man vs. Food, in any of a hundred different appropriate ways
Any cast member or Jersey Shore, alcohol poisoning/drunk driving accident/in a brawl/skin cancer (the first two would also work for Lindsay Lohan)
Anyone else have any suggestions? General Stanley McChrystal? Stephen Colbert? Ann Coulter?