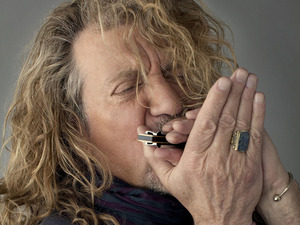 There's no shame in being an old white guy who used to be a big-time rock singer. There's not even any shame in releasing albums of oldie covers when cultural relevance is decades behind you. So what is shameful? That would be when major national "news and information" outlets spend their limited cultural coverage on this has-been claptrap.
Hey, can I tell you a story? Years ago I was at Ted's Hideaway for a Superbowl. (The story was that Ted's would dole out free beers when the home team scored a touchdown, but in fact that wasn't the case. You had to buy your beer, but there was a free franks 'n burgers buffet.) I'm in line for my free hot dog during the halftime show, and just to give you an idea of how long ago this was, Phil Collins was performing. But so, I turn to the guy behind me, gesture towards the TV, and nonchalantly say (you have to picture me here — I have kind of a big head, and I'm prematurely bald), "that's my dad."
Nothin out of this guy. Didn't so much as crack a smile. Blah.