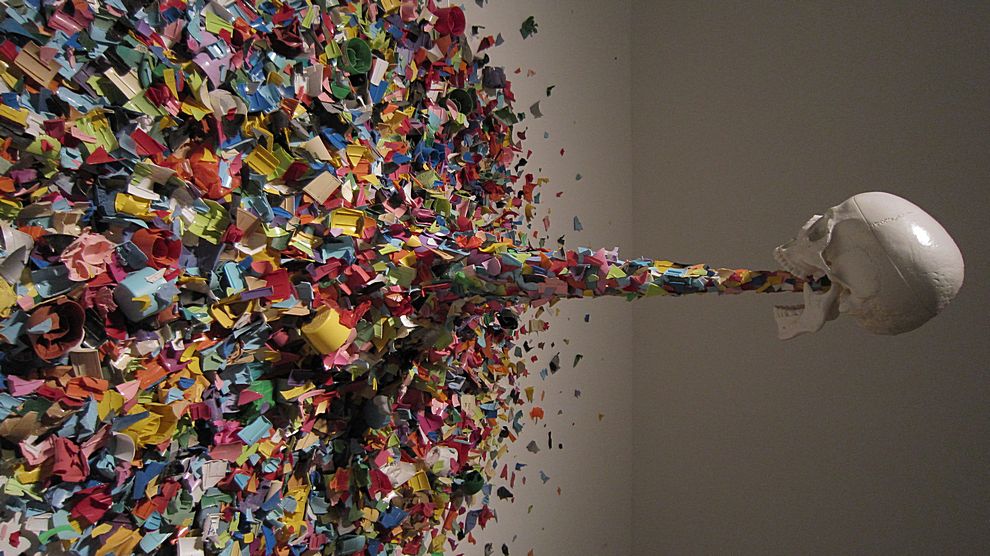 How about this: Like a phoenix rising from the heat of August, in September the Miami artwalk reinvents itself, and learns to fly anew. Ok, really the season more officially starts in October, and I got out of the house late and missed all the galleries around Snitzer, but all evidence indicated that Miami's art scene really is becoming something. Here's a spraycan-lid barfing skull by graffiti crew TYPOE at Spinello. Can you smell it? Stinks like Basel, baby. Basel.
Also by TYPOE, a series of these charming letters. Also, a big-ass concrete sculpture of the word DOPE (based on Robert Indiana's LOVE?).
Next door, a post-apocalyptic installation at Locust Projects by Valerie Hegarty, replete with dead palm leaves, one of those three-dee paintings on the floor, a mural-sized photo of South Beach, and paper mache birds.
The winner of the evening was Nellie Appleby's installation of gently manipulated plants and other natural objects (but mostly plants) at Dimensions Variable.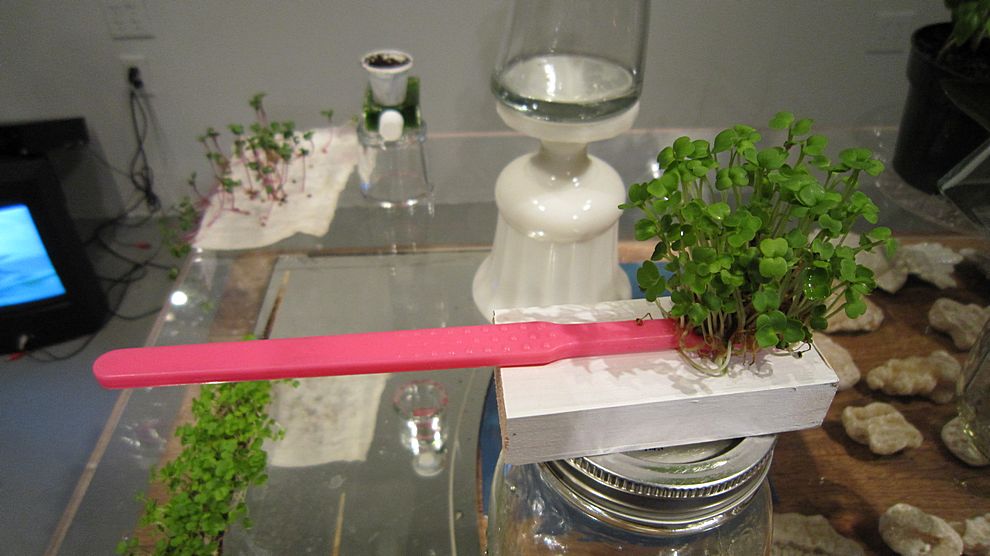 For instance, zoom in on arugula sprouted out of the head of a toothbrush. Elsewhere, there was nice clusters of fairly ordinary potted trees. Also video pieces and a couple of cyanotypes(!), though the charmingly unpretentious press release avoids any big Statement of Purpose and instead points out that some of the work will be eaten at dinner parties held during the run of the show.
Jill Cannady's series of paintings upstairs in Bernice Steinbaum's project room, The Naturalists, was rather nice. (I had some funky color balance which I only partially corrected, so these probably don't look quite right.)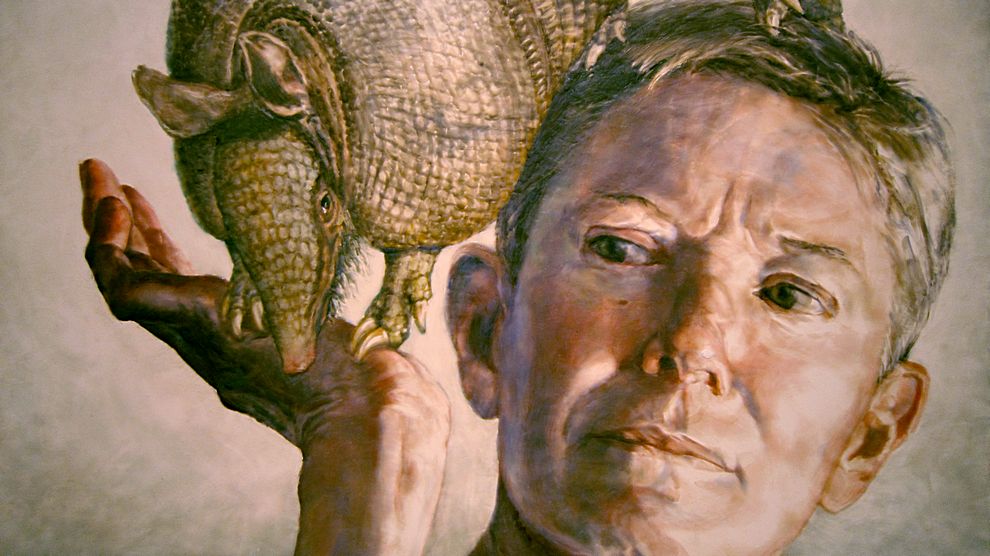 Wonderfully painted and totally enigmatic. (But can I say something? The Tatiana Parcero show downstairs was crazy bad. A collection of manipulated photographs that amounted to a quarter-assed Shirin Neshat knockoff, it could have been a parody of the sort of stuff I usually see in Steinbaum's ground-floor gallery.)
Our pal Vanessa Monokian's near-monumental installation at Hardcore, which featured her usual little monsters in extreme small and large sizes, infiltrating the entrance area of the gallery. Not to be missed is her beautiful new video.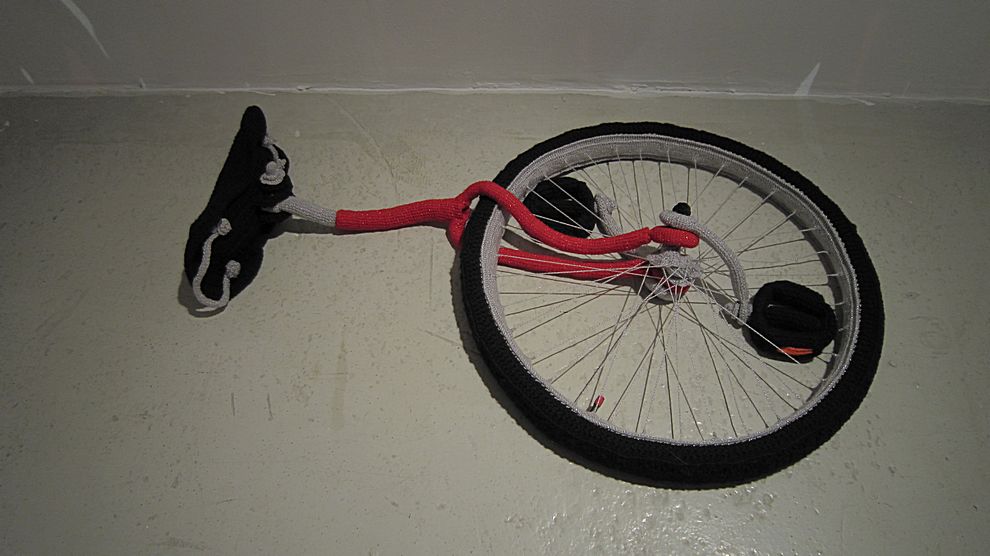 Elsewhere, a soft unicycle. I do not ordinarily have much tolerance for Oldenburg= jokes, but this one was knitted and charming.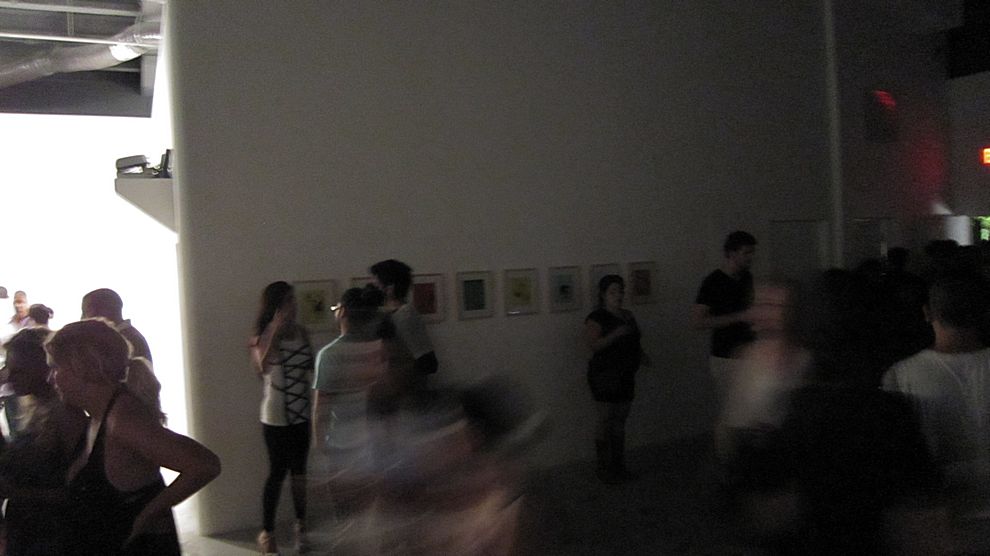 Meanwhile, by the time we got to Castillo at 9:54, the lights were off and they were starting to usher people out (and actively blocking anyone from going out to the back patio). We shall endeavor to be more serious about this next month!