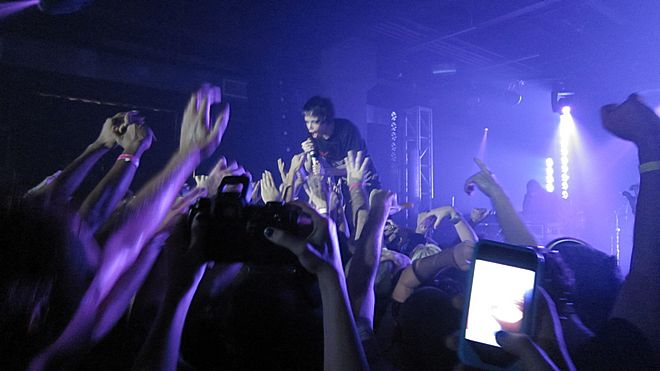 Crystal Castles are a hot item, with a reputation about a wild stage show that precedes them, so their show in Miami this weekend at was widely anticipated. And so yes, CC brought it. Their music is equal parts dancy and abrasive, and Alice Glass has the sort of vocal intensity and manic stage presence that seems superhuman, in light of the fact that she's been repeating it night after night, more or less nonstop for the last three years. In the end, though, their show left me with a disappointing aftertaste.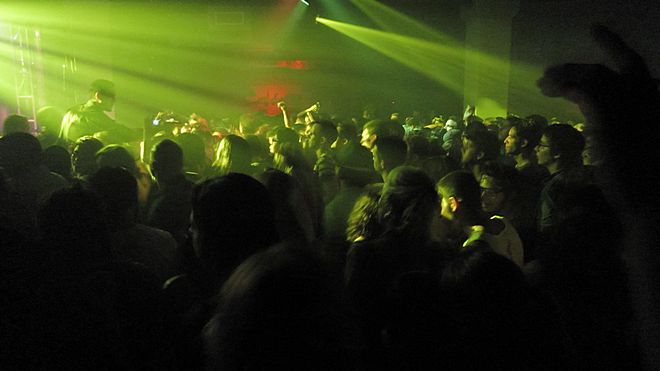 All the reasonably priced ($25) tickets had sold out ahead of time, and there were people in line outside waiting to buy a $300 "bottle" plus $50 tickets. Inside it was a packed to the hilt, hot, and disorienting before the show. The start time for these things is 10 pm, but there were something like four other acts listed on the bill, including Panic Bomber, who was mysteriously canceled at the last minute. We arrived at sometime around midnight, and a crappy DJ was playing.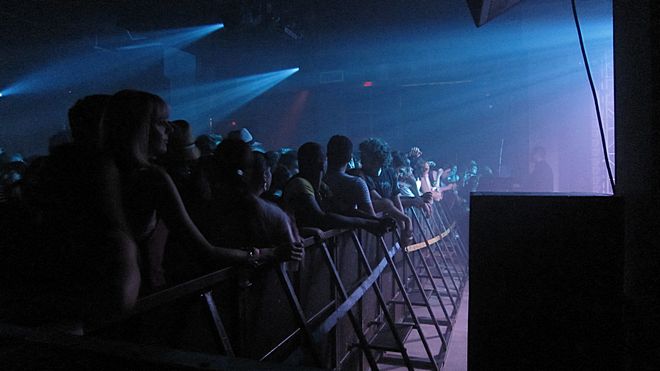 The calm before the storm. I will just say that Grand Central is more pleasant when it's less packed. These crazy barriers weren't up the last time I was there (though I understand why CC would want them). The air conditioning didn't seem up to the task, and the layout makes it hard to move around should you, say, want to buy a $12 bottle of Corona.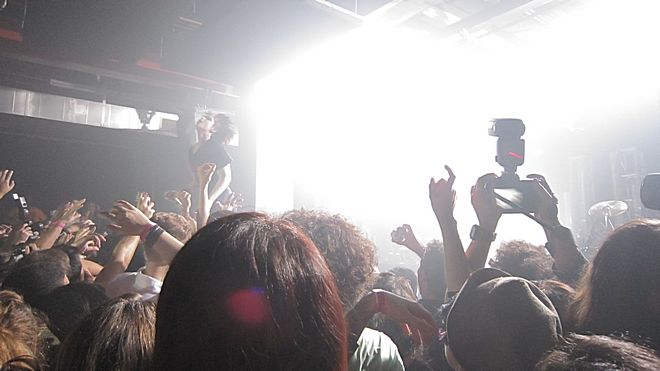 So CC come on with a bang, the crowd goes into a frenzy of sorts — there's a particular sort of flavor to a mosh pit where everyone is regularly taking breaks to snap pictures with their blackberry and at least 10 percent of the audience has an SLR. I mentioned Alice Glass, but I'll say it again — she stage-dives relentlessly and fearlessly and her vocal style, sort of a nonstop full-lung shriek, seems impossible to maintain for even the one evening.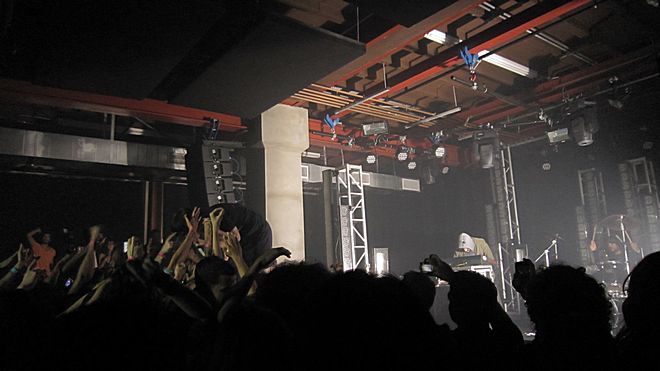 Here you can see the hooded Ethan Kath, the man behind the beats, and a drummer who added only a little bit of occasional texture to the sound.
But here's the thing. On record, CC are the perfect mix of experimental noise and house-based dance music. Almost any band tends to bring out their "dance" side live, but I guess I was expecting something more. I was looking for the nosisy stuff to somehow be sharper live, more surprising somehow. I was looking for something unexpected. It wasn't like hearing the album on a really big sound system, but it wasn't completely unlike that, either, you know? Sleigh Bells have the same boy-producer/girl-singer combination and a similar high-intensity sound going on, so I can't help compare their show a couple of months ago to this.
Sleigh Bells had the same problem of having to use essentially the same tracks that are on their album, but they handled it more gracefully, creating moments in their set that were about connecting with their audience rather then just maintaining an energy level. So here it is: it was pretty much an awesome night, but I think I'm over this band for now. The album makes a tantalizing proposition that the live act ultimately does not live up to.