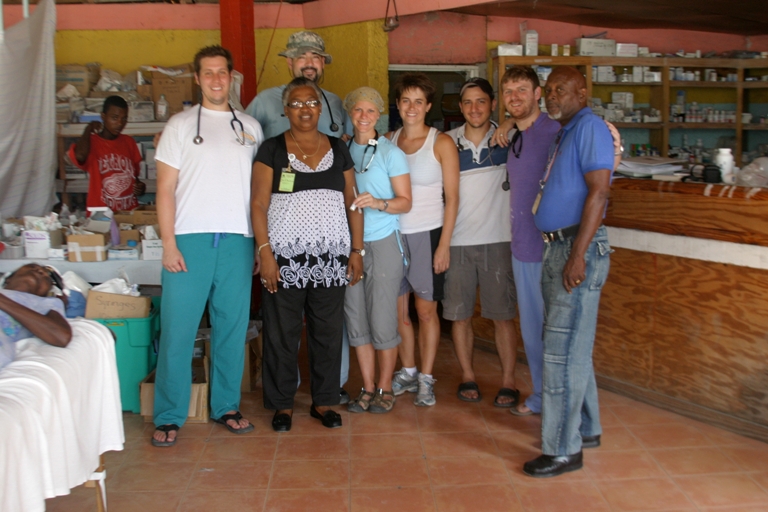 The author is the shortest non-female.
Jimmy just returned from a weeklong medical trip to Haiti. Here are his first impressions.
Haiti is a country that needs friends. During that all-too-brief window between the Cold War and the War on Terror, Bill Clinton attempted to make Haiti an example of American intervention on behalf of human rights instead of capitalism or military strategy. At the time, he seemed like the captain of a pick-up basketball team picking the scrawniest kid on the court first overall. Now, we admire him for bringing Haiti into the Clintonian sphere of influence, but there remains a vast distance between Haiti and that part of the world not related to Bill Clinton.
To be honest, my interest in Haiti, before and since the earthquake, has been cool at best. My Lebanese heritage draws me to the intrigue of the Middle East. I married into a Latino family and am trying to become fluent in Spanish. I was reared to be cultured in Western art, so I worship the European masters. The Haitians have their own language, religions, and culture, which render it fascinating but inaccessible to the intellectually lazy. My sister studied Afro-Caribbean religions in graduate school, so I thought, "Fuck it, I can always say my sister knows about that shit."
It was in this state of mind that I was offered a chance to go to Haiti to work as a nurse for a week at the end of July. The most preparation I did was to read a book by the doctor who began the Medishare program. I also leafed through a French phrase book. The next thing I knew I was on a plane to Port-au-Prince.
Of course, the most vivid memories are of touchdown in the PAP. U.S. helicopters and U.N. storage containers decorate the runway. A band of musicians in yellow Western Union shirts play Cajun-sounding music in the terminal. The cramped, muggy warehouse serving as baggage claim smells and feels like a football locker-room, but the positive urgency and kinesis of people coming into the country generate an ambiance of politesse and goodwill. A stocky Mussolini in red pants and a white shirt bound by sweat to his barrel chest climbed over the carousel to rescue eight fallen packages marked "Croce Rossa Italiana." Waiting for my bag, I was pushed into a Haitian by another local pulling a heavy bag off the belt. The two of them exchanged words in a tone that obviously blamed me for the incident. I liked Haiti already.
We escaped to the relative luxury of 95-degree air. It is Wednesday afternoon, and the streets of PAP teem with people. With scant employment and infrastructure, the streets are always teeming with people. Shops brightly painted with colorful logos of Prestige beer and Tampico squat next to piles of crumbled concrete. Cars jostling, vendors at the window, kids running barefoot in filthy puddles, wizened faces watching from darkened doorways, everyone looking at my blanc ass; my first impression was neither depressing nor menacing. Frankly, it's hard to tell the difference between poverty and earthquake wreckage. It looked and felt the way I would have imagined PAP ever since I could find it on the map. This would be my impression of Haiti until I saw the tent cities.
The tent cities are monuments to the quake. From miles away, you can see hills blanketed by blue tarps and white pop-up tents. Up close, most tents are inscribed with "USAID: FROM THE AMERICAN PEOPLE." The settlements are dense and primitive, surrounded by dirt roads, and the air is hot and thick with fumes from human waste and trash fires. As we drove by a camp one day, we passed a man peeing freely on the street next to another guy whose shirt read – God as my witness – "Suck me, Fuck me, Impeach me." This shirt, no doubt originally purchased at a Texaco in Fife, Alabama, was supposed to advertise disdain for the president in 1999, but I wonder what Bubba would think if he passed this guy in 2010. I think he'd be happy he has a shirt at all.
Looking at the scratchy green mountains and the empty, barren land around the capital city, I realized that Haiti, at least around Port-au-Prince, is really all about the people. There's not much wildlife, it's been deforested to hell, all architecture worth noting is now rubble, and its air is more polluted by the day. In this fleeting moment of international sympathy, the people of Haiti have little more to offer than themselves.
Working in a makeshift outdoor clinic for a week allowed me to work with and for people who knew tremendous suffering but never complained and always seemed grateful for our help.
Stay tuned for Part II: Haiti, life in the clinic