Last Thursday, I was invited to Gay Pride San Francisco by a professor. She's like the Queen of the Damned of Lipstick Lesbians (seriously, and amazing). I quickly dropped whatever plans I had (summer nothings and depressive moping), and dipped out with her, a classmate, and her dog Cricket the next day. As broke as I was, I was really sad I couldn't try to find a way to a friend's wedding two hours away, but I wasn't driving so I thought, "hmm… ok, it is what it is." Being a Southerner really awed me to see what San Francisco had to offer. I like to think that L.A. is just like Miami x50, and San Francisco is NY but cleaner, but my friend said, "it's that, plus the people are nicer and sooo much more less pretentious." There must be a reason the gays get more action in San Fran then.
The book culture is amazing. I was at City Lights Bookstore, and exhibit A: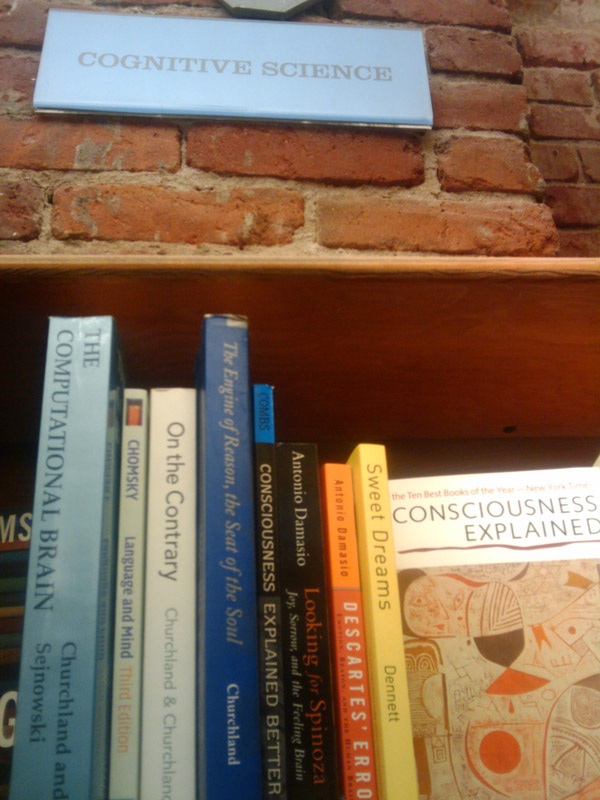 There is actually a cognitive science section in this bookstore??!? de Saussure and Pierce (pronounced "purse") should be so happy. So you two guys just go have sex in your conjointed coffins. I flipped through Asian mythology, then the graphic novel section for future research.
The third floor is completely dedicated to poetry and has this beautiful sign, exhibit B:

We were told to go to Dolores Park where they would kick off the Dyke March on Pink Saturday. Apparently this was the answer to Sunday's corporate-feeling parade. Lots of young kids just hanging out at the park and oddly I didn't get that I'm-around-too-many-cool-kids feeling. An accordionist was wandering around playing what sounded like a DeVotchKa song.

Walking along hitting Guerrero + 18th, we have this picture:

Lots of Gay Men with We Love Dyke signs and BLASTING fun music. Some signs read, "The Gulf Needs Dykes!!!" and "Meredith Baxter-Birney? Really?" Im very mad at how not-witty I am compared to other gay men. Maybe I need to buy some Gingko and a stick of Head-On.
Then that sorta led into the debauchery that was the scene of a girl getting her salad tossed on top of a bus stop awning. Cute guy, greying on the sides like Reed Richards, was checking me out but I got super shy and ran away. You can see him help some girl up (or down?). Use your knees, girl.

Around the corner I was bombarded with an impromptu performance of Bad Romance. I guess whoever knew the choreography, just did it:
Sunday, I sadly missed the beginning procession of Dykes on Bikes.
Gay cheerleaders on the JumboTron: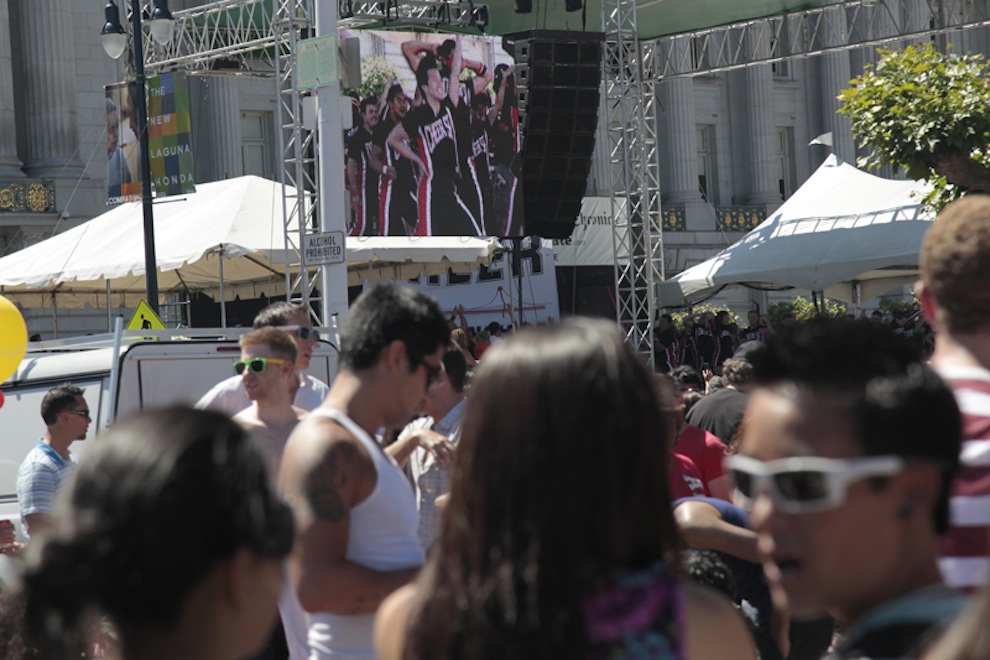 I was SOO happy to see so many babies of gay parents! I just melted, pouted, and was inches away from stealing one of those motherfuckers. I overheard young enthused kids (think high school gay straight alliance) asking a fabulous guy if they could take a picture with him, and he was like, "Hells no!" The kids were shocked, "What's his problem?" So for whatever horrible day that guy was having, i found this Gaga Fan with a great attitude of letting people take pictures of her. She was hanging by the crazy rave next to the march just being cool, goofy, giving good face.

Here we have a gay cat.