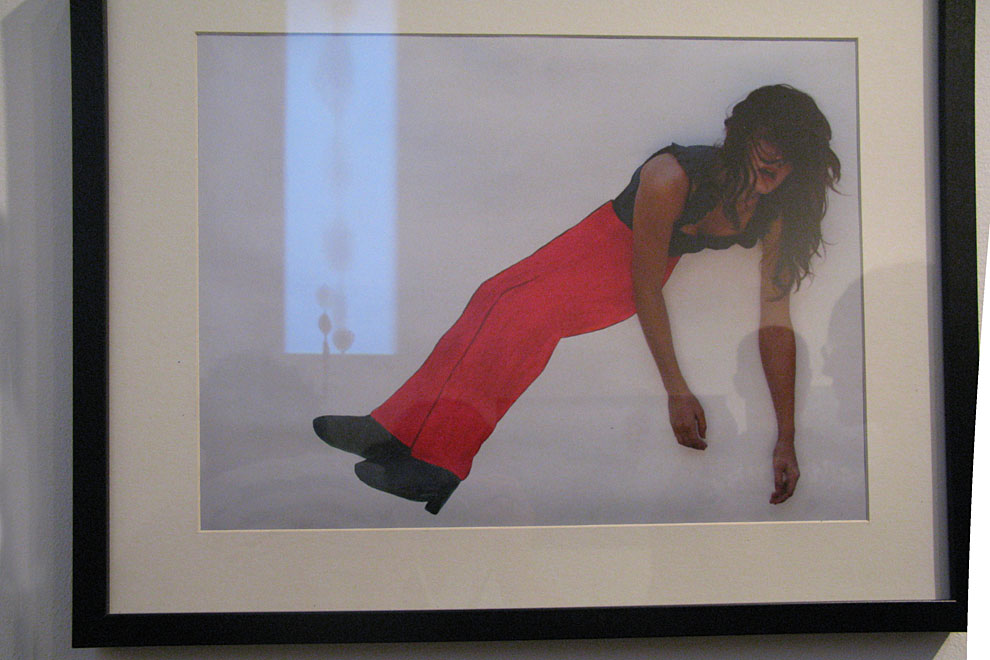 This piece is by Jillian Mayer, a photo/performance from her Getting to know you better series, one of the standouts from the DCG Open at David Castillo, a survey of 60-odd Miami artists. Despite being densely hung, the show looks great, and the overall quality of the work was very high (if not completely consistent).
Predictably, the joint was packed. As is often the case, a massive party reigned in the gallery's backyard, and despite four separate bars the lines for booze were interminable.
This charming mixed media piece by Luisa Basnuevo caught my attention. I think you're seeing it here larger than life size. Incidentally, there's a piece of mine in the show.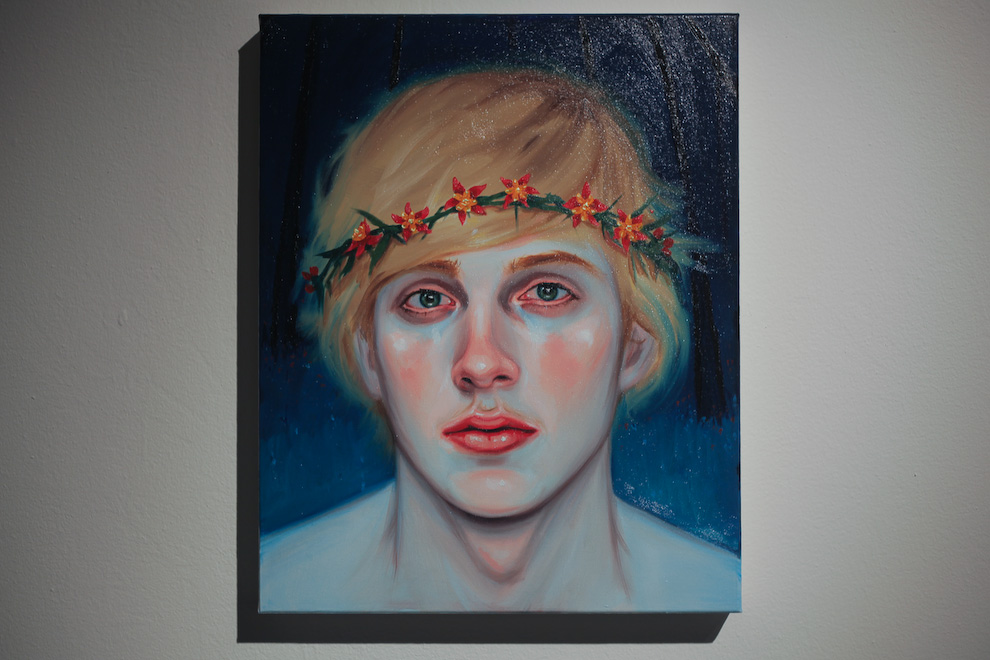 Kris Knight at Spinello. The portraits in particular had a haunting, instantly familiar quality.
This Ralph Provisero sculpture at Dorsch gave out real shocks — I checked.
I said to Richard Haden, "ah, so you're making them out of ceramic now." He replied, "yeah, that would have been another way to do it." But nope, these are still carved wood. Now made to look like ceramic that looks uncannily like real objects. I find the extra level of material deception very satisfying, and the glaze is lovely.
Purvis Young, RIP.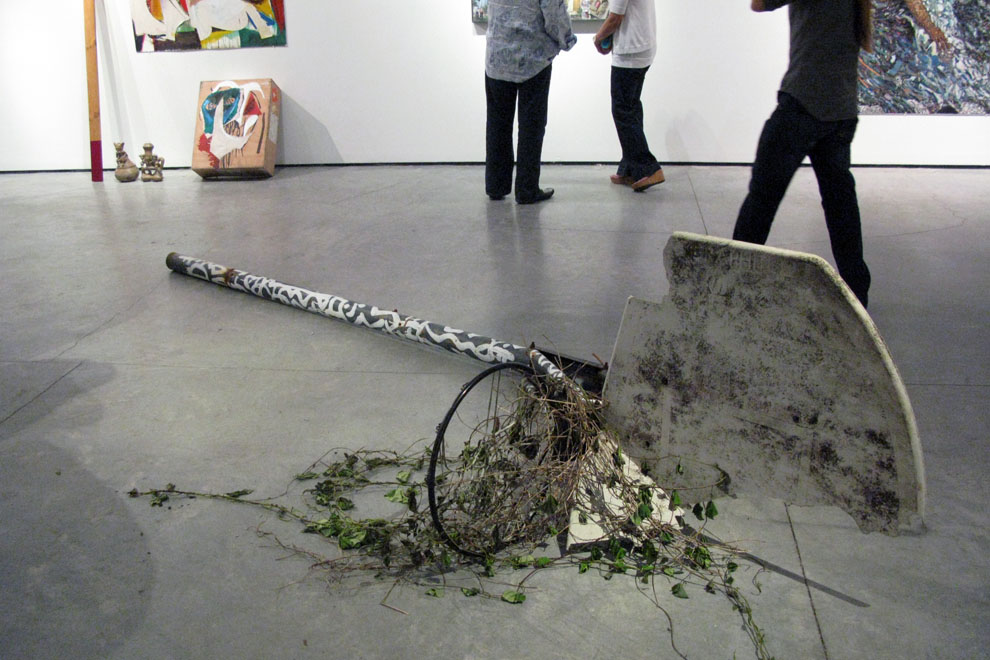 20(12) at Miami Art Space. There's a list of artists in the show at the link, but I unfortunately don't know what's what. Kiki Valdes installation!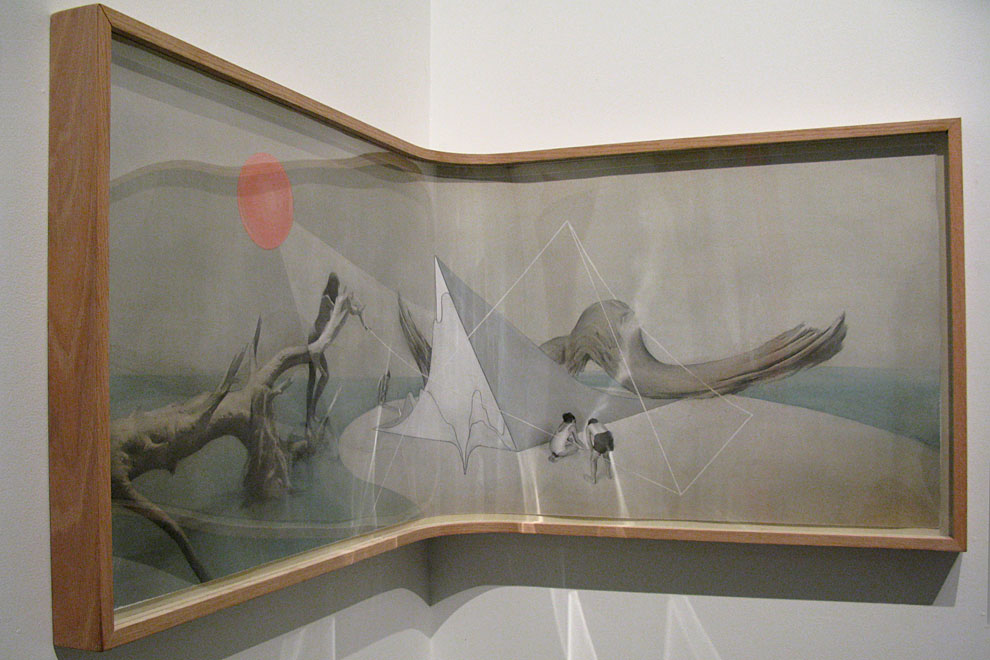 So, I may as well level with you… I had a photo equipment fiasco1 that prevented me from taking more than a handful photos on Saturday. Many of the photos here are provided by Liz. The point is that I'm judging this piece, by Johnny Robles, just from the photo, but I have to say that it looks spectacular. The curve-around-corner trick feels completely natural, and the Dalí references work.
Another detail, of Brian Gefen's painting, "Time to rest after the quest."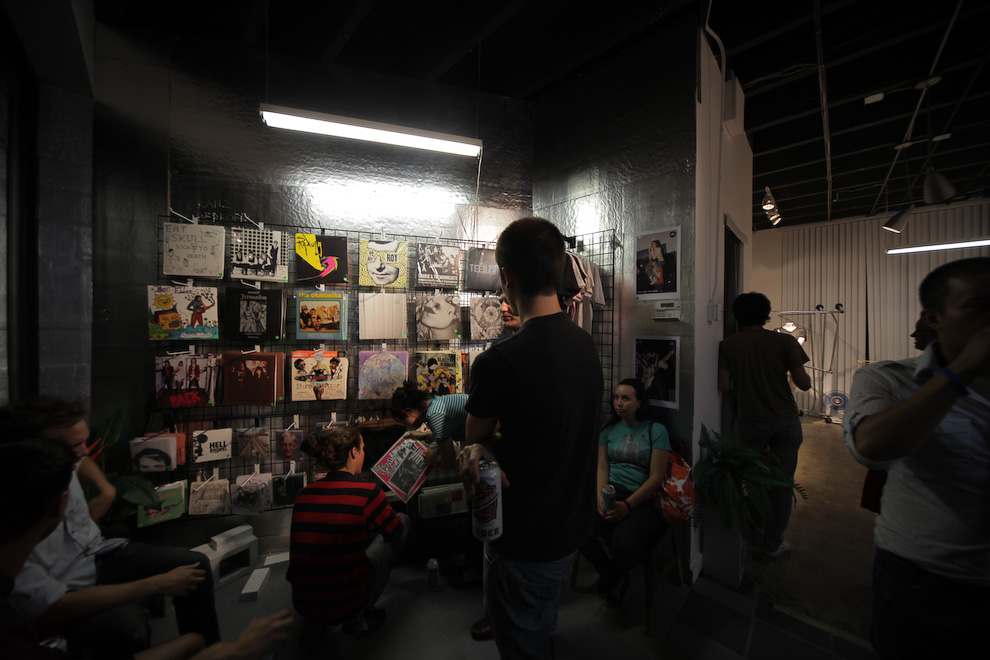 Opening night of the So Raw store next to Spinello.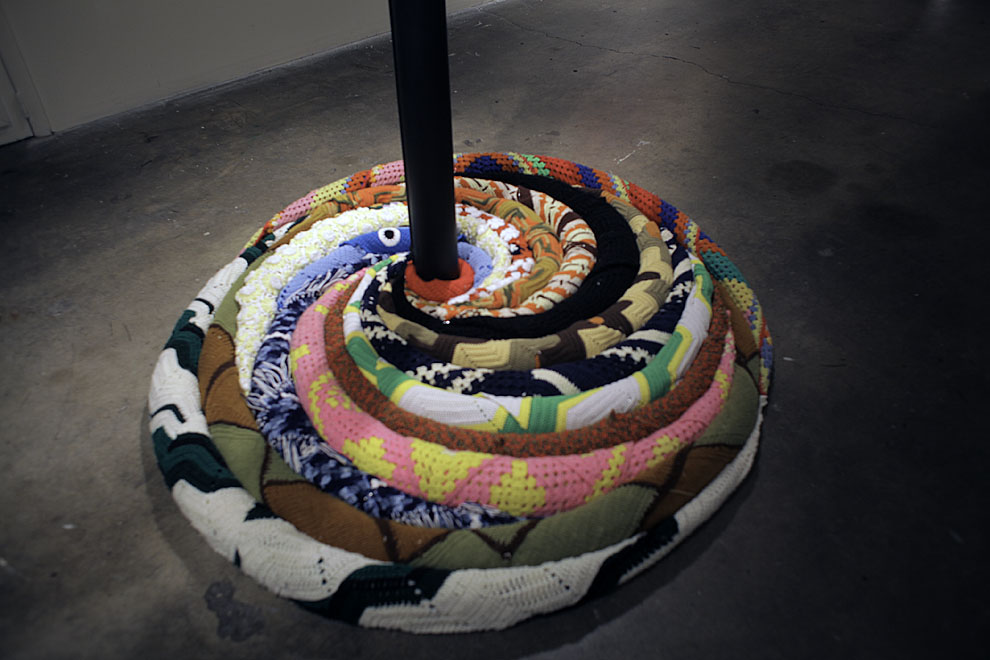 Here's a lovely sculpture by Martin Casuso at the University of Miami space.
I think that I am starting to become alarmed by the proliferation of murals in Wynwood. They're fantastic and everything, but when threatens to become more mural than blank wall, we have a problem Ground Control. Also, some of these are covering up advertising murals from the neighborhood's commercial history, some done decades ago, which I think are rather worth preserving.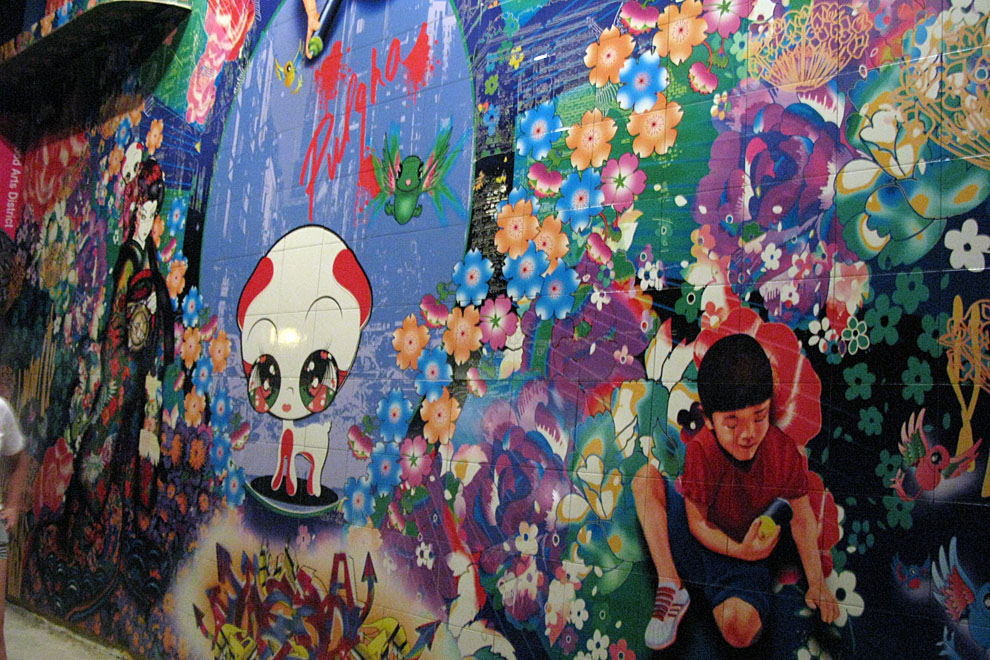 That said, the Miguel Paredes tile affair on NW 2nd Street is fun.
Gerald Ellis painting with an intervention involving the lovely new THL postcards, of which you may have seen laying around.
1. So, here's what happened. About a month ago, I spilled beer on my camera. No Big Deal. I've used the camera and lens since with no problem. Except problem: apparently the beer dried out and solidified inside the lens enough to gum up the focusing mechanism, which this being a USM could not be loosened just by rotating the focus ring. With the lens stuck at infinity (as you'll note e.g. in the Casuso image above), I thought fast and not bright and figured there was no downside to trying to loosen the moving parts by pouring a few drops of solvent (Ok, vodka. But the really good stuff.) into the mechanism. Which not only didn't work, but caused internal elements in the lens to fog up as soon as I reentered the hot and humid evening air. No problem, I live a few minutes from Wynwood on the Beach, so I decided to run home and grab another lens. Alas, some sort of colossal clusterfuck on the MacArthur (the westbound direction was actually completely closed) caused what would have ordinarily been a 20 minute round trip to take over an hour. By the time I got back, things were starting to close. Alas.