You expect declines in the quality of art at Miami artwalks as Summer approaches, and while the story last time was how that decline was slow in coming, well, what a difference a month makes. Turns out JJ Peet's little paintings at Diet are supposed to be political? If you say so.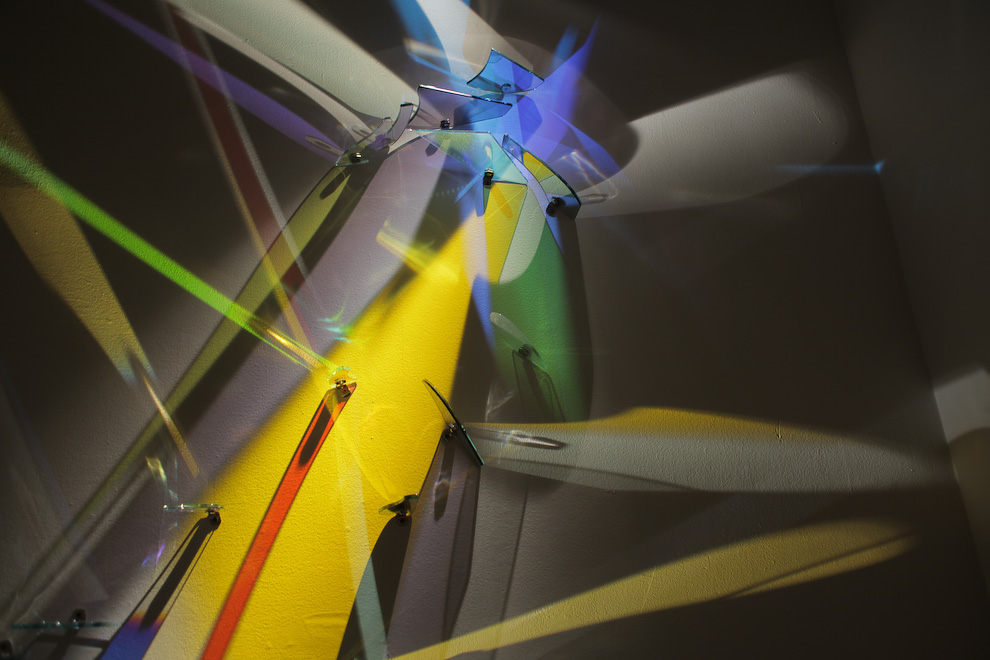 I like to pop in at least on place I haven't been in a long time (or ever) every month, and this time it was Bernice Steinbaum. Here's Stephen Knapp's light installation (uses exactly one light).
Hung Liu's huge tapestries would be sort of wack as paintings, but as intricate embroidery they are nice in a "department of skills" sort of way. I think we need an art knitting war here.
Oh, and before I forget, this animatronic rabbit marionette, connected by wires to a sort of mobile contraption that moved it around in an eerily lifelike fashion. We love us a stunt in Miami, yes we do.
Tawnie Silva at Butter Gallery. Someone pointed out that some of these are like the anti-Friends With You — equally good but subversive and charmingly imperfect.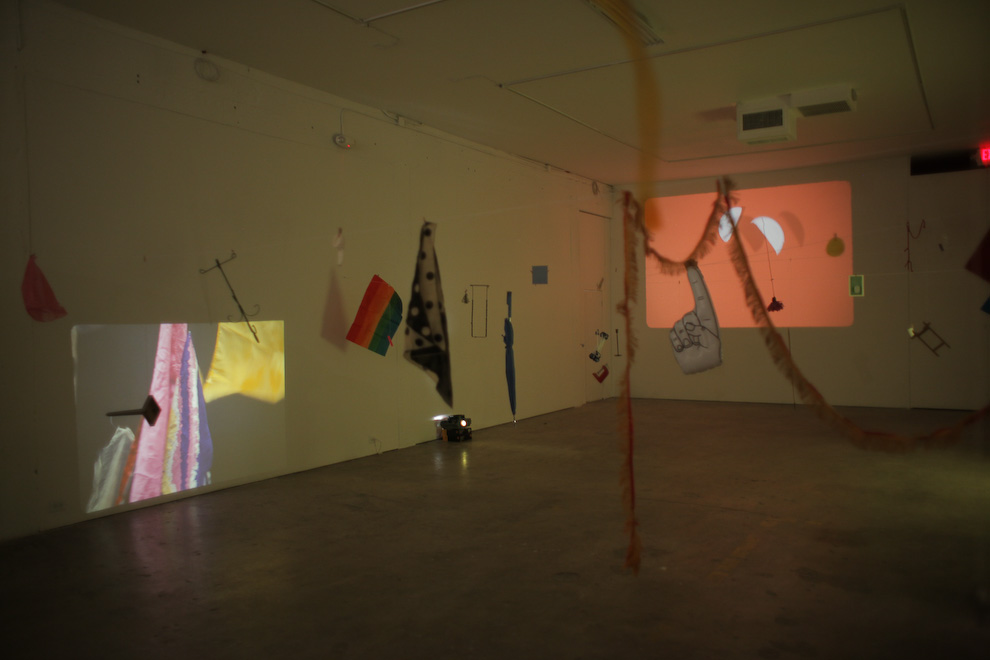 Jacob Robichaux at Dorsch. A friend of Liz's remarked, on seeing this, "funny, I had a dream like this, except I was floating through a universe and there were planets everywhere," so there you go.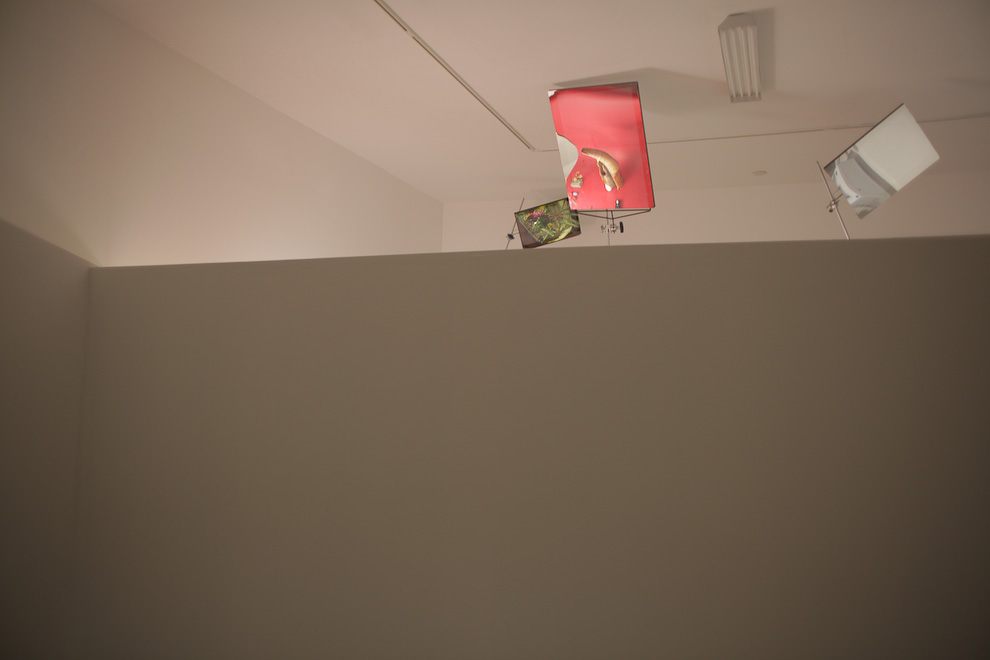 The next gallery was empty save for a low wall, over which were visible three non-strategically placed mirrors, revealing a workspace on the other side where the artist is microwaving plants, photographing the results, and generally making art, which of course will be shown at a future date.
Carlos Rigau aka Kenneth Cohen at Dimensions Variable. The metal AC ducts and school lockers were making a spectacular metallic racket …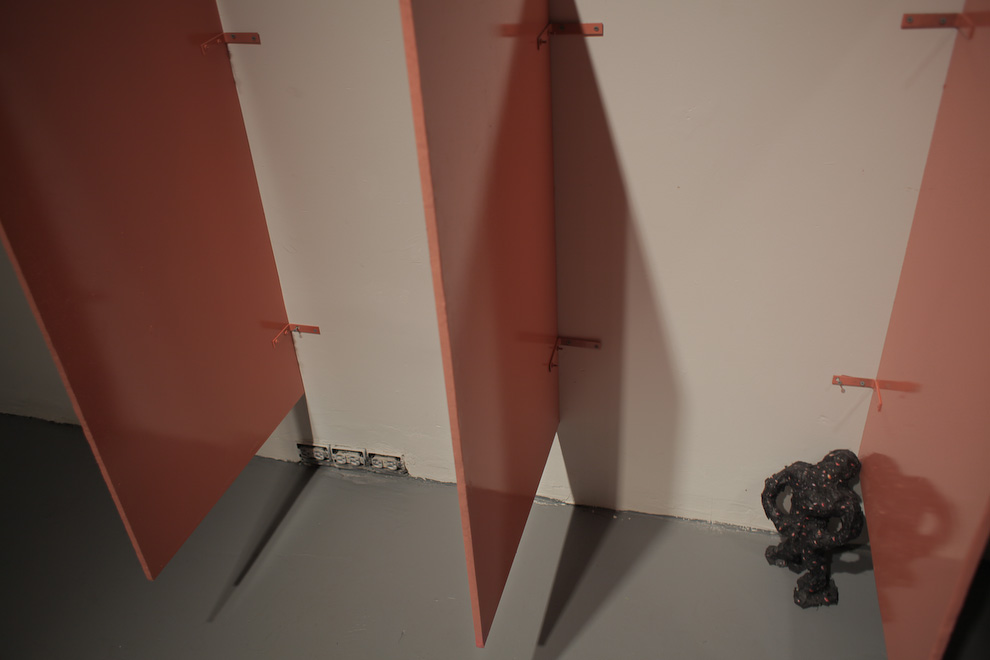 … while off in the corner, a little guy goes wee-wee.
I never get tired of fake book art. Somebody will tell me who make these, but it's not really even that important. (OK, I felt guilty for typing that so I went and looked it up. Leanne Shapton. I hope someone appreciates the effort—it's past my bedtime.) It just might interest you to know that Charlotte Brontë was in fact a real novelist, and these represent all of her output.
And just to show you, these "concept" themed shows are more trouble then they're worth. You end up with way too much stuff like this.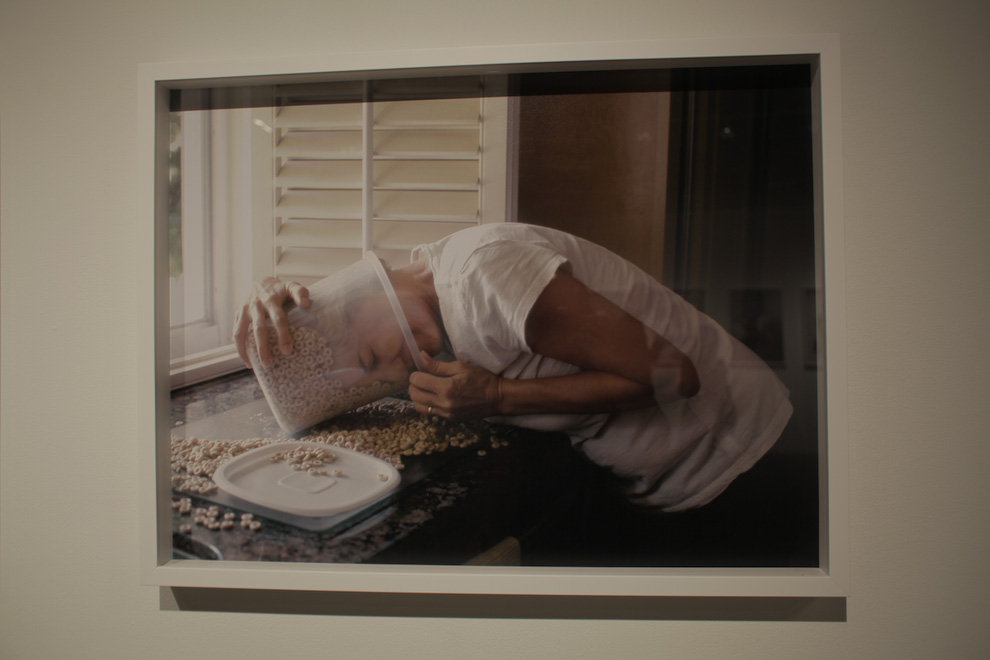 From Lee Materrazzi's charming show at Spinello.
Swampspace!
Here's a view from a quasi-random party in a warehouse district in the Upper East Side. The DJ refused all requests.
Here's Marcus Blake, who lives in a building overlooking the space where the party was. My friends sort of invited themselves into his house (which required climbing a ladder?), which is like an art installation. He was not strictly thrilled to have us there but was very sweet about the whole thing, and warned us about going on the roof. Marcus hosts the Tuesday night party at Vagabond, to which you should totally go.
We got to Churchill's as the last inside-band was packing up, but out on the patio an extremely sweaty hip hop dance party was in full effect. Video coming later.